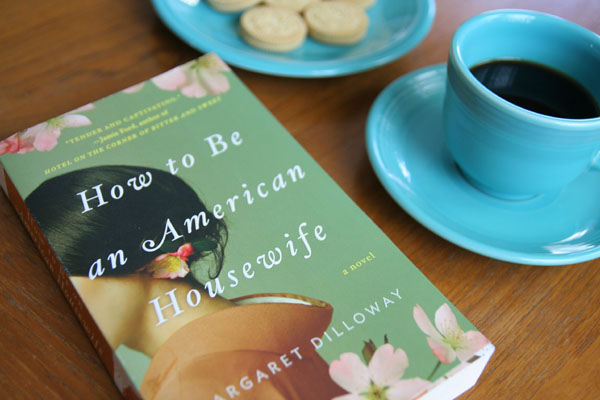 Just how are you supposed to raise children, have a perfect home, and navigate cross-cultural differences? Beats me.
Imagine how much more difficult it was to be in an interracial marriage back in the 1950s.
Margaret Dilloway's debut novel follows the story of a Japanese woman, Shoko, who marries an American GI. Starting off in San Diego in the present day, the narrative dips back in time to Shoko's childhood in Japan during the aftermath of World War II. Each chapter of How to be an American Housewife starts off with a "tip" from a fictional handbook of the same name, aimed at training Japanese brides how to acculturate to their new lives in the United States.
 Japanese say "No" when they mean "Perhaps." Therefore, if you are talking in English to an American and you mean to say "Perhaps," you might accidentally say "No." This is confusing to the American.

Reserve "No" for situations where you absolutely must respond in the negative; use "Perhaps" for all other situations where you mean to give a gentle derferment.
How to be an American Housewife presents a view of an interracial marriage which is very different than today's relationships. Shoko, with her broken English and Japanese mindset, must try to navigate her 1950s suburban housewife neighbors, her Mormon husband, and her children. She is a stranger in a strange land that looks suspiciously like Betty Draper's world.
Shoko was raised the right way (in Japanese culture, at least) and she does her best to raise her children properly– anticipating and taking care of their needs– so why do her efforts seem to only yield resentment and failure? It is heartbreaking to see these interactions through Shoko's eyes, and gives me deeper sympathy for all of our fobby moms who did their best to raise us according to the best ways they learned in their Asian homelands.
The novel's narrative bobs back and forth between the present day story of Shoko, as she chastises herself for her 50 year old son who lives at home and her daughter who is a single mother. Woven in with all of this, Shoko must confront her own declining health and the  secret which has kept her separated from her family for most of her adult life.
Dilloway, who is Hapa — the daughter of a Japanese immigrant mother and Caucasian American father– draws upon her own family history, including a book of housekeeping tips and her own mother's childhood in the shadow of the atomic bombing of Hiroshima, and paints a vivid picture of the tension between traditional Asian culture and post WWII America.
If you want to get a closer look at the novel, you can start by checking out the excerpt of How to be an American Housewife on BlogHer.
Thanks to Penguin Books, which provided me with this book to review, I will also be giving away copies of How to be an American Housewife to two lucky readers. Just leave a comment telling me what intrigues you about this story.  I will be picking a winner on October 13!
Contest open to U.S. residents only.
 [This is a paid review for BlogHer, but the opinions are entirely my own.]