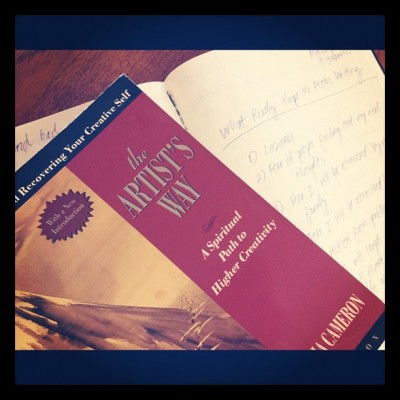 Four years ago, when Big Brother started Kindergarten, I decided it was time to get real about my writing. I had been a stay-at-home mom for five years and was losing my creative mojo and confidence in myself. That spring, I saw an announcement in my church bulletin for a group that would be meeting to go through The Artist's Way, a twelve-week program of journaling, prayer, and meditation, and rediscovering one's creativity.
I took it quite seriously, filling three Moleskine notebooks with my rambling morning pages and weekly alone time (alone! time!) for my artist's dates. These are all parts of Julia Cameron's program designed to get you to seriously consider what you feel is your life's calling and to prioritize your time to help make that a reality. Not that it wasn't difficult some days. I'd either get up before my kids and husband and journal in the cold and dark, or drop off my children at school and run home to scrawl. Not that it wasn't painful. In seeing my thoughts, complaints, and dreams written in ink — day after day — I began to see areas in which I was stuck, resistant to change, and unaccepting of grace. During the first meeting, one woman asked about Cameron's religious background, as if wary that all this touchy-feeliness might be the devil's work. Well, fear not. The Artist's Way emphasizes prayer and contemplation, but does not prescribe how to pray, so I found it worked well with my own Christian practices of prayer, journaling and listening.
My first experience with The Artist's Way was a classic case of the right place and the right time. During those three months, I was also working with a friend and graphic designer, and around the same time I finished the program, I launched HapaMama.
Since then, my creative life has taken off. I started blogging, freelance writing, teaching art to kids, doing photography. Which means that time for journaling, prayer and contemplation is even harder to prioritize.
So when the BlogHer Book Club offered me the chance to try out and write a review about My Artist's Way Toolkit, an online way to follow the twelve-week program, I was intrigued. I created an account and got access to the website, which includes an multimedia journal, daily creative affirmations, and videos. Journaling on my laptop was a bit awkward first, since my stream of consciousness tends to flow faster than my fingers can type, and since I have a hard time trusting that what is written in the cloud could ever stay in the cloud. And it was awfully tempting to check email when I ran out of thoughts before my I hit my requisite three pages.
I'll admit, I still prefer the pen and paper method, but given the popularity of e-books and iPad apps, I think I'm in the minority. And since I spend so much time on the computer anyway, it was handy to do my Me Time in front of the screen, too. And who knows what it will lead to this time?
My Artist's Way Free 30-Day Trial
Want to try My Artist's Way toolkit for yourself? Just log on to MyArtistsWayToolkit.com and sign up with the code BLOGHER.
Please note: The code BLOGHER must be entered as all caps during registration. After entering the code, you will be taken to a credit card page where they will need to put in credit info. However, there's a disclaimer on the page saying that, for those with the promo code, they will only see a zero charge on their cards – and they will not be opted in to anything. No recurring charges. Zilch. The system is just set up so that it needs card info, so they can't get around that, even with a free trial.
This post is sponsored by the BlogHer Book Club, but the opinions expressed are all my own.