Fall, with its bountiful harvest and cool temperatures perfect for baking and simmering, is the ideal season for cooking. Unfortunately, fall is also the season packed with soccer practices, school volunteering, PTA meetings, meetings to train volunteers. And add to the mix that this is an election year, and I cover politics, and I pretty much want to hang a sign on my door that says "Come back after November 6".
Every parent I know has some variation of this life. Over Labor Day weekend, a friend of mine who lives just half an hour away told me, "I guess I'll see you after the holidays."
Makes me want to just order out for dinner for the next few months. Which wouldn't be too hard, considering the local restaurant row could provide me with a different cuisine for each night of the week. Recently, two interesting new eateries have opened up in my neighborhood. The first is a Burmese restaurant. Burmese food is a little like Thai food, a little like Indian food, and then something altogether its own. The menu offers samosas, tea leaf salad, and several curry dishes — the most interesting of which is the pumpkin and beef curry.
The other new restaurant of note is more of a cafe, specializing in soup, salad, and savory pies. Their "pies" are hand-held like turnovers, similar to a British pastie or a Mexican empanada. Fillings include ratatouille, spiced Halal beef, wild mushroom, and not one — but two types of chicken curry: chicken and apples with yellow curry, and chicken and yams with red curry. I took my notoriously picky eight-year old to this cafe for lunch, and he actually ate (and liked) the chicken and yam curry pie.
I could totally recreate this pie at home! After all, curry has long been one of my son's favorite flavors. It's been my standard practice to add some pureed butternut squash as a hidden nutritional boost, so why couldn't I put all those ingredients into my own kind of pumpkin pie?
Pumpkin Curry Chicken Pot Pie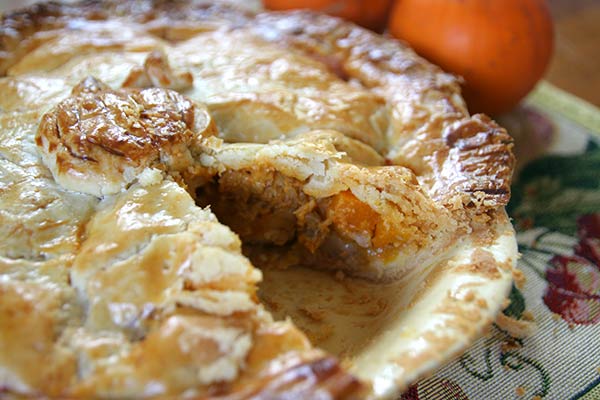 Ingredients:
2  ready made pie crusts, thawed (Trader Joe's makes a good one)
1/2 yellow onion, diced
1 lb. skinless, boneless chicken thighs, cut in 1-inch pieces
1-2 Tbs. red curry paste
1 tsp. fish sauce
1 c. coconut milk (I don't recommend low-fat, as it may make the filling too runny)
juice of 1/2 lime
1/2 c. pureed pumpkin
1 c. raw pumpkin or butternut squash, cut in 1/2″ cubes*
Optional: handful of frozen peas, diced carrots, diced potatoes or garbanzo beans

Directions:
1. Saute the onion in a small amount of oil, until translucent and a little carmelized.
2. Turn up the heat and add chicken. Let the chicken brown
3. Add curry paste, coconut milk, fish sauce and lime juice
4. Stir in the pureed pumpkin, turn the heat down and simmer until chicken is tender.
5. Turn off heat and mix in raw pumpkin cubes.
6.  Press the bottom crust into a pie pan
7. Pour filling into the prepared crust
8. Place the top crust over the chicken mixture, crimp the edges and prick holes in the top.
9. Bake in 375-degree oven for 45 minutes.
10. Let cool and serve in slices, topped with a dollop of nonfat yogurt, if desired.
A version of this piece was originally published on Salon in November 2010