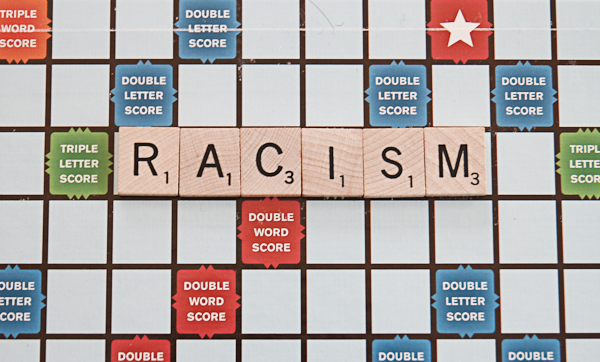 When we were getting ready for bed the other evening, Little Brother said to me, "Everyone at school thinks I'm Japanese."
Absentmindedly, I told him, "Did you tell them you're half-Taiwanese or half-Chinese?"
"But they just keep doing this," he replied.
I looked over at him, cringing at what I saw. His little pointer fingers were at the corners of his eyes, pulling his lids into slanted slits. I felt sick to my stomach.
In a split second, I had to decide how to react. My instinct was to find out who these horrible kids are and who are their parents who are teaching them these things (or sitting idly by while their formative minds are exposed to and soaking in racism). If I said nothing or blew it off, it would condone those actions, and make Little Brother feel like this was a normal and acceptable thing for people to do to him. If I reacted with outrage, I might make him feel victimized when he didn't otherwise feel that way. What I needed to do was to let him know it's wrong for those kids to call attention to his race in a belittling way, give him some simple words he could use in response, and explain to him the idea of stereotypes being rooted in biased perceptions — and not reality. All in language a second grader can understand and while reminding him to brush his teeth.
"Who said that to you?" I demanded.
He must have sensed that I was pretty mad at whoever did this, because he went into protective mode. "I dunno… just kids at school."
"Your friends? Because your real friends wouldn't do that."
*Deep breath* This is what I told him after that, "It's rude for people to say that to you. If someone does that again, you tell them them to stop, okay? That's not what you look like. That's not what real Japanese people look like, it's just something people do."
I feel so helpless. Why don't I have better comebacks for these kinds of childhood taunts? Perhaps because I didn't know the words to use when I was a kid. The only advice I ever received (if I ever received any) was to just ignore them and they will go away. They don't, by the way.
Why do I feel the same sense of shame and speechlessness, thirty some years later? The words I'd use as an adult writing about race seem pedantic and pretty ineffective against schoolyard taunts. It's hard for me to even call those children bullies. It seems so harsh, like I will be called the bad guy for even saying that. But it is bullying, perhaps in a fairly innocuous way, but this is how it starts.
This is important, because Asian American students report the highest rates of bullying, 20% higher than other races.
I thought about talking to someone at school — a teacher or administrator — but quite honestly, I'm not sure whether that will help. And it could possibly make things worse. I don't know who exactly is doing this, so we can't report specific kids. And there aren't that many Asian students at school, so if I asked for the teacher to address this in a general way, I'm afraid I'd be opening my son up for scrutiny. To complicate the situation further, I am mulling over ideas from Emily Bazelon's new book about bullying Sticks and Stones: Defeating the Culture of Bullying and Rediscovering the Power of Character and Empathy. One of the ideas that caught my attention was the problem of diagnosing bullying too soon and too often, which can lead to a child being perceived as a victim or a complainer, and then harassed even more.
If you are person who has never experienced this kind of bullying, I suspect you may think this is unacceptable and of course I should speak up. I've had that happen before, being somewhere and a racial epithet is yelled out from a passing car or a subtle jab is made by someone, and my white friend is more outraged than I am. I just sigh and shrug. It's just part of being Asian in America. So forgive me if I am surprisingly resigned and defeated about this. I just don't know what to do. Am I rolling over, right in line with stereotypes about Asians? Or is my inaction simply knowing when to choose my battles?
One year ago this week, Trayvon Martin was shot and killed. In the aftermath, many black parents wrote about The Talk they have with their sons in teaching them how to handle potentially life or death situations of  racial profiling. That's in a different league than elementary school teasing, but it has me wondering… what do we need to teach our children so they can deal with racism?
I know Little Brother is a smart, confident, popular kid, so I'm not that worried about it. But I'm still worried.
For more of my thoughts on how to talk to children about race, read Why You Need to Talk to Your Kids About Race on The Mother Company.
Have your children experienced racism or discrimination? How have you dealt with it?
Did your parents teach you how to respond to racism?
Let's talk…