I received a free 16×20″ canvas print to review from Easy Canvas Prints, but all the opinions expressed are my own.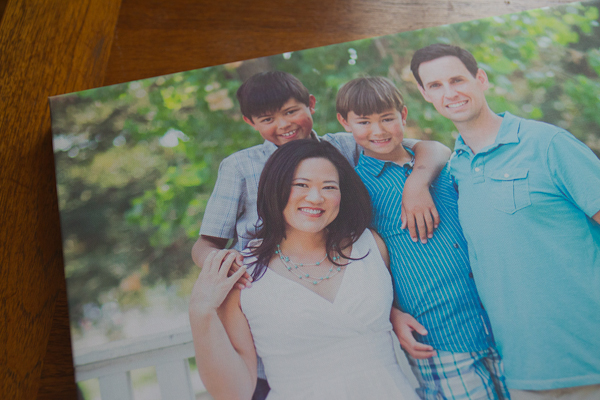 Remember when I shared with you some of our family portraits taken back in June and asked for your advice about which shot to print and hang on our wall? Well, here it is! The folks at Easy Canvas Prints gave me a free 16×20 enlargement to try out and review. With a canvas print, your photo is printed on a canvas, which is stretched over a wooden frame, just like a painter's canvas.
The process is very easy. You just upload your jpeg file, choose from a few options of wrap thicknesses, and a few basic treatments. I uploaded a very large size (33MB) high resolution file without any problems. Of course, the Easy Canvas Prints site also supports photos from Facebook and Instagram, but if you're going to get a photograph enlarged to this size, you'll want to start with a high quality image. The site recommends that you use a file that has between 180 and 240 DPI, and when you upload it, there is a bar graph that shows how good your image quality is. One feature I wish the site had was the ability to rotate the image, as the default layout is horizontal. I was able to work around this by editing my image in Photoshop, and then uploading it.
The finished canvas was securely packed in cardboard packaging. Here is a view of the back of the canvas.
And what it looks like on our wall!
Easy Canvas Prints has reasonable prices that make it accessible for families to turn their photographs into artwork. A standard 16×20″ print is regularly priced at about $90, but there are often sales. Now, you can enter below to win a free 16×20″ canvas print by entering below. A winner will be picked on Thursday, August 15. Contest open to U.S. residents only.