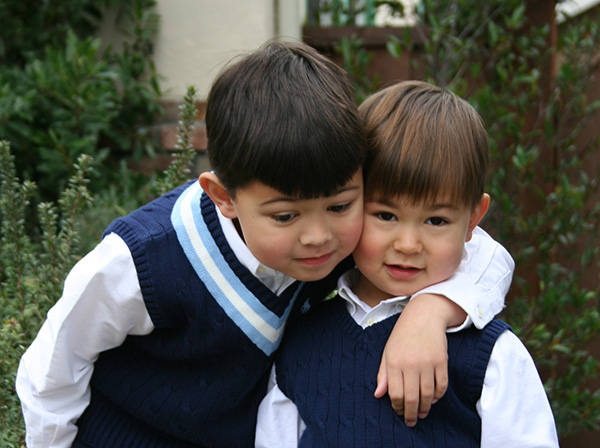 Back
Black
Brown came back.
Brown came back with Mr. Black.
            — from Hop on Pop, by Dr. Seuss
This verse from Dr. Seuss' Hop on Pop always reminded me of my two sons. From an early age, Little Brother was very aware of his light brown hair and how he felt "different" from the rest of our family. Noah Cho's recent essay How I Learned to Feel Undesirable on NPR Code Switch also highlighted how a mixed-race person's appearance affects how they perceive themselves racially. Noah writes:
When I look in the mirror, I do not see someone that I understand to be handsome by Western standards. I look mostly Asian, and like so many other heterosexual Asian males before me, I have internalized a lifetime of believing that my features, my face, my skin tone, in tandem, make me unattractive and undesirable.
Back when I was in college, I took an English Lit class focusing on post-Civil War Southern fiction, in which the idea of "twinning" was a big theme. By twinning, I mean the concept that there could be mixed-race twins, in which one sibling "passes" for white, and the other one is visibly black. I think about this often, as I watch my own sons developing their own personal and racial identities. As much as I try to emphasize to my children that they are multiracial — both Asian and white — they seem to be drawn to a more simplistic view. Big Brother seems to have a much stronger identification with being Asian – perhaps because he attended Chinese school for several years, or because he spent more time with my Taiwanese mother when he was a toddler, or perhaps because he is darker complexioned and there is no mistaking that he is not white. Sometimes, he's been assumed to be Latino, given that we live in California. Ironically, it was my fair complected younger son who experienced racial taunting in the form of slanty-eyed gestures.
These are not very complete thoughts here… but I'm just starting a conversation which I know I'll be coming back to again…
What about your family? If your kids are hapa, how do they perceive themselves? Or if you are a mixed-race adult, how  has your appearance influenced your racial identity?