August 2 is National Coloring Book Day! Have you gotten into the adult coloring book craze? A lot of women I know swear that it is relaxing and creative way stress buster. Here's an Asian food coloring book that marries two of my favorite things: cooking and art.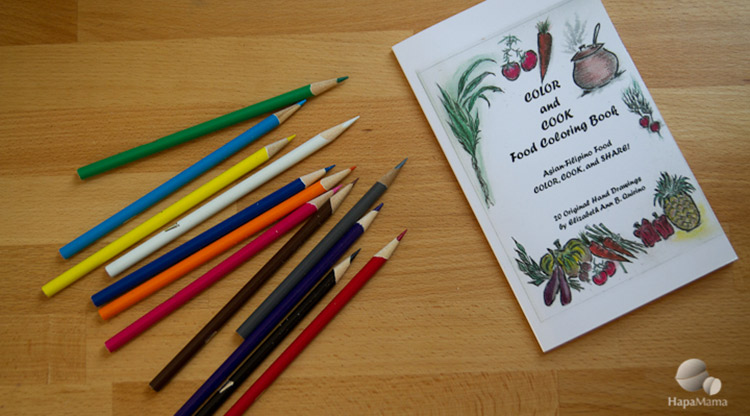 Color and Cook (Amazon affiliate link) by Elizabeth Ann B. Quirico of the Filipino food blog Asian in America features 20 original hand drawings of popular dishes such as Adodo, Kare-Kare (oxtail peanut stew), Pinakbet (vegetable stew with shrimp paste), Pancit, Esaladang Filipino (Filipino vegetable salad),  Rainbow Fish and desserts such as Halo-Halo, Pandan Jade Gelatin, and Sapin-Sapin (rice layer cakes).
Elizabeth, a journalist, author and artist based in New Jersey, studied watercolor painting and Chinese brush paining for six years at the Chinese Artists Guild of Manila, with Professor Chen Bing Sun, learning the traditional style of painting on rice paper with chinese ink ground on stone.
If all this coloring makes you hungry, you can also find recipes for many of the dishes, including my favorite late summer stew Pinakbet chock full of eggplant, long beans, okra and bitter melon, at Elizabeth's award winning blog.