I have a love/don't care relationship with makeup. On the one hand, I think it's a lot of fun to play around with all the colors and brushes; it's more creative expression than "covering up". On the other hand, I have no problems taking my kids to school (and picking them up…) with a bare face, ponytail and yoga pants. One of the occupational hazards of being a work at home mom is that it's easy to slide into the mindset of working in something slightly better than pajamas.
But every once in a while, I wake up early or have a business meeting, and I actually comb my hair and put on a little concealer and lipstick before seeing other people, and the reaction is something like this:
"I didn't recognize you!"
"Wow, you look really… good."
"Are you going somewhere today?"
And it's not like a got a professional blow out and put on a full face of makeup. Back in my TV news reporter days, I used foundation, concealer, blush, lipstick and three shades of eye shadow every day. Now, I usually only have five minutes to apply a handful of products, but I've figured out a system that works really well for me, and I'm going to share it. It takes just five products and about five minutes!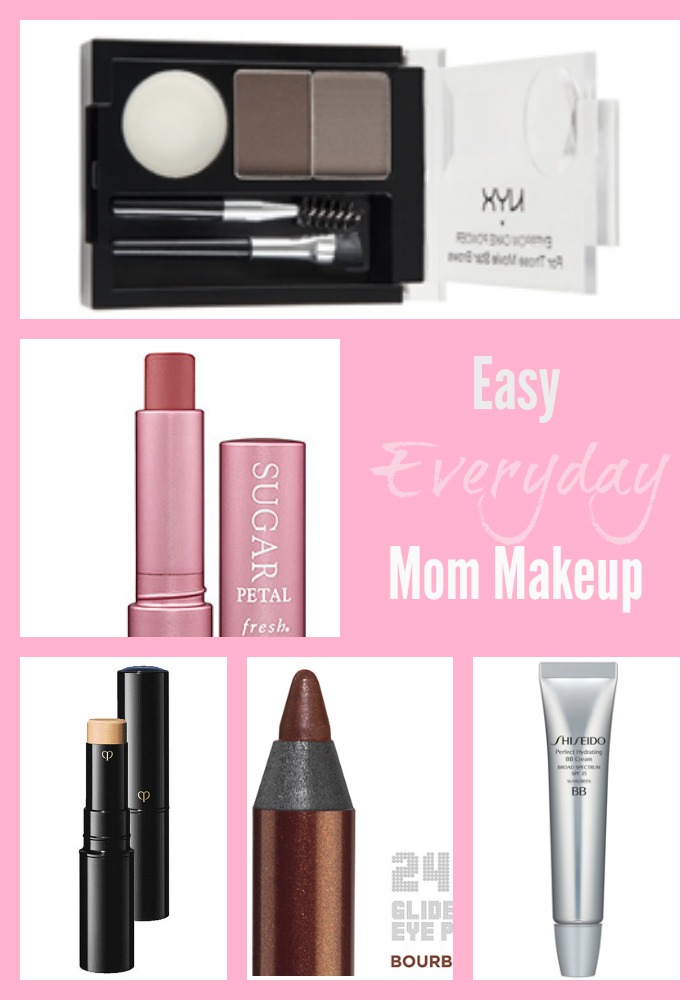 Easy Everyday Makeup for Moms
Five products, Five minutes
These products are ones that I've found to work really well on my medium, yellow-toned Asian skin. But you can experiment with other shades or brands, too.
Apply a BB cream with SPF all over your face. I happen to like Shiseido Perfect Hydrating BB Cream SPF 30 in Medium, which has an all mineral SPF 30.
Add a little concealer under the eyes if you have dark circles. I don't always need this step, but when I do, I use Cle de Peau concealer in Ochre,which has a yellow undertone.
Fill in your brows with a little brow wax and powder. Okay, here's where it can get a little fussy, but with my sparse Asian eyebrows, this really makes a difference. If I could have only one beauty product, it might be this little NYX Eyebrow Cake Powder, Dark Brown/Brown in Taupe/Ash. Very important not to black or reddish-brown colors! Use the little brush to apply a small dab of wax to the hairs, then dip it into a bit of powder to fill in the sparse areas.
Slick on some tinted lip balm in a natural color, such as Fresh Sugar Petal Lip Treatment
.
Line your eyes with a soft, sparkly brown eye pencil. No black when you're in a hurry! I've gone through a few Urban Decay 24/7 pencils in Bourbon and keep coming back.
That's it!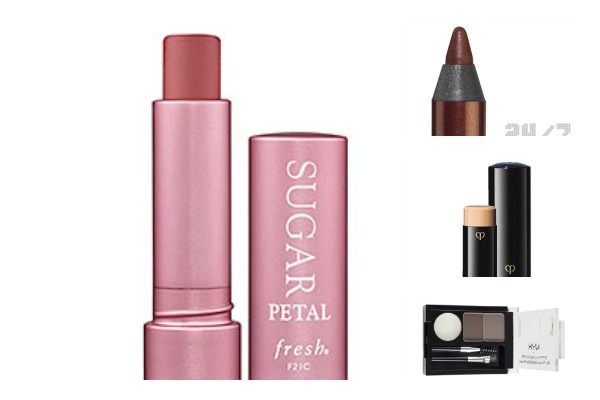 Purchases made through links in this post may result in a commission for HapaMama.
Are chapped hands a problem? Help is at your fingertips! Check out my tips: How I Help My Dry Winter Hands