A review copy and a giveaway copy of Farm to Table Asian Secrets were provided by Tuttle Publishing.
No compensation was received and all opinions expressed are my own.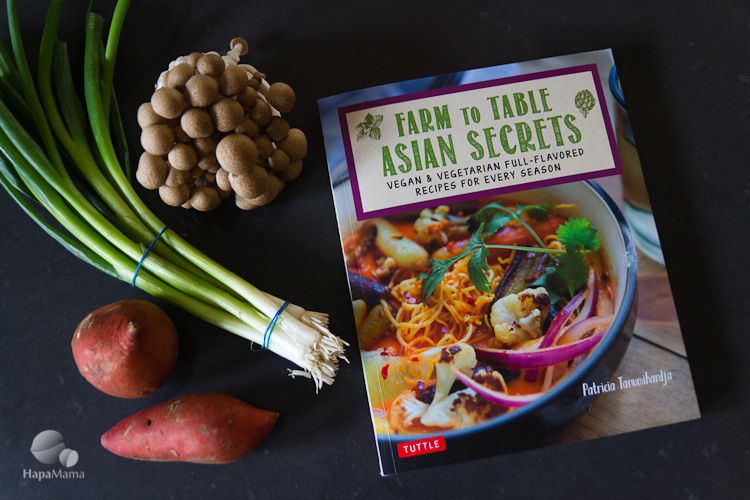 While I'm not a vegetarian, I do love vegetables — especially when they are fresh, seasonal and prepared with my favorite flavors. My friend Pat Tanumihardja has a new cookbook, Farm to Table Asian Secrets (Amazon affiliate link), that focuses on just those kinds of dishes. As its subtitle "Vegan & Vegetarian Full-Flavored Recipes For Every Season" explains, the recipes are grouped by Spring, Summer, Winter and Fall, utilizing produce and spices apropos to each time of year, with an emphasis on the tastes of Asia. While browsing the Spring section, I was drawn to her recipe of Ponzu Butter Vegetables, which includes step-by-step photos of how to wrap aluminum to form foil packets around the veggies, sealing in the steam.
Q & A with Pat Tanumihardja, author of Farm to Table Asian Secrets
HapaMama: Let's talk about how the book came about… you've been working on it for a while, right? Pat Tanumihardja: Yes! The idea first came to me around the time I was promoting the paperback version of The Asian Grandmothers Cookbook in 2012. As an avid vegetable-lover (I'm not vegetarian though), I wanted to find ways to use the veggies I bought from the farmers' market and through my CSA box but using the Asian flavors I love. Plus, many people I met were telling me that they didn't always make it to the Asian market and wanted to know how to use easily-sourced ingredients, including veggies in Asian cooking. HM: Like the Asian Grandmothers Cookbook, your new collection has foods from a variety of cuisines. Which cultures are represented and how did you research and select these dishes? PT: Mostly from Southeast Asia and East Asia: Chinese, Japanese, Korean, Indonesian, Singaporean/Malaysian, Thai, Vietnamese, Cambodian. I definitely drew from my own roots and experiences. My family is from Indonesia and I grew up in Singapore so I'm very familiar with the flavors from these two cultures. Plus, my mom is a fabulous cook so I learned a lot from her. I've also traveled quite a bit and am an adventurous eater so I've eaten all the dishes firsthand if not in the countries themselves then in restaurants in the U.S. My research cooking and interviewing women from different cultures from The Asian Grandmothers Cookbook was also seminal in putting together this new cookbook. I was fortunate to learn firsthand from these home cooks. My work as a food writer has connected me with both chefs and home cooks from so many different cultures and I've also learned from them. I also worked as a famers' market manager when we lived in California so I was exposed to a wide variety of fruits and vegetables and the farmers who grow them. I picked dishes and flavors that most Americans would be familiar with and came up with Kung Pao Potatoes (Chicken), Eggplant "Meatball" Banh Mi, Thai Basil Zucchini (Pork), Mushu Vegetables etc. Many home cooks would be familiar with these dishes and I want my readers to actually cook my recipes! When it came to matching vegetables to recipes, I thought about how well each vegetable would go with the flavors (sweet, sour, salty) and also if it would hold up to the cooking method (stir-fry, braising etc.) And I wanted the vegetable to replace the meat in the original dish quite seamlessly.
HM: I like the your note that your book is like a "tell all" of the secrets of Asian cooking and that you provide lots of suggestions for alternate ingredients. If your family was like mine, there was a lot of improvisation in the kitchen. Do you have some general rules of thumb that you follow when you cook? I'm definitely an improvisational cook! That's why I'm so bad at meal planning. I hardly ever buy exactly what I need for a recipe. Honestly, I don't have many rules of thumb—in my kitchen, just as long as it tastes good, anything goes! I don't get hung up on what's "authentic" (it's such a loaded word!) or not. A few guidelines:
-I always have veggies at every meal, even if it's just frozen veggies tossed into rice. As much as I like fresh vegetables, I always have a stash of frozen veggies to use in a hurry.
-If I'm trying a new recipe, I always read to the end and cook it as close to the original as possible before making changes. That being said, if the recipe asks for fermented yellow bean paste and I only have miso, I'll use it! It's a close enough substitute in my book.
-I start with high quality and/or fresh ingredients—you don't have to do much to them to bring out flavor.
– and go for products (sauces, pastes) that have few additives and no MSG. I try to make some items at home—sweet chili sauce, hoisin sauce etc, when I have time.
-I try to use local, seasonal and sustainable as much as I can. Foods in season tend to be cheaper and also helps keep your carbon footprint to a minimum.
-I don't like to waste food so I've become the master of reinvention. Leftovers always get turned into a new meal.  I save mushroom stems for stock, I don't peel my fruit and veg (but I usually buy organic or sustainable produce) , and I eat all parts of the vegetable (e.g. beets and beet greens).
HM: Most Americans (and many Asians) are used to have meat at every meal. Are these recipes intended to be side dishes or can they be main dishes? PT: Both! You can make two to three dishes to eat with rice or noodles. Or you could make one as a side dish to accompany a meat or seafood dish. There are also plenty of ideas for snacks and munchies and one-bowl meals. HM: Finally, do you have a favorite recipe or ingredient in the book? So many! I love the Thai Basil Zucchini, Mushu Vegetables, Easy Miso Ramen, Warming Vegetable Pho, Tofu, Fennel Spinach Wontons … I could go on! As for my favorite ingredient, I love the flavor of lemongrass. I could use it in just about any dish to add a citrusy warmth.
Farm to Table Asian Secrets Cookbook Giveaway
Thanks to Tuttle Publishing for providing me with a review copy of this cookbook and also one to giveaway to a lucky reader! Must be U.S. resident to win. Contest ends at midnight, Tuesday, April 4. Enter below…