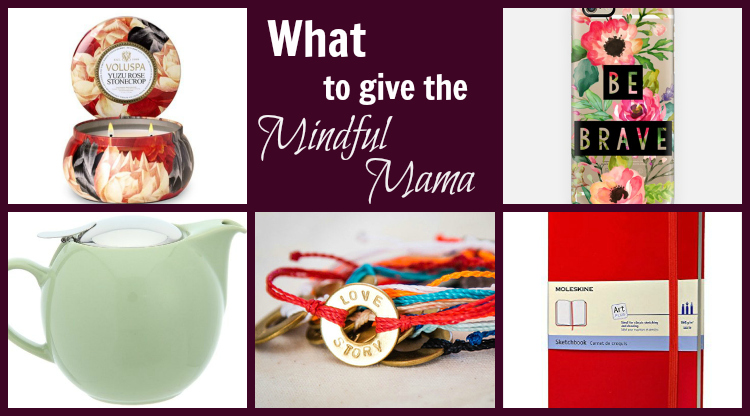 Everyone knows moms spend a great deal of their time and energy making sure everyone else's needs are met. So this Christmas, give your mom (or wife, sister, friend) a gift that helps her take care of herself and be mindful of her own sense of purpose in the midst of her busy schedule. Here's a list of goodies that I—or your loved one—would be thrilled to receive.
Keep scrolling to check out my picks and make sure check out the gift guides my Asian American mom blogger friends have put together enter the giveaway for a $100 Amazon gift card…
HapaMama's Mindful Mama Gift Guide
Bee House individual teapot
A cup of brewed loose-leaf tea is a great start to the day, and this Bee House 26oz Round Ceramic Teapot
 with a removal mesh strainer would be a wonderful way to brew a single serving. It comes in a rainbow of pretty colors, too.
Hugger Mugger yoga mat
Yoga is a great way to exercise, de-stress and maybe even get 90 minutes to be completely self-centered (in a good way!). And a thick, comfortable mat can make practice even more perfect. I've been using the Hugger Mugger Nature Collection Ultra Mat
 which has just the right amount of cushion and grip.
Manduka Yoga Bag
Of course, she's going to want to carry that new mat to class in style. I've been eyeing this Manduka MatSak Yoga Bag
 which looks  roomy enough to stash a towel, belt or snack in there, too.
Voluspa Candle
Mom can relax with the sophisticated scent (and beautiful tins) of Voluspa Candles, which come in handy tins that won't shatter if knocked over by little hands and can even be packed for travel. This season they have some wonderful Asian-inspired fragrances, such as Yuzu Rose Stonecrop
, Saijo Persimmon
, or Sake Lemon Flower
Be Brave phone case
Mamas spend a lot of time encouraging others. Why not give her some encouragement, too?  She can wear her mantra on her iPhone, with this Be Brave watercolor floral case from Casetify (affiliate link). I've been using the beautiful and durable cover which I received as a sample, and there are many other styles, some with graphics or sayings, and others that you can customize with your own images.
My Intent bracelet and necklace
I received an awesome engraved necklace from My Intent, as part of the Asian American Journalists Association conference earlier this year. Their necklaces and bracelets (like the Pura Vida style above) come stamped with a custom phrase of your choice and with prices beginning at just $12, they are also very affordable.
Books by Brene Brown
One book that's made an impact on me during the past year is Daring Greatly: How the Courage to Be Vulnerable Transforms the Way We Live, Love, Parent, and Lead
. A little bit self-help, a little bit sociology and a little bit spiritual guidance, Brown's writing inspires me to be myself– only more so. I'm also interested in reading Brown's latest book Rising Strong
, which addresses how to deal with the setbacks in life that we all will inevitably face.
Moleskine Sketchbook
A mindful mama needs a place to jot down those flashes of brilliance. Moleskine notebooks are the loveliest way to keep bucket lists (or to-do lists) looking good. While black is the classic color, I enjoy the colorful ones — unlined–like the Moleskine Art Plus Red Hardcover Sketchbook.
Amazon affiliate links may result in a small commission for HapaMama.
Check out More Gift Guides From #AsianMomBloggers

Chinese Themed Gifts For Kids at Bicultural Mama
Gifts For Home Chefs Big and Small at I'm Not the Nanny
The Napkin Hoarder's Favorite Things 2015
A Family Lives Here Gift Guide
Enter the Giveaway for a $100 Amazon Gift Card