It's apple picking time! While many families in our area might make weekend trips to Watsonville to go to one of those U-pick apple farms, all we have to do is step outside our door.
When we first moved into this house and Big Brother was just a colicky infant, the idea of harvesting the apple trees (we used to have two) was formidable. The fruit lingered on the trees until our lovely neighbor Kristen knocked on our door and offered to pick the fruit — and presented us with homemade applesauce and muffins.
In the past few years, we've learned to break child labors laws teach our kids the value of hard work by having them help pick fruit and cull the bad apples from the bunch.
At first, climbing the six-foot ladder was Big Brother's job, while Little Brother was relegated to gathering the windfall apples and throwing them into the green waste bin. This year, however, the six-year old jumped at the opportunity to climb up the ladder — onto rungs higher than I initially felt comfortable with — and got busy twisting and pulling fruit off the branches. Seeing the afternoon sun glinting off of Little Brother's golden hair prompted me to scramble for my camera.
We filled two big grocery bags with Good Apples, and saved another bag of half-bad apples that I am going to cut the good parts off and make into applesauce. Isn't that resourceful? I feel like a real urban homesteader!
The scent of apples and cinnamon in the kitchen is such a homey, Midwestern sort of autumn aroma. It reminds me of my early childhood in the Midwest and taking my grandmother apple picking when she visited from Taiwan.
In honor of apple season, here is my original recipe for Caramel Apple Oatmeal Bars, to combine some of my favorite flavors of fall, into a neat little package. The recipe makes a lot, so be sure to share with a neighbor.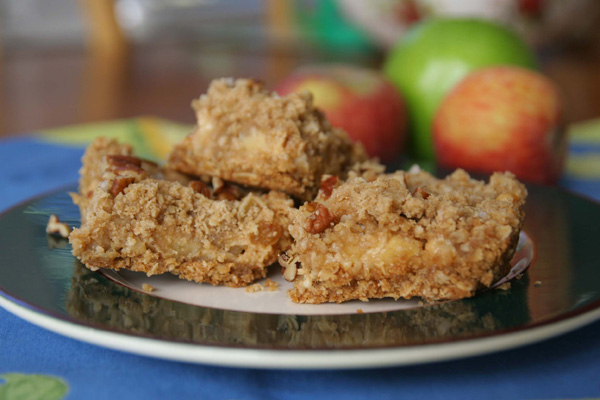 Caramel Apple Oatmeal Bars
Ingredients
Crust:
1 c. flour (white whole wheat if you want to make it "healthy")
1 c. oatmeal
1/2 c. brown sugar
1/4 tsp. baking soda
1/2 c. butter
Caramel layer:
1 14 oz. can sweetened condensed milk
2 tsp. vanilla
Apple layer:
3-4 medium apples (Golden Delicious, Braeburn, Jonathan or Granny Smith work well)
2 Tbs. sugar
3 Tbs. water
2 Tbs. lemon juice
1 tsp. cinnamon or apple pie spice
Crumb Topping: 
1 c. flour
1 c. oatmeal
1/2 c. brown sugar
1/2 c. butter
1/4 c. chopped pecans or walnuts
Directions 
Apples
Peel and core apples, chop into 1/2 inch dice. In a medium saucepan, combine apples, sugar, lemon juice and spices. Bring to a boil and simmer until apples are tender. Set aside.
Crust
Mix flour, oatmeal, sugar and baking soda. Cut in butter to make coarse crumbs. Press this mixture into a greased 13 x 9 inch baking pan. Bake at 350 degrees for 15 minutes.
Caramel
Heat condensed milk in heavy saucepan over medium heat, stirring constantly until bubbly. Reduce heat and stir for 5 minutes more. Add vanilla. The mixture will thicken and turn light golden brown.
Topping
Mix flour, oatmeal and sugar. Cut in butter to make coarse crumbs.
Assembly:
Pour the caramel mixture over the baked crust. Spoon the apples over that layer, being careful not the mash it all together and make a big mess. Gently squeeze the topping mixture in your hands to make clusters and drop them over the apple mixture. Press down lightly, again being careful not to smash the lower layers. Sprinkle with chopped nuts and a little coarse sea salt.
Bake for 20 minutes more at 350 degrees, until lightly browned on the edges.
Cool in the pan and cut into bars.
Recipe originally published on my blog at Open Salon.