December's Let's Lunch theme is Celebrations From Around the World. #LetsLunch is a virtual potluck featuring some of my favorite food bloggers.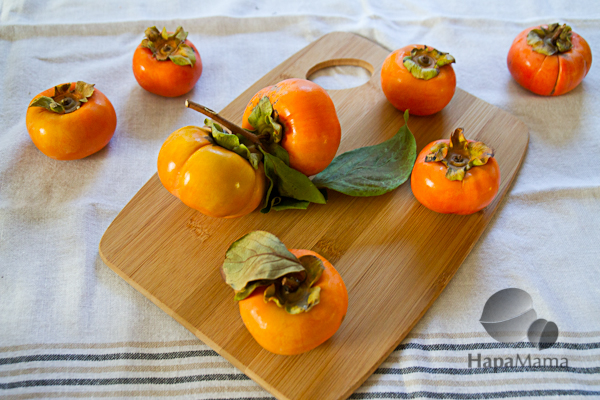 The best presents are often the ones you don't expect.
I find them sometimes on my doorstep. Plastic shopping bags filled with homegrown tomatoes, Meyer lemons, or at this time of year — persimmons. My mother has been here, often stopping by as she passes near my neighborhood, dropping off a little gift from her backyard. They say food is the love language of Chinese people, and homemade food is the highest expression of affection. Cooking is not so much my mom's thing, but she is very good at gardening. A biologist by training, she waters her fruit trees and vegetable garden by hand each evening. The persimmon tree, she tells me, bears a lot of fruit one year, then will have a much smaller crop the next. This year must be a big year.
The persimmons she brings over are Fuyus, small and squat with a tomato-ish shape. They are shiny and orange and almost as firm as apples.  We usually peel them and serve them cut into wedges.
Peeling back the thick skin reveals a mild flesh with some translucent seeds that never seem to reach maturity. Persimmons are native to China, and have that kind of subtle flavor that is not appreciated by American tastebuds. It's no wonder they are rarely found in supermarkets. I used to think the fruit was a snooze. Neither sweet  nor tangy, persimmons can be best likened to a very mild cantaloupe or an underripe nectarine. Unlike the larger, pointier Hachiya persimmons, Fuyus aren't really good for baking. They are best enjoyed fresh.
But eating straight persimmons can be a little plain, especially during this time of year, when big cloying flavors are all around. Recently, I spotted a persimmon salad on the menu at a local cafe. I was surprised that they had sliced the fruit crosswise on a mandoline, creating paper-thin rounds atop a bed of greens. At this time of year, one of my favorite holiday dishes is a Mexican Christmas Salad, or Ensalada de Noche Buena. Often served to guests at La Posada celebrations leading up to December 25, the salad usually has a colorful array of sliced oranges, grapefruits and pomegranate seeds fanned out atop a bed of lettuce. Even though I've never been to a posada, I saw a recipe for this salad in a cookbook years ago and have been made it my go-to Christmas salad. Since persimmons are so bountiful right now, I decided to incorporate them into a new, Asian fusion version of the Christmas Salad.
Persimmon Christmas Salad
Serves 4 as a side dish or two as a light meal
Ingredients:
2 Fuyu persimmons
1/4 red onion
Seeds from 1/2 pomegranate
1 head of butter lettuce (or 1 bag pre-washed butter lettuce)
2 Tbs. Trader Joe's Citrus Champagne Vinegar (substitute rice vinegar, if not available)
1 Tbs. grapeseed or walnut oil
Directions:
In a small bowl, whisk together vinegar and oil and set aside.
Peel persimmons and slice into thin wedges, or slide crosswise with a mandoline.
Slice red onion into thin slivers.
Wash and tear lettuce into bite sized pieces.
Compose salad by creating a bed of lettuce and arranging persimmons, onion and pomegranate seeds on top.
Drizzle vinaigrette on top of the salad. Alternatively, you could toss the dressing with the lettuce in a separate bowl, and then arrange the fruit and onions on dressed greens
Merry Christmas and Feliz Navidad
For more recipes for celebrations from around the world, follow the #LetsLunch tag on Twitter!