Our partners at Shiseido sent me some products to review, but all the opinions below are my own.
This is the time of year that my skin does a Jekyll and Hyde thing. It has switched from its oily summer self to its tight, dry winter self. Japanese skincare giant Shiseido has a new line of products called Benefique, which is aimed at women in their 30s and 40s and targets skin's different needs based on various seasons. Here's what they say:
"Shiseido has discovered that abnormal skin temperature causes keratin to build up on the surface of the skin, which not only prevent proper absorption of skincare products but also disrupts normal skin functions, making skin vulnerable to increased signs of aging."
Benefique products use something called Cellular Solution Theory to warm up and cool down the skin to absorb its ingredients. But I don't care what its called so much as whether it works.
All of the products come in very feminine, pretty packaging and elegant glass bottles. Like many most other Shiseido product lines, Benefique follows the general technique of cleanser, lotion, moisturizer. But within each category, there are several kinds of products tailored to various needs.
Let's start with the cleansers: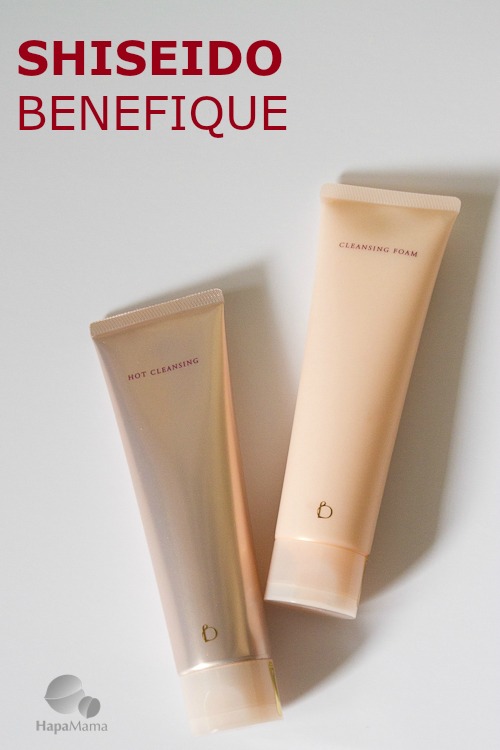 In addition to the foaming face wash, there is something called a Hot Cleanser, which is supposed to function as a makeup remover. This goes along with the popular Asian skincare routine called "double cleansing", in which you need one product (usually something emollient, like a cleansing oil) to dissolve your makeup and sunscreen, then you wash your face with a foamy cleanser which gets your skin nice and clean. This cleanser is not oil-based, but contains glycerin, so it has a gel-like texture. The cleansing foam reminds me of the other Shiseido face washes, but this one has a rather strong floral scent reminiscent of jasmine or honeysuckle.
Next comes the "lotion", but it's more like what Americans think of as "toner". Unlike the drying astringents you might have used, lotions are mild and soothing. Shiseido calls these a "brightening beauty essence water that cools skin and boosts circulation, giving skin a bright, healthy glow." The Benefique line contains three types of lotion.
Lotion I for hot weather and higher skin temperature or oily skin
Lotion II for moderate weather or normal skin temperature
Lotion III for cold weather or rough, dry skin
I used Lotion II, as I mentioned my skin is in that transitional phase: not super oily, and not parched.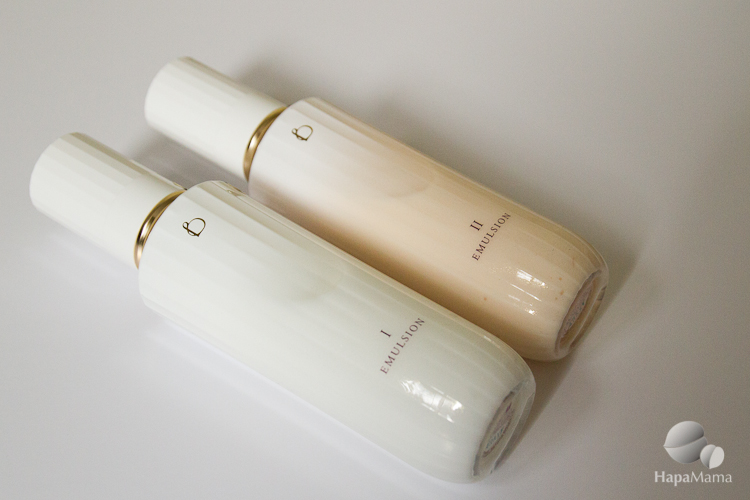 There are two kinds of emotions. Emulsion I seems to be lighter and for warmer, oiler skin, while Emulsion II is both richer and sort of pink-toned. I chose to try out Emulsion II.
Finally, there is a cream, which is a little confusing to me, since in other Shiseido lines (and yes, I've tried most of them), the emulsions are the moisturizers for oily to normal skin, and the creams are the moisturizers for dry skin. The press release says to use the cream, which is very thick and emollient, as the final step to "address the signs of aging to reveal lustrous smooth, firm skin".
For those who are acne-prone or sensitive to certain ingredients, note that the cream contains macadamia oil and petrolatum and the emulsions contain dimethicone and mineral oil.
Currently, Benefique skincare is available at Shiseido independent stores in the U.S., and also in Japan and Taiwan.