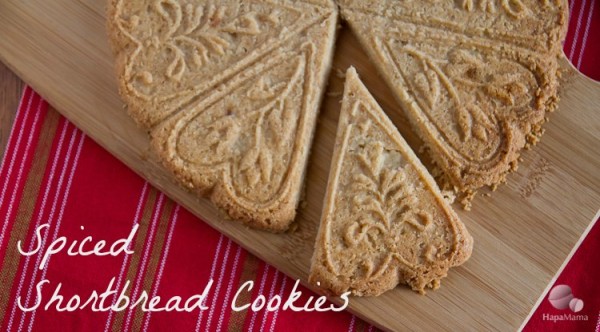 A version of this story was first published on Open Salon, November 2010.
There's nothing better than homemade cookies. Except homemade cookies in a shiny tin, sent from a faraway friend. A few years ago, I had one of the most delightful experiences of my blogging career. Just before Thanksgiving, a package arrived on my doorstep. Inside was a tin of cookies, sent by Open Salon blogger (and now Let's Luncher!) Lisa Kuebler. This particular tin had already passed through Lisa's — and Lucy Mercer's — capable hands.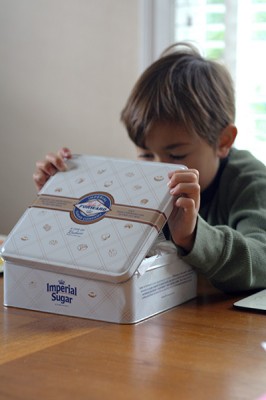 My job was to eat the brownies and poundcake inside the tin (another day in the life of a food blogger), then bake some goodies to send on to its next recipient. As I recount this story, the thought crossed my mind that perhaps it wasn't prudent to eagerly gobble baked goods from someone I'd never met before. But Lisa wasn't a total stranger. From her blog, I knew she was a witty writer who could spin a tale about meeting her husband over a vodka soaked watermelon or about the first grader who suspected that she'd baked "weed" into her cupcakes. I know all about Lucy's first job and about the soul food joint where she ordered takeout lunches and about her collection of cookbooks and rolling pins.
Unlike Southerners Lucy and Lisa, I do not come from a culture with a rich history of baking. However, we did get cookies from a tin. When my grandparents came from Taiwan to visit my family in the United States, they'd unbuckle their enormous suitcases and pull out rectangular tins filled with Taiwanese pineapple cakes. Cake is a misleading name for this treat, yet cookie would not be quite right either. Other times, the shiny tins promised more than they could deliver. One of my main memories from both my grandparents' homes in Taipei is of hub cap sized canisters of Danish butter cookies offered to any guests. Under the metal lid, dozens of golden brown shapes nestled in dainty paper cups: five-pointed flowers, half-moons, wreaths, rectangular plaques sparkling with sugar crystals — and my personal favorite — the jelly topped. However, the cookies tended to be rock-hard and rather bland, and despite their fanciful shapes, they all pretty much tasted the same.
Whether I like it or not, this is my cookie heritage, and I have decided to claim it with pride — with a few improvements.  Like a white shirt or a haiku, butter cookies can be sublime in their purity: deliciously tender and just sweet enough. But their simplicity leaves little to hide behind. No chocolate or strong spices to mask less than stellar ingredients. No leavening used to improve their texture, just careful mixing. Ultimately, I decided to fill my tin with two types of butter cookies: thumbprint cookies filled with apricot-pineapple jam and shortbread, both classic and almond. After all, the tin would be shipped to fellow Taiwanese American Linda Shiue of Spicebox Travels.
This memory came to mind when Lisa Goldberg of Monday Morning Cooking Club announced that this month's Let's Lunch theme would be festive edible decorative things. I don't have the patience for piping icing on cakes or such, so what immediately sprung to mind were these lovely shortbread molds.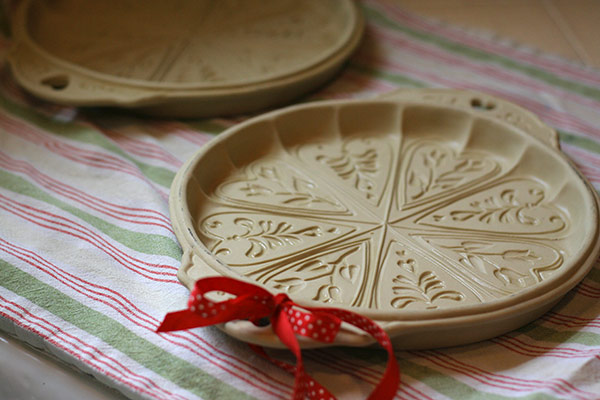 Made by Brown Bag Cookie Art, I first received one of these earthenware pans as a wedding present. Our first Christmas together, I baked classic shortbread, along with lemon, chocolate and almond varieties. Like many wedding gifts, the pan eventually got pushed to the back of a drawer, until I ran across its twin at one of the garage sales I frequented during my years of pushing babies in strollers. In perfect condition and with a red ribbon tied through one of its openings, this pan seems to have spent its life as a decoration. Which is a shame, since these baking in these pans is a snap, and yields such pretty results, it's hard to believe that it's so simple to create such an elegant treat.
Recently, I learned from Brown Bag website that the company's founder was actually inspired by intricately molded cookies spotted in Boston's Chinatown. So my sentimental attachment to these molds seems even more appropriate.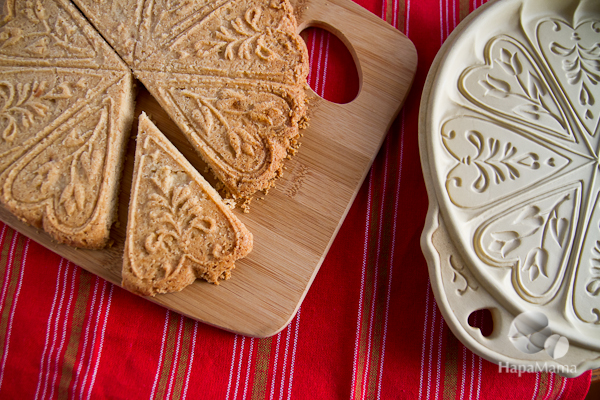 It's hard to believe that three years have passed since that cookie tin travelled from Georgia to California and back. And I feel so blessed that the friendships that started through the Salon Kitchen Challenge have lasted through time and cyberspace.
Merry Christmas. Happy Holidays. Peace on Earth.
Spiced Shortbread Cookies
Recipe adapted from the Brown Bag Cookie Art Company
Ingredients
1/2 c. unsalted butter, room temperature
1/4 c. packed brown sugar
1 tsp. Penzey's Baking Spice
1/2 tsp. ginger
dash of coarsely ground sea salt
1 c. flour
1 Tbsp. corn starch
Directions
Preheat oven to 325 degrees.
Pulse the butter in a food processor, then mix in brown sugar and spices.
Add flour and cornstarch and continue pulsing until the mixture becomes sandy and begins to stick together.
Remove the dough from processor and gently knead on an unfloured board until smooth.
Place the dough into the center of a  lightly greased shortbread pan and press it out towards the edges, smoothing as you finish.
Prick the entire surface with a fork.
Bake in the pan for 30-35 minutes, or until lightly browned.
Let the shortbread cook in the pan for 10 minutes, then loosen the edges with a thin knife, and flip the entire pan over onto a wooden cutting board. You may need to bang the pan and board against a counter to get shortbread out. Do not let the shortbread cool completely in the pan or it will be very difficult to remove.
Cut into wedges while still warm.
Note: the shortbread can also be free-formed into a circle or square and baked on a cookie sheet. In this case, I like to score the dough into wedges or squares before baking, which creates some guidelines for cutting.

For more Let's Lunch posts from my blogging buddies, check out these posts or follow #LetsLunch on Twitter!
Lisa's Chocolate Almond Tree on Monday Morning Cooking Club
Pat's Lemongrass and Pandan Sugar Cookies at The Asian Grandmother's Cookbook
Betty Ann's Mini Bibingka on Asian in America
Anne Marie's Ornament Sandwiches on Sandwich Surprise
Lucy's Peppermint Candy Tray at A Cook and Her Books
Tammy's Chewy Gingerbread Cookies at Insatiable Munchies
Vivian's Festive Gingerbread Cookies at Vivian Pei
Linda's Merry Kale Trees at Free Range Cookies
Annabelle's Pecan Caramels at Glass of Fancy