This post is sponsored by our partners at Honey Maid as part of the #ThisisWholesome campaign.
Like many Americans, we love to celebrate the 4th of July by spending time with friends and family, with a neighborhood bike parade and barbecue, followed by a bonfire and fireworks. The celebration of freedom is important to us for so many reasons. My parents came to America in the late 1960s, soon after changes in immigration law allowed more people from Asia to come to the United States for education and employment. As the daughter of Taiwanese immigrants, I was raised with both a strong connection to my family's heritage and also a real appreciation of the opportunities this country affords. My husband comes from a line of military veterans, so the sacrifices for our liberties are also deeply valued.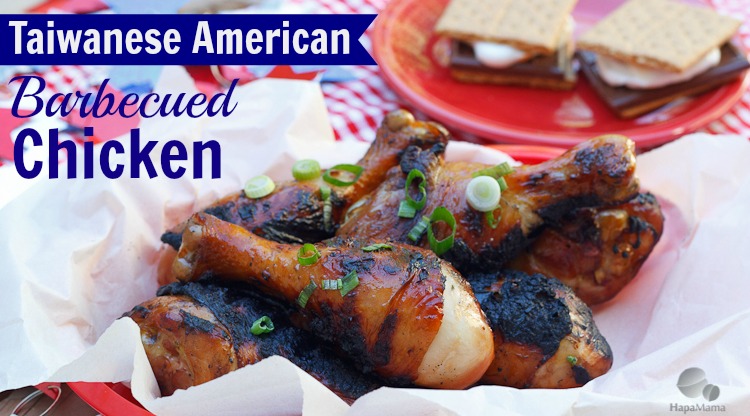 For our 4th of July potlucks, we like to serve barbecued chicken with seasonings that reflect the tastes of Taiwan. Marinated for hours, the dark meat soaks up soy sauce, garlic, and sesame oil. Since my parents landed in a small Midwest college town when they first arrived in America, not all of their familiar foods were available. But it was easy to find drumsticks at any supermarket, along with a few common herbs and seasonings. It's such a simple recipe, and just smelling this on the grill takes me right back to the many weekends of my own childhood, spent at parks with friends and family.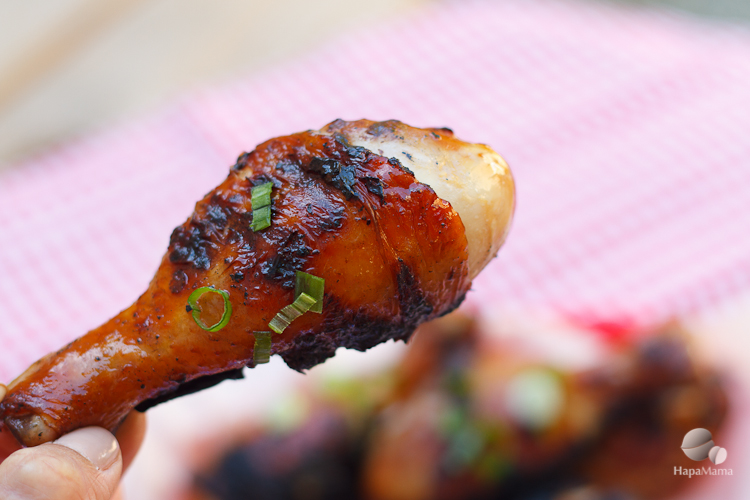 In our multiracial family, it's not uncommon to mix flavors at mealtime. We can top off a dinner of Taiwanese barbecued chicken with a dessert that's classic Americana: s'mores. After all, our fingers are already sticky! My kids are already experts at roasting marshmallows and sandwiching them with chocolate between two Honey Maid graham crackers. After all, a 4th of July potluck is kind of symbolic of the evolving face of America – we don't have to leave the flavors of our heritages behind, we can share them with others, making all of our lives richer.
Check out this video of the Gomez family, another immigrant family celebrating the American Dream this Fourth of July
https://www.youtube.com/watch?v=tsxFM_P5cr4&feature=youtu.be
Scroll down to try my recipe for Taiwanese BBQ chicken…

Taiwanese American Barbecued Chicken
Ingredients
2 lbs. chicken drumsticks (about 5-6)
½ c. soy sauce
1 Tbsp. Chinese rice wine (or cooking sherry)
3 Tbsp. white sugar
2 tsp. sesame oil
3 green onions, cut into 1" pieces
3 cloves garlic
Directions
Mix all the marinade ingredients and pour over chicken pieces in a large bowl.
Cover and refrigerate at least 4 hours, preferably overnight
Heat up a grill and place chicken on the rack over high heat, being careful to watch for burning.
Turn pieces after the first side is seared, about 7 minutes.
If chicken begins to char too quickly, turn down the heat to medium.
The drumsticks should be ready after 15 minutes or when the juices run clear.
Do you have a story about what makes you uniquely American this #4thofJuly? Share you love for all families on Twitter or Facebook with #MeltingPot and #ThisIsWholesome.