This month's Let's Lunch theme is food that bridges cultures.
Indulge me for one more reflection on my recent trip to New Orleans…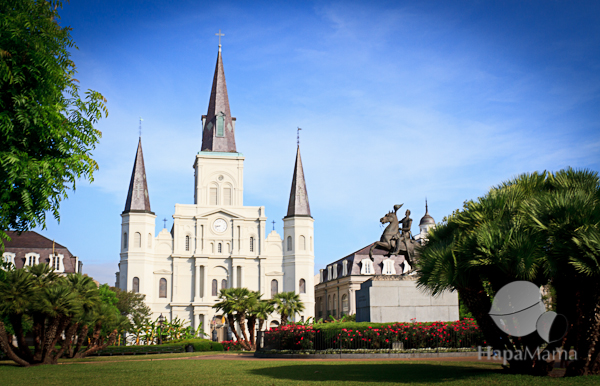 I headed to New Orleans with visions of dirty rice, crawdads and chess pie in my head. You see, I love Southern food, which is in many ways the opposite of California cuisine: there is nothing gluten-free or low-carb, nothing in mousse or gel form. And with its emphasis on seafood (with shells and tails!), deep frying, and cooked greens — simple ingredients prepared with traditional techniques — Southern food is sort of like… Chinese food.
When my parents first arrived in America over 40 years ago, my mother found Midwestern cooking oddly bland and unsatisfying. The food that saved her was fried chicken. Which meant that during my childhood, eating out often meant red and white striped buckets and those little packets with a wet wipe, napkin and spork. I didn't realize until much, much later in my life that many Americans regarded fried chicken as Southern fare or soul food. Even when my family later moved to California, the yearly Taiwanese American Lunar New Year's parties served banquet fare for the adults, while us youngsters were given boxes of crispy drumsticks and corn on the cob. To me, fried chicken was simply our food.
Usually, after traveling for any period of time, I return with a craving for home cooking, usually Chinese. This time, however, my official duties kept me in the conference center most of the time, dining on hotel catered meals. While I did manage to sneak out to Cafe du Monde and partake of beignets on more than one occasion, I returned to the West Coast in an odd state of mind. I was eager to sleep in my own bed, yet I still hungry for the South.
This was a job that called for fried chicken. Not just any old fried chicken, but the Taiwanese kind. When my mother discovered the eleven secret herbs and spices, I think what she was really longing for were the original five spices of her childhood. You see, fried chicken — along with pork chops and squid — is a staple of Taiwanese cooking. Not buckets full of oversized breasts and thighs, but smaller pieces of meat cut off the bone, and dipped in a fragrant, extra crispy batter. Sometimes called popcorn chicken or salt and pepper chicken, these bite-sized morsels are often dished up as snacks at boba cafes in cities like Cupertino or San Gabriel, where there are large numbers of  immigrants from Taiwan.
I'm not a fan of deep-frying. During my childhood, I watched too many times as my mom quickly dropped egg rolls or battered smelt into a pot only to get red welts on her forearms from the splattering oil. But sometimes you gotta do what you gotta do.
Taiwanese food is not always a hit with my children and husband. Somehow the bracing pungency of stinky tofu is lost on the American palate. But they gobbled this down. Just like Colonel Sanders helped my mother adjust to American food, maybe this fried chicken will help my kids maintain the connection with their Taiwanese roots.
Taiwanese Fried Chicken Wings
In this recipe, I've used wings and drummettes instead of the traditional pieces of thigh meat. Fried chicken, Taiwanese-style, involves marinating the meat first. Instead of buttermilk as is often used for American recipes, this chicken is soaked in a mixture of soy sauce, rice wine and spices. I used five-spice and white pepper in both the brine and the coating for a little extra kick. Taiwanese batter gets its crispiness not from wheat flour, but from sweet potato flour and corn starch. Contrary to what you might expect, sweet potato flour is not orange. It is produced from white sweet potatoes, hence it's gluten-free (I told you I'm from California!) and somewhat coarser than wheat flour, which allows it to hold up to moisture and frying.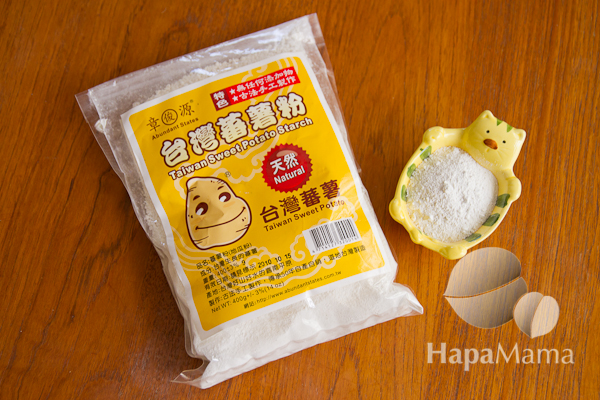 Ingredients:
1 1/2 lbs. chicken wings and drummets
1/4 c. soy sauce
1 Tbs rice wine
1 clove garlic, minced
2 tsp. five-spice powder
2 tsp. white pepper
1 tsp. salt
1 c. sweet potato flour (found in Asian markets)
1/4 c. corn starch
a few basil leaves, julienned
oil for frying
Directions:
Blend soy sauce, wine, garlic and half of the spices in a mixing bowl.
Add chicken pieces and marinate for several hours or overnight.
Mix the sweet potato flour, corn starch and remaining dry spices in a shallow bowl
Heat an inch or two of oil in a wok or Dutch oven over medium-high heat
Test if the oil is hot enough by dropping in a cube of bread. If it bubbles and fries quickly, the oil is ready. (Sorry, no temperatures. Like I said, I'm not a big deep-frying person!)
Gently lower the chicken, a few pieces of time into the hot oil. Turn the pieces as they begin to look golden around the edges.
Remove the finished chicken pieces to a plate lined with a paper towel, and repeat with remaining chicken.
Garnish with julienned basil leaves. The traditional way is to flash fry the basil leaves, so they get translucent and crispy. But I felt like keeping things a little fresher and simpler.
Break out the wet wipes and enjoy!
Our fearless lunch leader, Cheryl Tan will be making a San Francisco appearance on Saturday, May 20 to present her book A Tiger in the Kitchen. Check the Omnivore Books website for details.
Until then, you can check out more great fusion recipes from my lunching buddies below, or follow #LetsLunch on Twitter.
Cheryl's Goan Pork Curry Tacos on A Tiger in the Kitchen
Lisa's Jewish-Chinese Brisket on Monday Morning Cooking Club
Lucy's Coconut Rice Pudding with Mango on A Cook and Her Books
Emma's Bulgogi Kimchi Nachos on Dreaming of Pots and Pans
Renee's Asian Spiced Quick Pickles on My Kitchen and I
Nancie's Chili-Cheese Biscuits from Sandra Gutierrez
Joe's Grilled Kimcheese Sandwich
Pat's Buttery Tofu, Pasta and Peas on The Asian Grandmothers Cookbook
Vivian's Funky Fusion Linguini at Vivian Pei
Linda's Project Runway Pelau on Spicebox Travels