This is my extremely late entry for April's Let's Lunch, a virtual potluck of food bloggers around the world. The theme is Spring Break… quite appropriate, since I just got back from vacation.
No trip to Taiwan is complete without a rundown of the food, glorious food! I hemmed and hawed over how to write this post, because it is such a gargantuan task to talk about the snacks (much less meals) we ate while traveling. So I'm going to start today by showing you some of the junk food, err, I mean sustenance, that shows how globalization has created some uniquely fusion Taiwanese snacks on the island.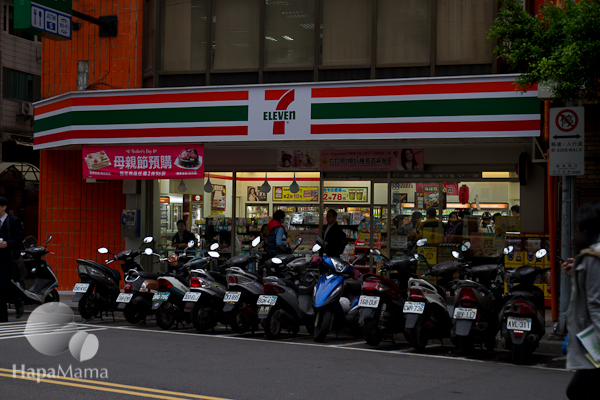 I spent my spring break hanging out at the 7 Eleven. Haven't been to one since 1984, and I don't think my children have ever set foot inside one of these stores before. Big Brother commented that his only impression of 7 Eleven was that it seems like "somewhere that bad stuff always happens." Apparently, during a recent field trip to the police station, many a cautionary tale was set in the store's parking lot. Anyway. Convenience stores like this one, also OK and Family Mart are on every street corner in Taipei and even small towns. They are like bodegas in New York City. And they don't just sell chips and soda, they have steam trays filled with braised soy sauce eggs, tofu and fish cakes, pre-made sushi and noodle dishes, and a huge selection of juices and tea.  No Slurpee machines, though.
Speaking of chips.. there is a huge variety of crunchy snacks in Asia — and not just barbecue or nacho cheese flavored. How about sushi or roast chicken flavored Lay's?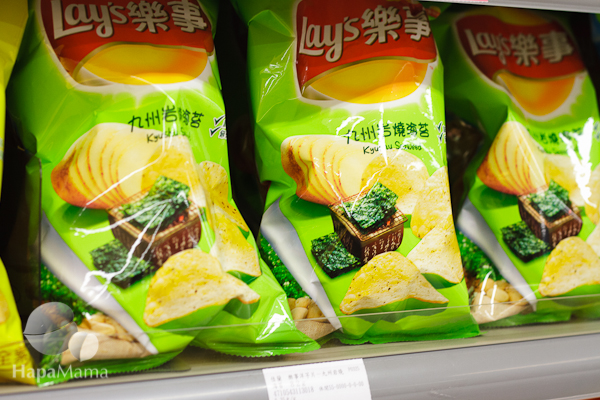 The nori-speckled potato chips were a huge hit with the boys, although I was a little disappointed that the chips were of the reconstituted and baked variety and not the traditional deep-fried slices.
While Asia is associated with rice, I found myself eating more wheat products while in Taiwan. And not just any bread — but eggy, yeasty dough formed into sweet or savory buns, often stuffed with custard, red beans, or dried pork sung. The window full of goodies shown above is the 60-year old Olympia Bakery in Taipei's ultra-hipster Ximending district.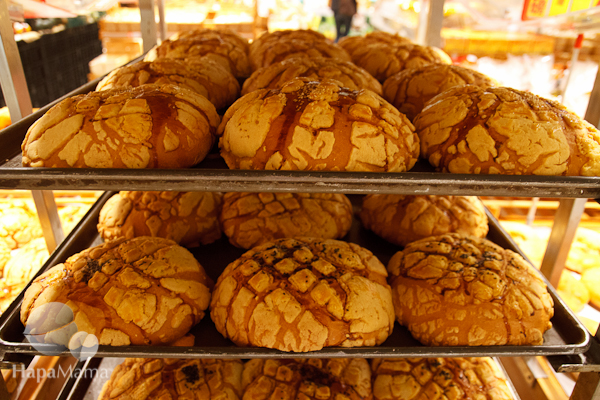 And you don't have to go to a bakery to find breads. Even chain grocery and big box stores, have fresh baked goods in store. The giant buns (instead of being the size of a hamburger bun, they are as big as a sourdough loaf) shown above were found at a Carrefour.
Low-carb diet? What low-carb diet?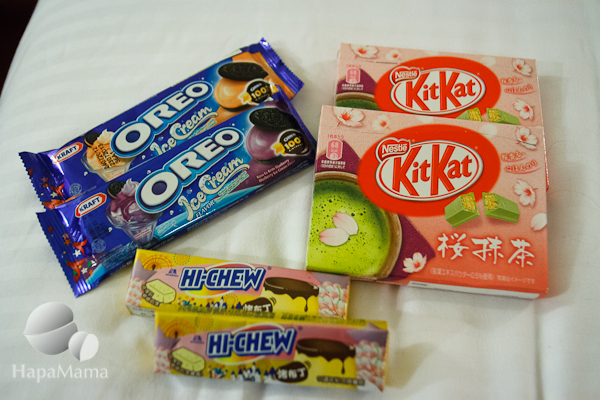 Nestle and Kraft have also made inroads in the Asian market, with specially flavored orange and blueberry ice cream Oreos and green tea Kit Kats. These treats, along with the special edition custard flavored Hi-Chews were given to us by my cousin Walter, but you can also buy them online at Asian Snacks.
Donuts are also popular in Taiwan. The latest craze is a Japanese chain called Mister Donut,which offers these pon de ring pastries, which are actually made of a extra dense and chewy mochi dough.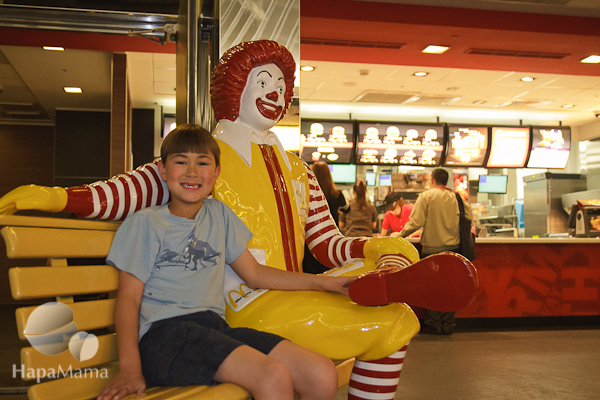 While adults may love finding stinky tofu and broiled squid on every street corner, it's enough to send picky American kids in search of chicken nuggets and french fries. I know. Part of my agenda for going to Taiwan was to starve my children into vegetable eating submission. Well, score one for Ronald McDonald, because on more than one occasion, we found ourselves beneath the golden arches  with a hungry, fussy kid.
So now that I've left you with the impression that all we did on Ilha Formosa was eat processed food, let me tell you that there was so much more to our vacation. Check back every Tuesday, I'll be posting about other fun things to do and eat in Taiwan.
And for other spring break eats, visit Emma at Dreaming of Pots and Pans, or #LetsLunch at Twitter or Pinterest for more fun stories and delicious recipes.