I've written about zucchini noodles before and how they're one of my four top ways to sneak a few extra veggies into your diet. I've experimented with "zoodles", as some people like to call them, and here is one of my favorite one pot ways too cook them… in a Taiwanese style stir-fry! My tool of choice is the Paderno Spiralizer (Amazon affiliate link),  tri-blade version — although I really usually only use the blades with medium sized openings.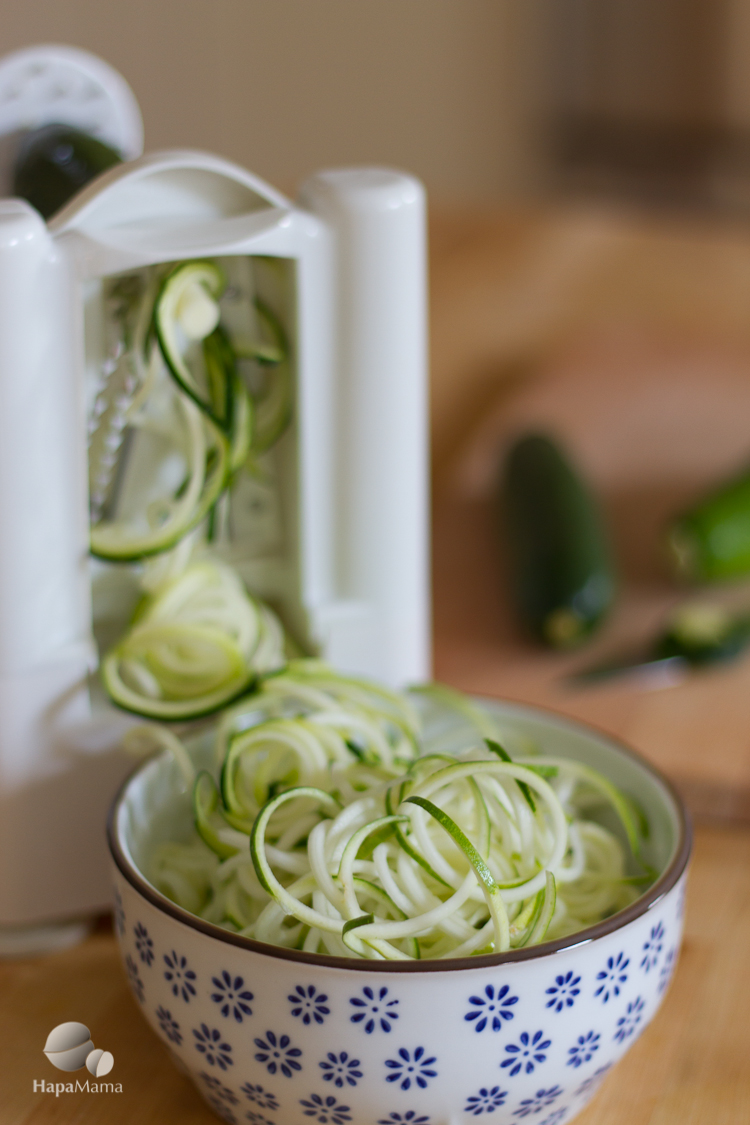 One of my favorite Taiwanese dishes is stir-fried rice noodles, bi hun in Taiwanese or mi fun in Mandarin. They're usually tossed in a wok with a few shreds of pork, plus green onions, julienned carrots, some sliced cabbage, and shiitake mushrooms.
In this recipe, I've replaced al the rice noodles, substituting zucchini noodles. Like rice noodles, they don't need to be boiled before going in the wok. Even better, they don't even need to be soaked.
You simply stir fry the meat and seasonings, add the vegetables, and enjoy! It's an easy and healthy meal.
Scroll down for my full recipe for Taiwanese style zucchini noodle stir-fry…
Taiwanese Style Zucchini Noodle Stir-fry
Serves 3-4
Ingredients
2 large or 4 small zucchini
2 carrots
1/4 purple cabbage, thinly sliced
4 green onions, cut into 1″ sections
2 cloves garlic, smashed and sliced
3-5 shiitake mushrooms, soaked in warm water until softened
8 oz. pork loin, julienned
1 Tbsp. cornstarch
3 Tbsp. soy sauce
1/2 c. water
2-3 Tbsp. neutral oil, such as grapeseed or avocado
Directions
Use the spiralizer to make noodles out of the zucchini.
If the carrots are large, you can also use the spiralizer. Smaller carrots can be julienned with a knife.
Thinly slice the mushrooms.
Mix cornstarch and soy sauce with water and set aside.
Heat a wok on high, add about 1 tablespoon of oil
Saute garlic and green onions until the garlic is lightly golden and the green onions brighten but are not too soft; remove from wok.
Add another tablespoon of oil, and sauce pork.
When pork is cooked, add the mushrooms, then carrots, then finally the cabbage and zucchini.
After the vegetables begin to brighten and soften slightly, add the onions and garlic, then the soy sauce mixture, tossing everything together. This will provide some moisture to help the vegetables cook and also thicken up to create a sauce to bind the shreds a little.
Tip: the zucchini noodles can be quite long. To make them easier to eat, you may want to cut them into smaller segments with kitchen shears.