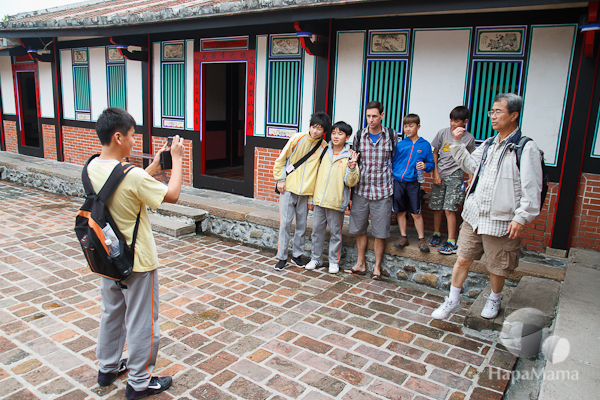 This really happened.
We were at a history park in Yilan County (sorry I can't be more specific, I was doubled over with food poisoning most of the day), I heard their voices.
"Where are you from?" called a squeaky voiced boy in a thick Taiwanese accent.
I turend to see a group of uniformed middle schoolers outside the window of the traditional family home we were touring.
"Where are you from?" a girl this time yelled, turning to her friends and giggling.
I thought they were talking to Big Brother, who is about their age, but he didn't want anything to do with them.
"Where are you from?" the calls kept coming, until I realized it was HapaPapa they most wanted to talk to. He was irritated, not used to being singled out for no apparent reason other than having different coloring and facial features than most people in the area. Finally, he turned around. "We're from America," he answered, "California."
"Do you like Taiwan?" the most obnoxious boy asked, surprised that he received any response at all.
They chatted a little bit, as much as they could, then HapaPapa asked the boys, "Where are you from?"
"Taiwan," they replied.
Upon some further discussion, we learned the kids were from Taoyuan, near the Taipei airport, and then they asked to take a picture. I, of course, got busy taking a picture of random people taking a picture of my family.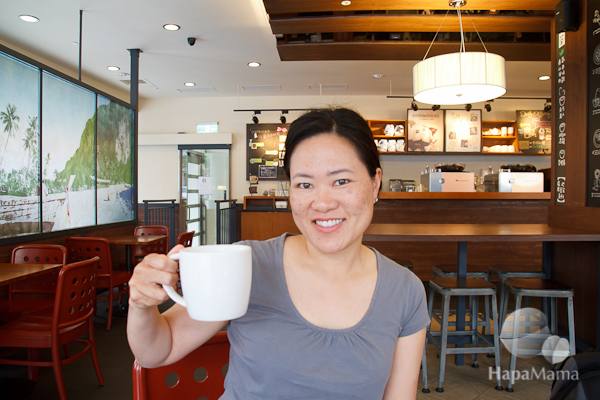 Okay, I guess that wasn't really a story about being Ugly Americans. Just a story about being American and sticking out like a sore (very pale) thumb in a sea of black hair and tan skin.
So I feel compelled to show you a picture of myself at Starbucks in JiaoXi. See the bar? The lighting? The signage? Yup. It's all EXACTLY LIKE IN AMERICA. There are slight differences, such as the addition of Chinese characters on the menu, and the bakery case held slightly different items (no chocolate chip cookies or scones). And the coffee? Just like Starbucks in America. Or Europe. Or Dubai, probably.
The biggest difference? They serve your Americano in an actual ceramic mug.
By the way, I skipped the pastries at Starbucks in favor of scarfing down a container of sliced wax apples I bought from a street vendor the night before. Within hours I started feeling very sick to my (weak American) stomach. Next time, I'm getting a croissant.
Another clue that we must surely be Americans: we used the smashed penny machines we found at several tourist spots. First of all we had American pennies. The machines don't fit Taiwanese coins. Some gift shops will sell you a blank copper slug the size to roll through the machine. And we took perfectly good U.S. currency and paid extra money to ruin in and render it worthless (and probably turn ourselves into criminals) by running it through one of these so we could have a souvenir. How very American.
What would you like to know about travelling in Taiwan with kids? Leave me a comment, and I might write about it!