As I wrote last September, I get a lot of questions about my mixed-breed dog. Well, I've had a few more months of walking her around the neighborhood and not a single day goes by without getting a comment about how pretty she is — often followed up by the question "What kind of dog is that?" Often, people I meet have guesses as to what breed of dog Amber is, so I thought it would be fun to share some of the types of dog people think she resembles…
Whippet
Whippet is the breed that comes up most often when people guess what kind of dog Amber is. Not surprising, since the folks at the shelter guessed that she was a Whippet mix, and her lean body and lightning fast speed seem to confirm that. However, Amber is much shorter and stockier than most Whippets, but it's possible that she's a mix with another breed, such as a…
Pit Bull
She's got the muscle tone and the brindle coat. Pit bulls are definitely a common dog around these parts, so it wouldn't be surprising if one of Amber's parents was at least part pit bull, although she is very small compared to most dogs of this breed.
Formosan Mountain Dog
"Is your dog a Formosan?" The first time I heard this question, I thought the person was trying to ask if I was Formosan. This is the suggestion that tickles me most, because as you probably know… Formosan Mountain Dogs come from Formosa aka Taiwan. And my family comes from Taiwan! Again, the brindle coat is pretty common among these dogs, which are a southeast Asian type of hunting dog originally kept by Taiwanese Aboriginals. I did some reading and learned that many of these dogs are intermixed with greyhounds brought over by Dutch colonists hundreds of years ago, giving some of them the lean body type. Check out this Greyhound/Formosan mix we met on Instagram!
Italian Greyhound
See a trend here? Yeah, there's some kind of Greyhound ancestry going on, and Amber is much more the size of the Italian Greyhound, the smallest of the sighthound class (and also the pet of one of the Kardashian/Jenner girls). However, Amber is a bit stockier, and Italian Greyhounds don't generally come in brindle coats.
German Pinscher
Once we were walking down the street and ran into a dog almost the same size and shape as Amber, except all red. Turns out it was a German Pinscher, a slightly bigger version of a Miniature Pinscher (which Amber has also been mistaken for).
Other?
Then again, there was this dog — which we found waiting patiently for its owner in front a coffeeshop — which also looks a lot like Amber…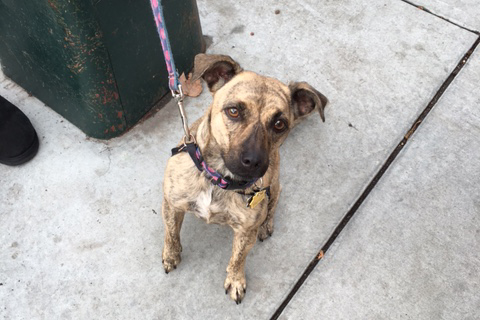 It turns out, she was also adopted from a local shelter and her owner's first question to me was… "What kind of dog do you have?"
Hope you enjoyed this peek inside my daily world! What kind of dog do you think Amber is?