After nearly a year's hiatus from food blogging… I'm baaack!
As a college student, I missed the familiar foods of home, but living in a dorm, it was hard to do any cooking — thus relying on bland cafeteria food or heavy takeout meals, instead. But my sophomore year, I shared a suite with three other girls, and our unit included a basic kitchenette with a small refrigerator, sink and a basic cooktop. Just enough to boil noodles and keep a few fresh vegetables on hand. During on the warm weeks at the beginning of the school year, my friend Tina introduced me to a simple Chinese noodle dish that could be created with a few common grocery store ingredients and a pot of boiling water.
Cold noodles like this are a common dishes during the hot summer months. Chewy strands of pasta are tossed with crisp julienned vegetables, a little meat or egg for protein and a light oil and vinegar dressing. Since my fellow blogger Lisa Goldberg of Monday Morning Cooking Club suggested the Let's Lunch theme "recipe gems" — using processed foods as shortcuts — this was the perfect opportunity to recreate a meal I haven't eaten since graduation.
A quick trip to Safeway netted all the ingredients needed for this meal. Most grocery stores stock fresh Chinese egg noodles in the produce department (look for them in the case near the refrigerated salad dressings and egg roll wrappers). The noodles cook in just three minutes, yielding deliciously chewy strands. A few eggs are scrambled and fried in a thin omelette, then julienned. Deli ham can also be sliced in the same way. To make the preparation even easier, I picked up convenience items such as shredded cabbage and pre-washed bean sprouts. Unfortunately, I waited a day or two too long before making this meal and the bean sprouts had turned into a soggy mess before I could use them.
The meat and vegetable toppings can be served on the side for people to add to their own bowls, as desired, or everything can be tossed together ahead of time. In college, we just mixed it all up in an old Corningware bowl and started eating. To bind everything together and give it some extra flavor, you'll need a dressing. And here's where the secret sauce comes in.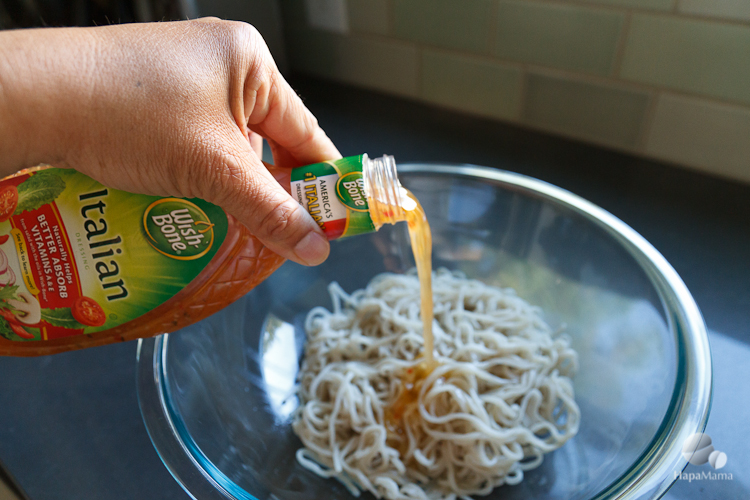 Yes… Wishbone Italian salad dressing!
It's important to this specific kind of salad dressing, as the basic flavors — onion, garlic, red pepper — give just enough zest without adding any clashing seasonings. You don't want any balsamic vinegar or other spices confusing the palate. Of course, now there are a plethora of Asian-theme salad dressings, such as sesame soy or miso flavors, but this classic dressing takes me back in time. Add a drizzle of sesame oil on top to push the flavors towards a classic Chinese profile.
Wishbone Chinese Cold Noodle Salad
Serves 3-4
Ingredients
One package fresh Chinese egg noodles
2 eggs, scrambled
1/4 lb. sliced deli ham (Virginia ham is nice)
3 green onions
1 English cucumber
2 cups shredded cabbage or bean sprouts
1/2 c. Wishbone Italian salad dressing
2 Tbsp. sesame oil
Directions
Fry the eggs in the form of a thin omelette in a large frying pan. Flip the omelette just once to set both sides, then remove from heat to avoid drying out.
Cut the omelette in half, then julienne as thinly as you can, cutting some of the longer strips in half.
Julienne the ham into similarly sized slices.
Trim the ends off of the green onions, then cut into 2″ sections, then julienne those sections.
Cut the cucumber into 2-3 inch cross-sections, then cut them in half, scooping out the seeds. Julienne the remaining cucumber parts.
Only when all the other ingredients are prepared, boil the noodles. (They will become overdone quickly, so you don't want to be distracted!)
Drain and rinse the noodles under cold water, then transfer to a serving bowl.
Toss the noodles with salad dressing.
Arrange the vegetable, meat and egg shreds over the noodles or on a separate serving platter.
Drizzle a bit of sesame oil over individual servings of noodles.
Note: Unlike my college self, I'm not used to bottled salad dressings and found the flavor overly salty. If I weren't feeling nostalgic, I'd replace half the salad dressing with a mixture of rice vinegar and a flavorless oil.
Follow #LetsLunch on Twitter to check out more recipe gems from my fellow food bloggers or check out these links:
Lisa's Hedgehog Slices on Monday Morning Cooking Club
Betty's Chocolate Cake with Mango Coconut Frosting on Asian in America
Linda's SPAM Musubi on Spicebox Travels
Demetra's No-Bake Strawberry Balsamic Cheesecake Semifreddo on Sweet Savant