Special thanks to Disney Pixar. I was invited on an all-expense paid trip to Pixar Studios in Emeryville. No other compensation was received and all opinions are my own.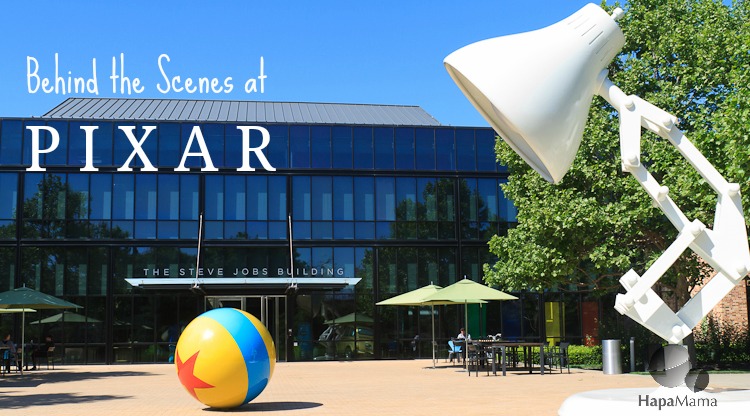 "We have to go see the Festival of Animation," my freshman dorm neighbor squealed. "They have films by Pixar!"
That was… a lot of… years ago. But I still remember one of the short cartoons we saw that night. It featured a desk lamp that looked just like the swing arm lamp in my room — only this lamp had a personality, interacting with another, smaller lamp and scolding the little one for bouncing a colorful rubber ball, instead of standing still on the desk, doing serious lamp-like business. Little did I know at the time that the subject of that cartoon would go on to become the iconic symbol.
Since my college days at Berkeley, I've seen Pixar go from tiny film festivals to a household name synonymous with cutting edge animation. Now, animators are working their magic at the Pixar studios in Emeryville, just a few miles from the campus auditorium where I first saw that bouncing lamp.
It's only befitting that a giant model of the lamp and ball stand in front of the main Steve Jobs Building on campus.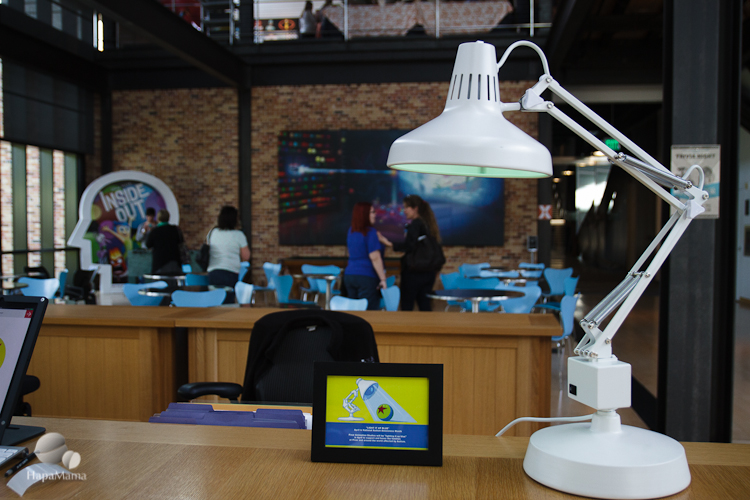 And a real-life lamp sits at the reception desk inside each building.
We were there to preview the upcoming movie Inside Out and to go behind the scenes at Pixar Studios. Opening on June 19, Inside Out takes us on a journey inside the mind of an 11-year-old girl named Riley and the roller coaster ride of emotions going on in her head.
After the screening a hefty 56-minute segment of the film, director Pete Docter and producer Jonas Rivera did a Q&A session with a couple dozen bloggers and journalists…
…then mingled at a Hawaiian-themed reception, in honor of the short Lava which will play in theaters along with Inside Out.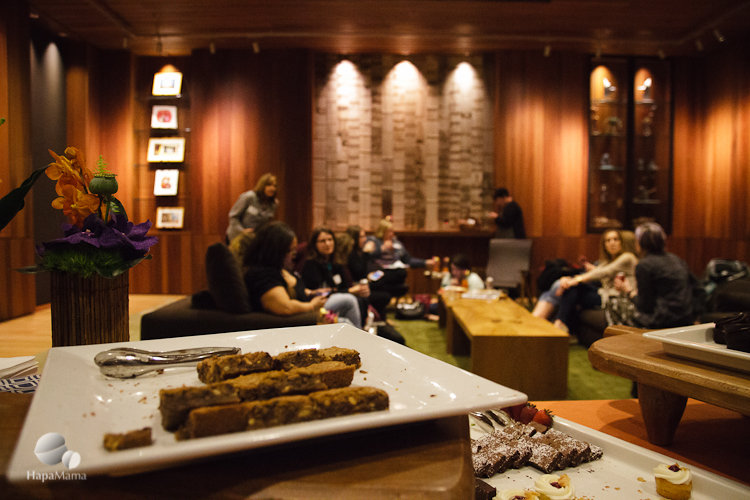 The food — which included ahi poke, avocado toast, kimchi potato chips and Mai Tais — was amazing. Only the next day, when we returned to Pixar for more interviews did I realize that these spreads aren't just for special events. It's how they eat everyday.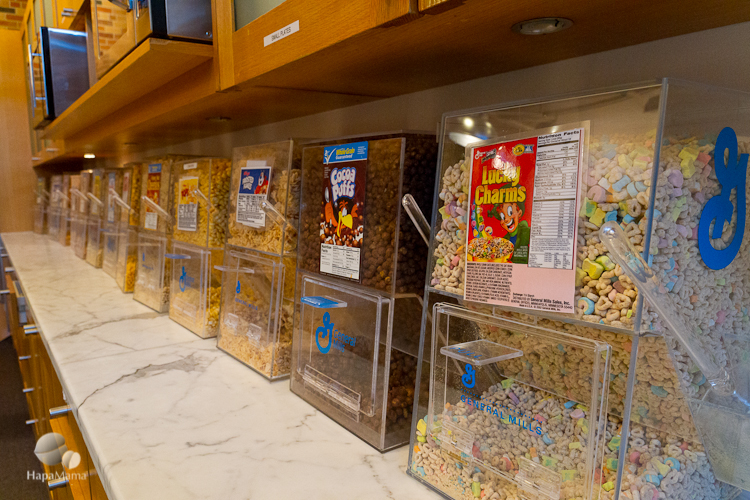 From breakfast at the cereal bar…
lunch…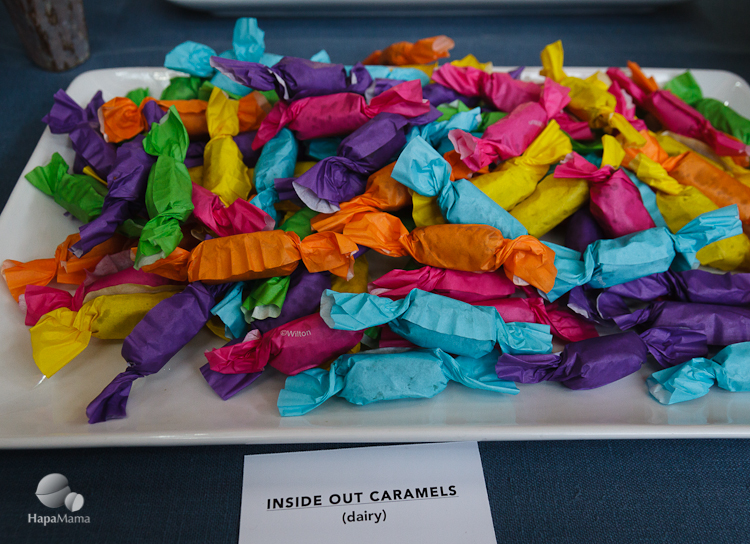 And everything in between…
Anyway, this post is not just about food, although the meals are so notoriously good that while we were chatting in the buffet line, one employee told me that people often gain the "Pixar 15" when they join the company. As with many Bay Area tech companies, there is a work hard/play hard ethic here, including onsite soccer field, pool and fitness classes.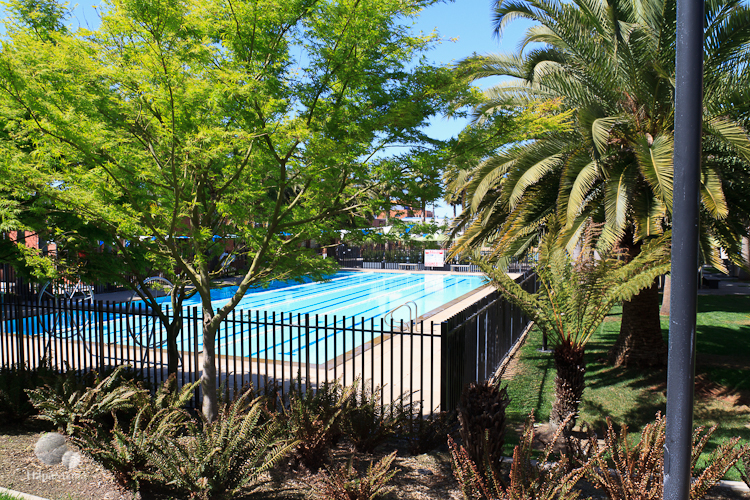 I loved the vibe in the Steve Jobs building (a converted former Del Monte fruit cocktail cannery), where most of the creative development takes place. Below, you can see the open seating cafe area, where employees meet with laptops and pads of paper, presumably going over scripts and brainstorming ideas while sipping lattes.
Everything here is an homage to Pixar, with classic characters such as Buzz and Woody: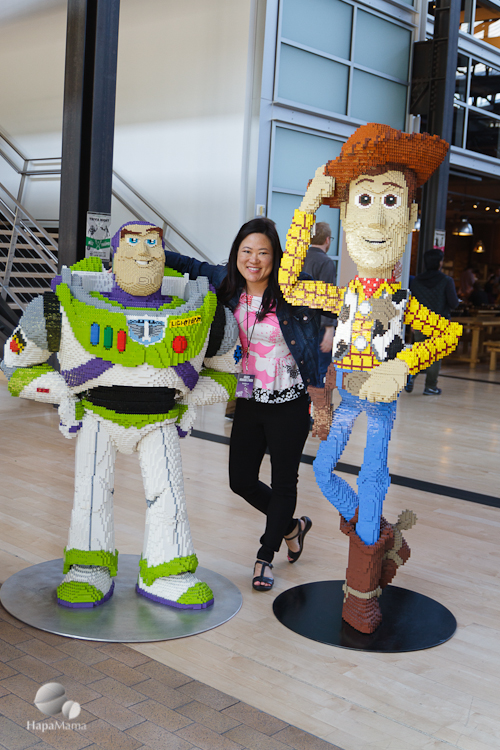 Sully…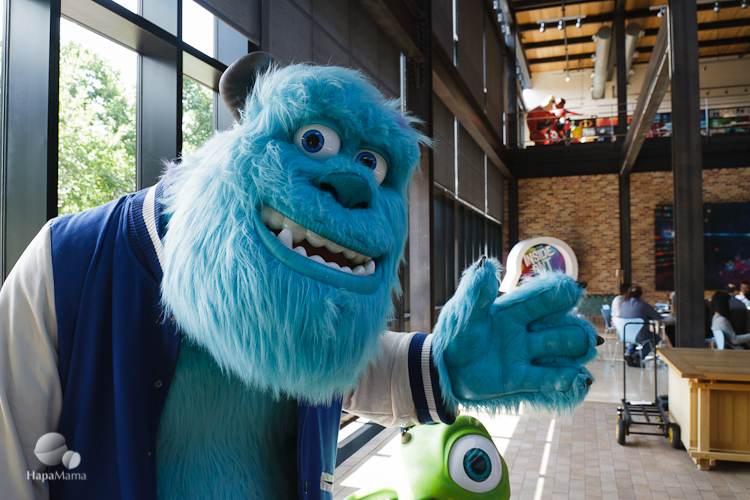 And new characters, such as Joy, the Amy Poehler voiced character from Inside Out
Of course, Pixar makes it really fun for visitors,too. Check out this photo booth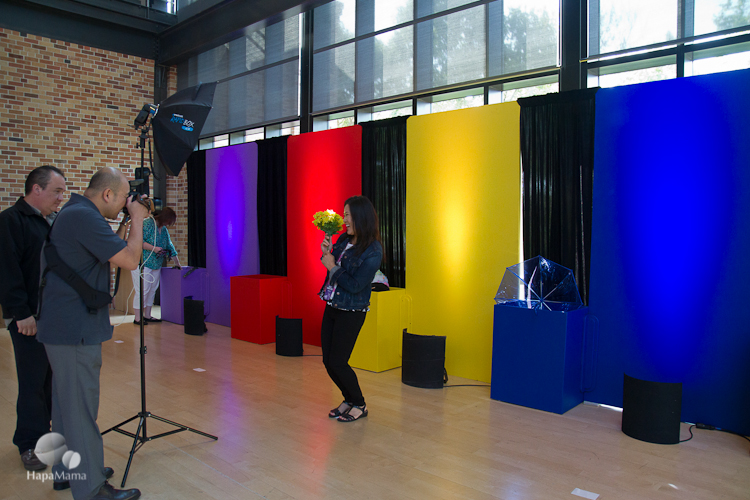 where we got a little silly and acted out all five of the emotions portrayed in Inside Out.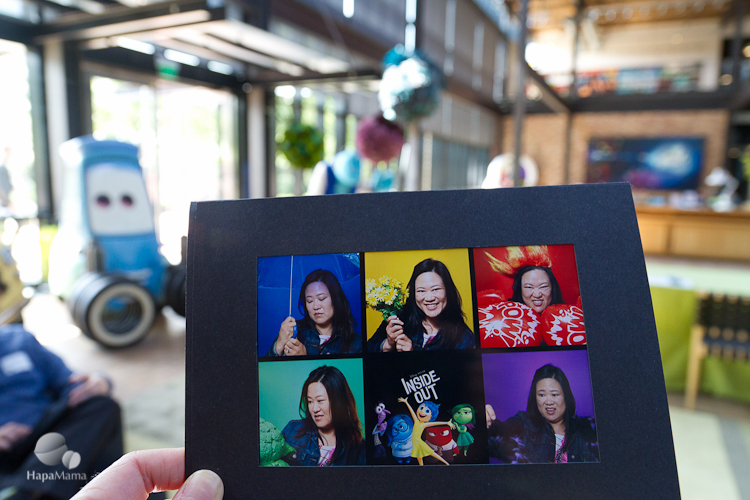 to the little touches, such as chartreuse umbrellas stored by the door.
I actually saw someone zip by on a scooter while I was walking around.
I'll be sharing more information from my trip over the next few weeks, including sneak peeks of Inside Out, Lava, and Disney Nature's Monkey Kingdom, as well as features of several prominent Asian American staffers at Pixar.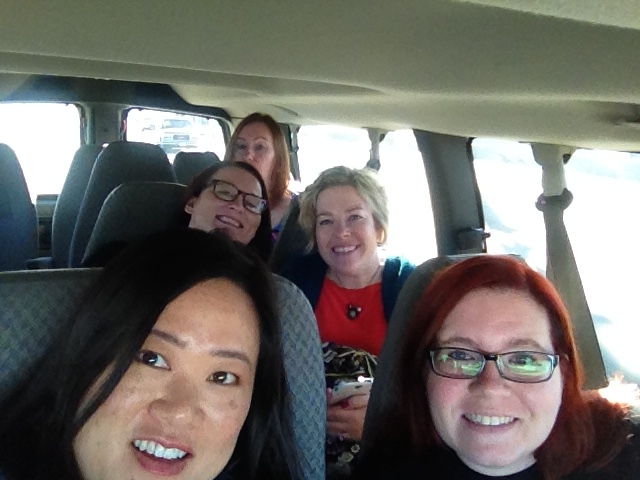 Did someone say selfie?
There's lots more like this on Instagram! Follow me @HapaMamaGrace and check the hashtag #InsideOutEvent for other sneak peeks from Pixar.