It's a fruit fiesta!
Betty Ann Besa-Quirino suggested fruit as the theme of this month's Let's Lunch virtual potluck of food bloggers, and what better way to celebrate than with a beautiful tart?
One of the signs that spring has sprung is when the strawberries hit the supermarkets. Not hard, pale berries, but the really deep, luscious fruits that you can smell as you near the produce department. Strawberries, in particular, tend to hit their peak season right around Mother's Day. I learned that tidbit from covering agriculture as a reporter in Santa Maria, California, where strawberries are one of the main crops.
While berries are delicious baked into a pie, crisp or muffins, it's almost a shame to hide the perfection of these ripe little gems under a heavy crust or sauce. I prefer my strawberries (and blackberries and raspberries…) unadulterated. Right out of the carton is just fine with me, but that lacks a little bit in the presentation department. At the other end of the spectrum, a few choice fruits are the crowning touch to a delicate frangipane filled tart at a French patisserie. Interestingly enough, these fruit tarts have also become a staple at many modern Asian bakeries.
You might remember from my apple pie post last fall, that I've long been intimidated by making my own pie crust. Well, I've practiced up a bit since then, and realized that if you use a food processor, making a homemade crust is as easy as… pie. Sorry, I couldn't resist.
But seriously, all you have to do is to pulse little cubes of cold butter with the dry ingredients in a food processor…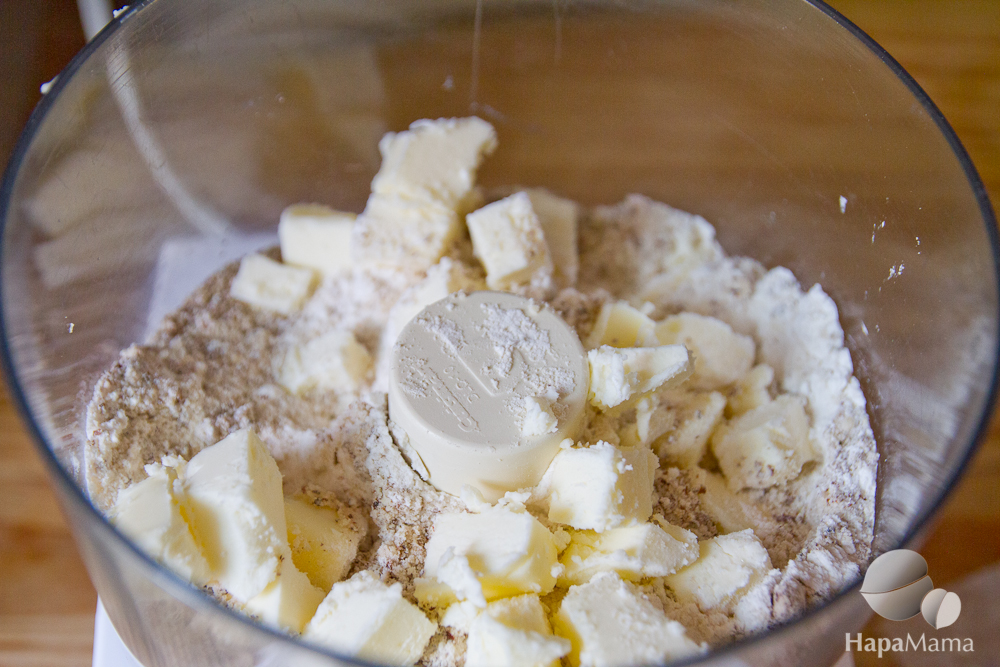 Then roll it out on a floured surface, using a sheet of plastic wrap between the dough and the rolling pin.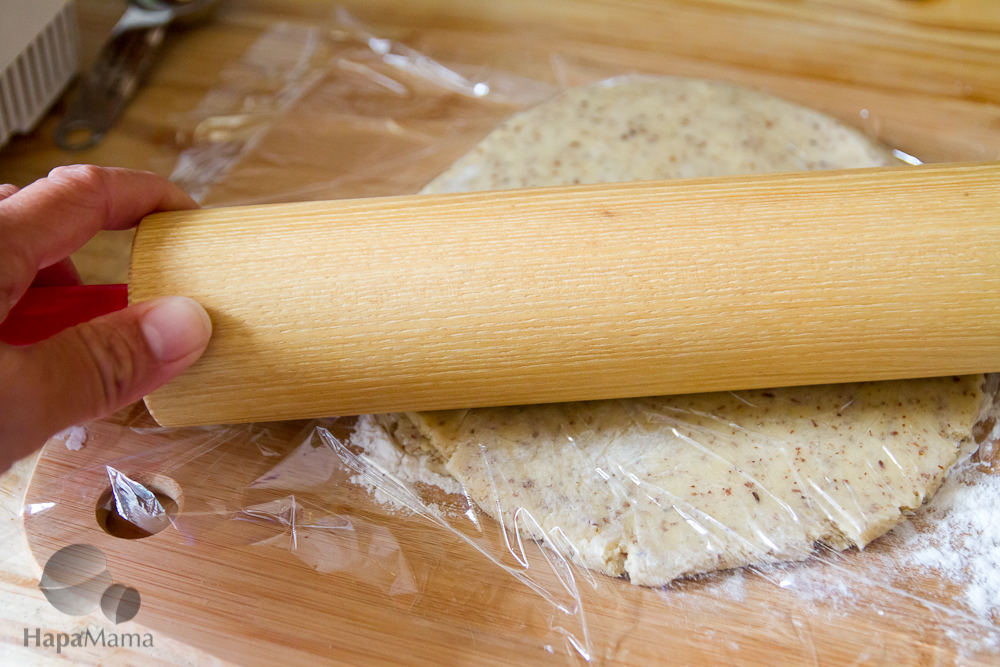 I've streamlined one of my favorite tart recipes from the Sundays at Moosewood cookbook, but eliminating the almond scented frangipane custard, and adding some almond meal and extract to the crust. It makes a hearty, simple, yet elegant dessert that you can make on Mother's Day — or any day.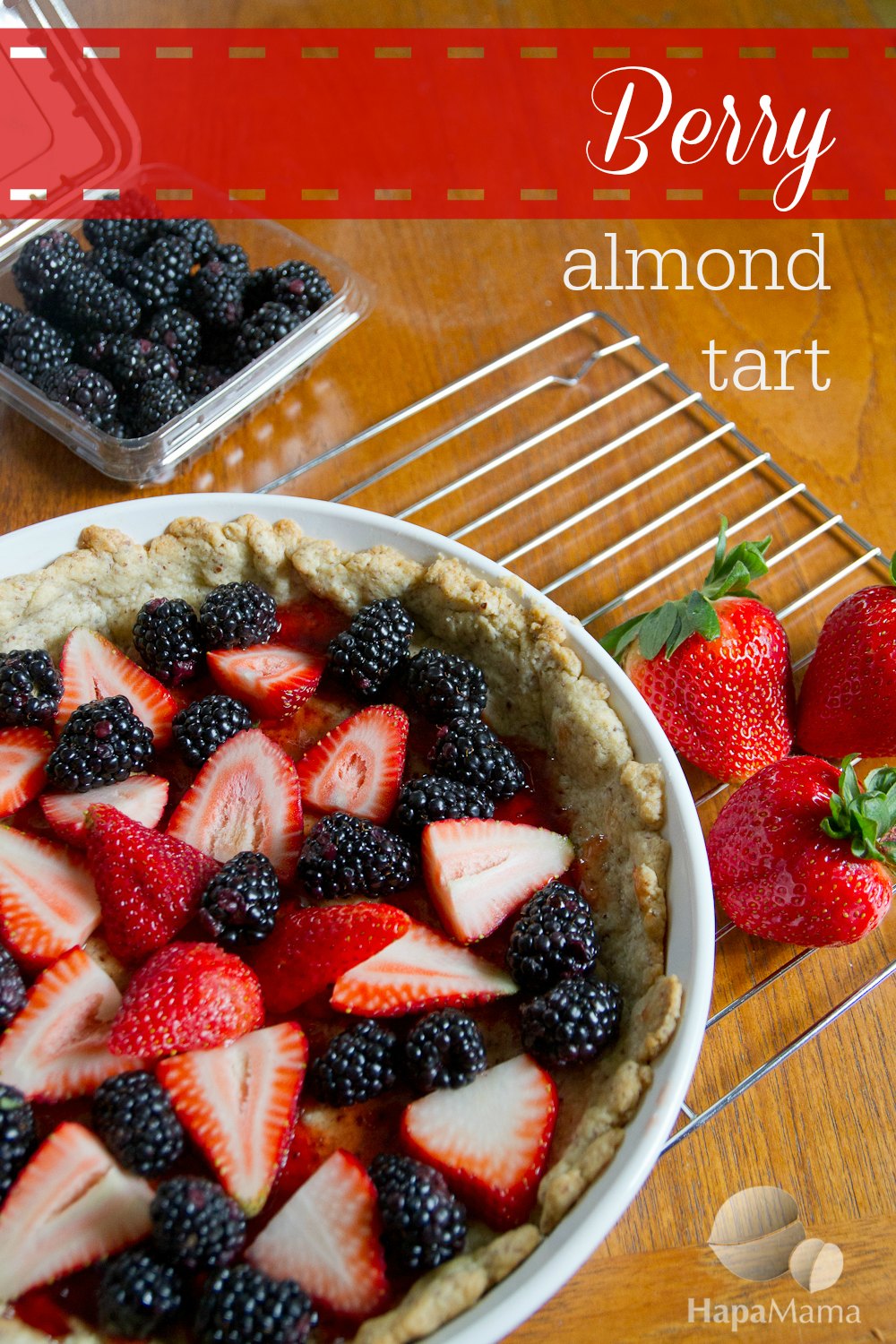 Berry Tart With Almond Crust
Serves 6-8
Ingredients
1 c. flour
1/2 c. almond meal
2 Tbsp. sugar
1/2 c. cold butter
dash of salt
1 tsp. almond extract
1 egg yolk
1 pint strawberries
1/2 pint blackberries
1/2 c. currant jelly
Directions
Mix flour, almond meal, sugar and salt in the bowl of a food processor.
Cut stick of butter into quarters lengthwise, then cut the strips horizontally into cubes.
Add the butter to the dry mixture in the food processor and pulse until it resembles coarse crumbs.
Scrape dry bits at the corners of the food processor bowl, then add almond extract, egg yolk, and water, one tablespoon at a time.
Pulse just enough to incorporate, adding a little more water if the mixture doesn't stay together.
Remove the crust and gently gather it together on a floured surface.
Cover with a sheet of plastic wrap and roll until it's the right size to fit your tart pan.
Carefully lift the crust and set it into the pan, trimming edges and patching any broken spots.
Cover the pan and chill for 1-2 hours.
Prick holes in the crust and bake in a preheated 375 degree oven for 15 minutes or until lightly browned. If you are not going to serve the tart right away, reserve the baked crust until right before serving time.
Wash the berries and slice the strawberries into desired sizes.
Heat currant jelly over low heat in a saucepan or in a microwave for 30 seconds, stirring to smooth out any clumps.
Using an offset spatula, spread a thin layer of jelly over the baked crust and arrange fruits in a pretty way on top.
Brush the fruit lightly with the jelly and serve immediately.