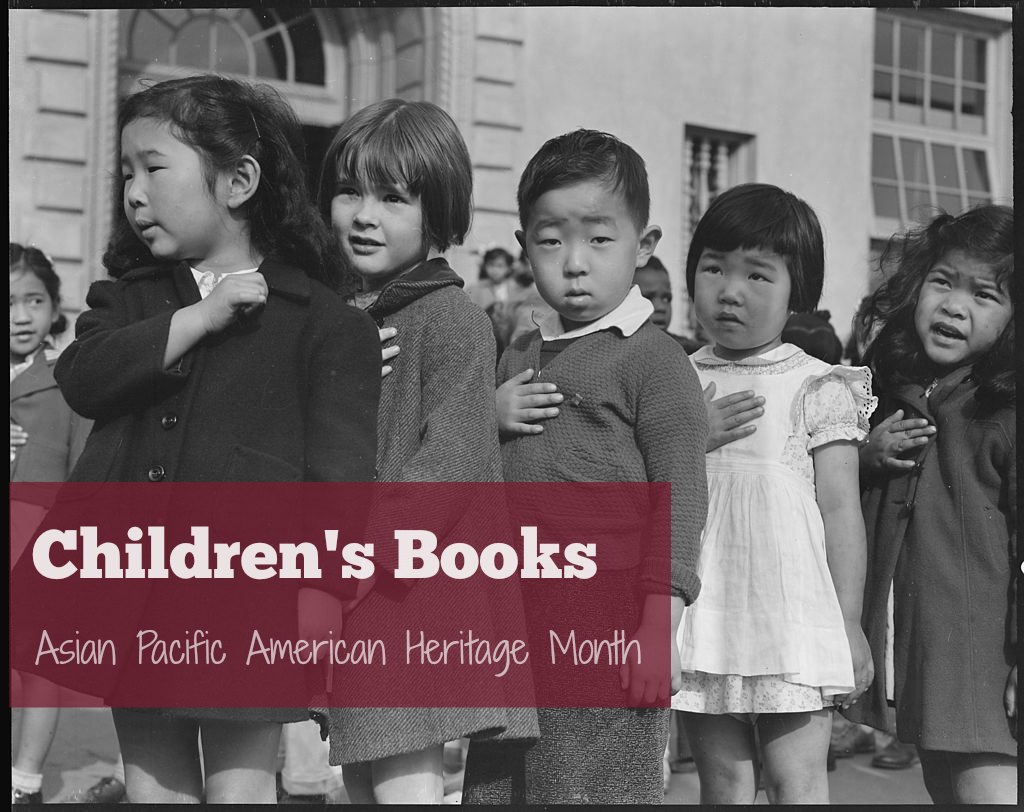 Japanese American children pledging allegiance in San Francisco in 1942
Image Credit: Dorothea Lange, US National Archives and Records Administration / Wikimedia Commons
In 1992, Congress proclaimed the month of May as Asian-Pacific American Heritage Month. And what better time to teach your kids about the history of Asians in the United States? Perhaps you've shared with your children how you or your family members came to America, but this is also a great opportunity to learn about the experiences of other Asians in the United States.
I've reviewed plenty of Asian children's books before, but I'm especially excited about this list, because these are all titles that focus on the rich and varied history of Asians in America. Here are some picture books that feature experiences of immigration, forging an identity, and key points in history. Because these subjects are rarely taught in class. Think of it as Asian American Studies for the elementary school set.
Kai's Journey to Gold Mountain
by Katrina Saltonstall Currier is a book I first saw while visiting Angel Island. In case you're not familiar with it, Angel Island, in the San Francisco Bay, was the Ellis Island of the West. During the 19th and early 20th century, immigrants from China, Japan, Korea and the Phillippines were detained in barracks, often for long and unpredictable lengths of time. Twelve-year old Kai is one of those new arrivals, who must wait to be released so he can join his father on "Gold Mountain".
Coolies
by Yin and illustrated by Chris Sontpiet tells the story of Shek and Little Wong, who arrive in California to build the transcontinental railroad.  Inspired by actual events, this story reveals the harsh truth about life for the Chinese railroad workers in 1865, while celebrating their perseverance and bravery. The author and illustrator also teamed up to create Brothers, a story about a friendship between Ming, a boy in San Francisco's Chinatown, and his Irish neighbor, Patrick.
A Place Where Sunflowers Grow (English and Japanese Edition)
by Amy Lee-Tai and illustrated by Felicia Hoshino is a recommendation from my friend Elisa Koff-Ginsborg. The book tells the story of Mari, who — along with thousands of other Japanese Americans– has been forced to move to the Topaz internment camp during World War II. An art class and a kindly teacher offer a ray of hope amidst these unjust circumstances.
Baseball Saved Us
by Ken Mochizuki and illustrated by Dom Lee is another title about the Japanese American internment experience. The main character is a small Japanese American boy who dislikes baseball because he is often teased as he plays with his white peers. Life is even harsher at the camp, with tempers flaring in the tight quarters. However, a makeshift baseball game at  Whether your kids are sports nuts or benchwarmers, they will probably find the baseball aspect of this story something they can relate to.
Going Home, Coming Home/Ve Nha, Tham Que Huong
by Truong Tran, illustrated by Ann Phong is described by Terry Hong of Smithsonian BookDragon as "A poignant, lovely bilingual tale about a little girl who visits her ancestral home in Vietnam and realizes that she can be both Vietnamese and American, with a home here and a home there."
Chachaji's Cup
by Uma Krishnaswami, illustrated by Soumya Sitaraman is also a BookDragon pick. "A young boy's special relationship with Chachaji, his father's old uncle, teaches him important lessons about family bonds and his rich Indian heritage," writes Hong. This book was also made into a stage performance in 2010 that featured Bollywood and sitar music and a multicultural cast.
Apple Pie Fourth of July
by Janet S. Wong and illustrated by Margaret Chodos-Irvine is a more contemporary story that deals with an issue that many children of immigrants can relate to: food shame. The main character is embarrassed that her family is cooking Chinese food to serve in their shop, even though it is Independence Day. Of course, there is a delicious twist to the story.
The Name Jar
by Yangsook Choi portrays a dilemma all too familiar to immigrant youth — whether or not to trade in a foreign sounding name for an American one. Unhei must make this decision after she moves from Korea to New York, and her new classmates attempt to help her by filling a jar full of potential monikers.
Do you have any recommendations?
For more recommendations, including chapter books and Young Adult literature, my favorite Taiwanese American author Grace Lin has a Asian-Pacific Heritage Month Booklist on PBS Parents.
For more suggestions check out the San Francisco Public Library site. Also, Pragmatic Mom has recommendations for  Japanese American Internment and Chinese American books. Also, especially for your daughters, A Mighty Girl has suggestions for girl-focused APA books for early readers through young adults.