It's my turn to host Let's Lunch, and this month's theme is literary meals. Ever since I was old enough to read, I've been fascinated by the descriptions of foods in books. As a young child of immigrants, reading was my peek into American life. Did kids really bring salt and pepper shakers to lunch, a la Albert (never mind that he was a badger) in Bread and Jam for Frances?  What I would give to visit a cellar on Ma and Pa's farm from Little House on the Prairie! And what does Turkish Delight taste like anyway?
As I grew older, the fictional foods that got most lodged in my imagination were not necessarily the most fantastic, but often the humble and familiar.  I relished the descriptions of home-cooked meals in Jhumpa Lahiri's Interpreter of Maladies
, such 11-year-old Elliot's observations of his babysitter, Mrs. Sen, preparing her Indian style dinner each afternoon:
Facing the sharp edge without ever touching it, she took whole vegetables between her hands and hacked them apart: cauliflower, cabbage, butternut squash. She split things in half, then quarters, speedily producing florets, cubes, slices, and shreds. She could peel a potato in seconds. At times she sat cross-legged, at times with legs splayed, surrounded by an array of colanders and shallow bowls of water in which she immersed her chopped ingredients.
Often the descriptions of cooking overshadowed the finished meals themselves. Sometimes, the food is more memorable than the story itself. There are strings of words I can practically quote, but can't remember which book they came from. I recall a narrator, perhaps from Maxine Hong Kingston's The Woman Warrior: Memoirs of a Girlhood Among Ghosts
, who described herself as cooking the Chinese way, splattering a big mess around the kitchen. One of my favorite literary meals ever was a simple dish of fried eggs, prepared Chinese-style, in Ying Chang Compestine's Revolution is Not a Dinner Party
. The story takes place during the Cultural Revolution, when even basics such as eggs require ration tickets. I remember the main character's mother lovingly preparing a simple meal of fried fresh eggs, seasoned with black vinegar and soy sauce.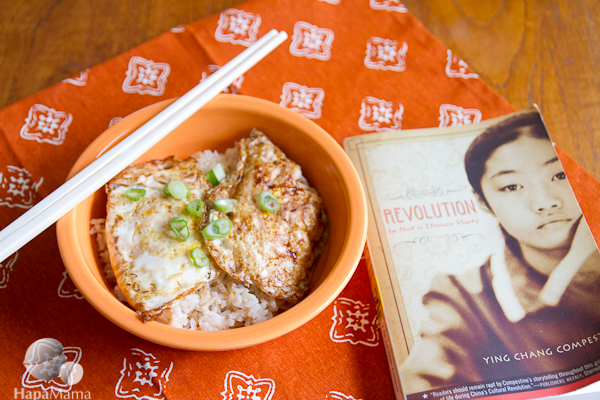 When I set out to write this week's post, I knew this was the dish I wanted to recreate. Only when I thumbed through the book, I couldn't find the passage. I even emailed Compestine to ask where I might find the description. She confirmed it was not from that book. However, Revolution is Not a Dinner Party is chock full of mouthwatering passages, no doubt due to the fact that Compestine is also a cookbook writer and former food editor for Martha Stewart's Whole Living Magazine. In the Chinese New Year dinner from Revolution, the main character, Ling, is served two fried eggs — something she hasn't eaten in months.
Seeing the eggs in my bowl cheered me up. Mother had even flavored them with soy sauce. Since food had been rationed, she rarely used the expensive seasoning. I longed to taste the crisp egg whites and sink my teeth into the creamy yolk. Not wanting to waste even the smell, I sniffed at them until my mouth watered. I took a bite and chewed extra long, keeping it in my mouth until the flavor was gone. They were the most delicious eggs I ever tasted.
So did I confuse this description in a different novel? Or perhaps even a cookbook? Or did I dream the whole thing up? Whatever the origin, the fried eggs are delicious.
Disclosure: Purchases made through links in this post might result in a commission for HapaMama.
Chinese Fried Eggs with Soy Sauce and Black Vinegar
Serves one
Ingredients:
2 eggs, room temperature
1 Tbsp. black vinegar
1 Tbsp. soy sauce
Black, or Chinkiang, vinegar is found in Asian grocery stores and has a deep color similar to Balsamic vinegar. Black vinegar is made from grain, usually rice or sorghum, with some spices added so it has a strong, pungent taste. If you can't find black vinegar, malt vinegar would a good substitute.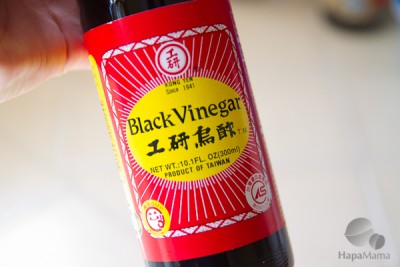 Directions:
Combine the vinegar and soy sauce in a small bowl
Heat a small amount of oil over high heat in a skillet or flat-bottomed wok
Add eggs (one at a time, if using a small pan)
Fry egg on one side until the edges are bubbly and light brown. Chinese style fried eggs are a bit more crispy and than standard American sunny-side up.
When the edges and most of the whites are set, pour a small amount of the sauce mixture over the uncooked side and then quickly flip over, trying to roll the whites a little to make the eggs more compact.
Pour a little more sauce over the cooked side and let cook until yolks are at desired doneness.
Repeat with remaining egg, if cooking separately.
Serve over steamed rice and garnish with some sliced scallions, if desired.
Let's Lunch is a virtual potluck with my food blogging buddies from around the world. Check out more great literary meals by following #LetsLunch on Twitter or visit some of these blogs:
Lisa's Pop Cakes from Monday Morning Cooking Club
Lucy's Old Fashioned from A Cook and Her Books
Jill's Orange Tarts at Eating My Words
Linda's Homemade Tagalongs from Free Range Cookies
Annabelle's Eggs for Bren at Glass of Fancy
Linda's Oaxacan Mole Rojo at Spicebox Travels
Cheryl's Hemingway Hamburger at A Tiger in the Kitchen
Betty's Leche Flan from Asian in America