We went to Taiwan in June, and I'm finally recovered from jet lag to tell you about it. This will be the first of several parts, so check back for more…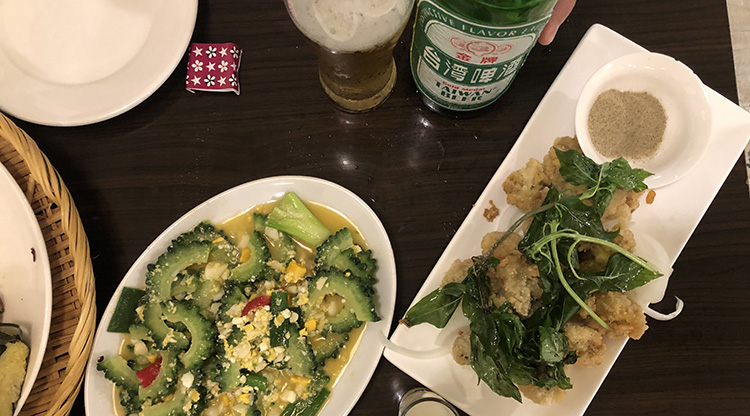 Six years after our last family trip to Taiwan, we made another visit last month. As usual, we flew red-eye, arriving at Taoyuan airport shortly after 5 a.m., Taiwan time. Exhausted and bleary-eyed, we met my dad and uncle at the airport, and they drove us first to Taipei, where we feasted on soy milk, shao bing-you tiao, fan tiao, and many other delicious breakfast items.
Right now, I'm going to whet your appetite by showing you some of the delicious things we ate while on vacation..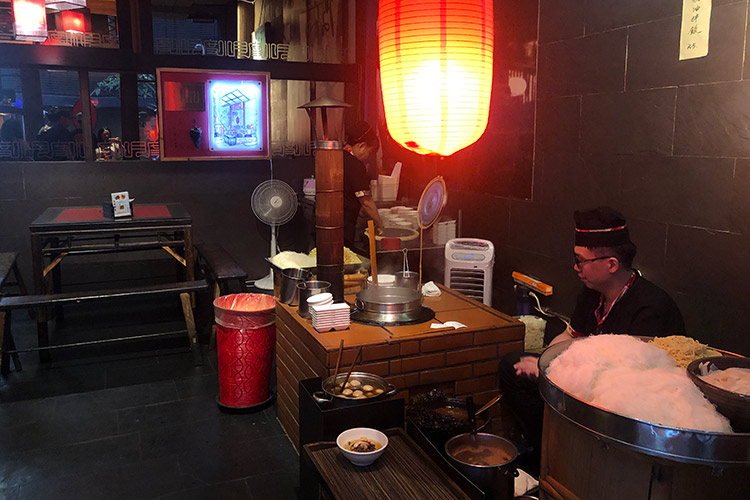 For our first dinner, we stopped by Du Hsiao Yueh restaurant near Zhong Xiao East Road in Taipei. This very traditional restaurant comes from Tainan in southern Taiwan. The name Du Hsiao Yueh (or Du Xiao Yue, as the Dongmen branch is romanized with Pin Yin) translates into "slack season" or very literally, something like "the month of small fishing". This shop is famous for danzai mien, or slack season noodles: a tiny bowl of wheat noodles in broth topped with a blanched bean sprouts, a spoonful of braised pork and a single shrimp. I didn't take photos of our dinner as we were hangry and jet lagged and devoured everything quickly.
Our trip this time was a little different. After a few days in the city, where we saw some relatives and visited a few landmarks–such as the White Terror Museum (another post about that later)–we headed on the island's amazing high speed rail for a few days of relaxing by the beach. (I'll write more about that later.) The photo above of Chinese okra with salted duck egg and salt and pepper chicken was taken at an aboriginal restaurant in Kenting.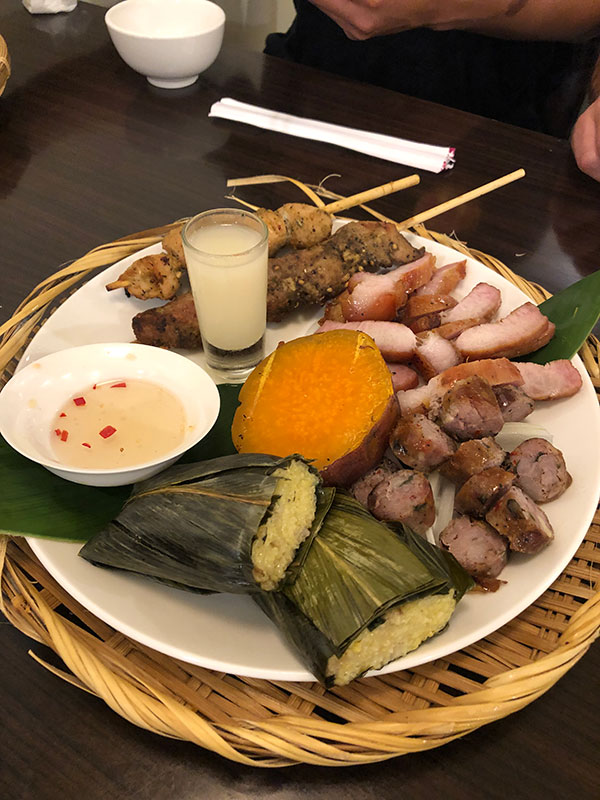 This barbecue plate was also advertised as an example of aboriginal cuisine. In addition to cumin-scented shish-kebab and sausage, there's a grilled sweet potato, a leaf-wrapped millet dumpling, and a shot glass of millet wine.
We capped off our visit by coming back to Taipei for a few days.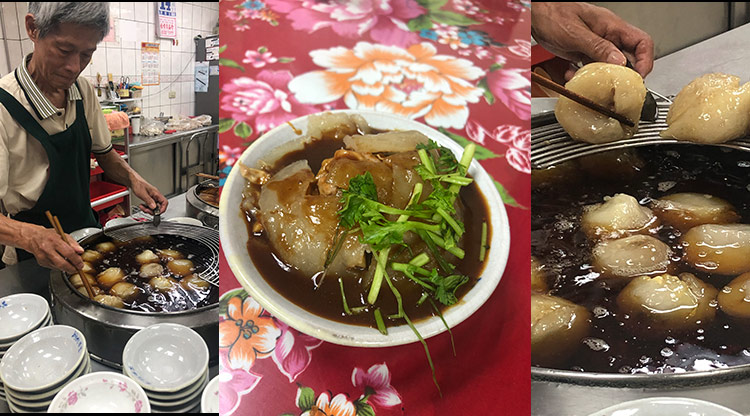 To me, one of the most quintessential Taiwanese foods is ba wan. It's often called either a "meatball", which is what the Taiwanese name literally translates to, or a "dumpling", but neither is quite an adequate term.
Ba wan is a palm-sized, super-chewy round of goodness. The outside is a thick, translucent wrapper made of tapioca and/or sweet potato starch. This epitomizes the Taiwanese texture "qq", that stretchy, bouncy quality that islanders love so much. Inside is a mixture of shredded pork, bamboo shoots, some shiitake mushroom slivers, and maybe some aromatics. The whole thing is served topped with a sweet and savory sauce and a sprinkling of chopped cilantro. Heaven!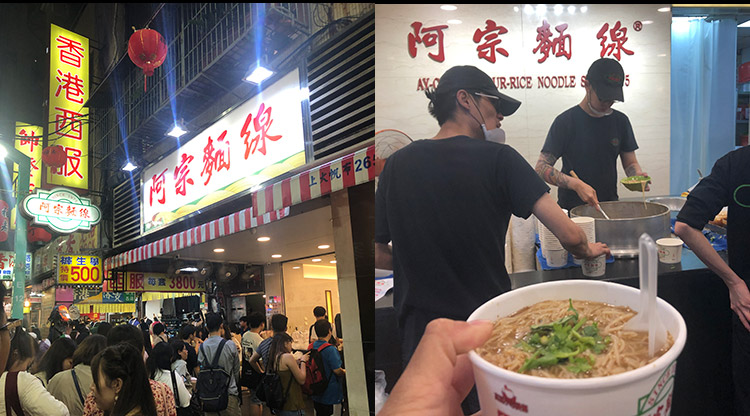 Later, we roamed around Ximending, a part of town where young people, including a lot of Japanese and Korean tourists, like to wander around late at night. I was suprised and sort of disappointed to find out that many of the popular restaurants and stalls specialized in foods such as risotto or cheesy baked potatoes (really!). I was happy to find this old chestnut–Ay Chung Flour-Rice Noodles– a more traditional stand serving mi sua in a tangy vinegary broth with a few rings of pork intestines. It's more delicious than it sounds.
Check back soon… I'll be posting some highlights from Kenting next!