It's been a struggle for me to get my boys to learn Chinese, but since we're headed to Taiwan in a few months, we'd better brush up! So when GoBooBoo approached me with the chance to try out this new system of books and CDs, I thought, why not?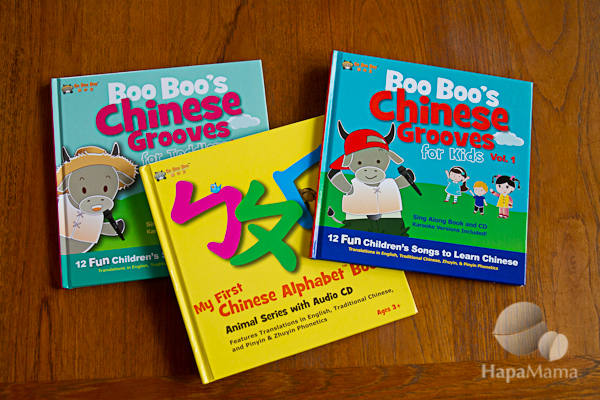 Marisa Liu Hanke worked with the owners of A Little Dynasty Chinese School in Irvine, California to create the GoBooBoo curriculum. Hanke and her husband speak English at home, making it hard for her  son, who's now six, to learn Mandarin. "Although I tried speaking to my son in Chinese and bought a ton of books and DVDs of all kinds, I was unsuccessful in capturing his attention to want to learn," she says. That changed when she brought her son to A Little Dynasty two years ago.
She credit's the school's system of using both Pin Yin system (the Romanized form of phonetically spelling Mandarin, used on mainland China) as well as Zhu Yin system (otherwise known as bo po mo fo, used by Taiwanese school kids). While I find the Pin Yin translations easy, as that's how I learned Chinese in college, all the X's, Q's and Z's can be confusing to English speakers. "Since A Little Dynasty has a lot of families who are of mixed Asian backgrounds," Hanke explains, "the school received a lot of requests for books to be translated and learning aids to be provided so they knew how to help their children learn the Chinese alphabet."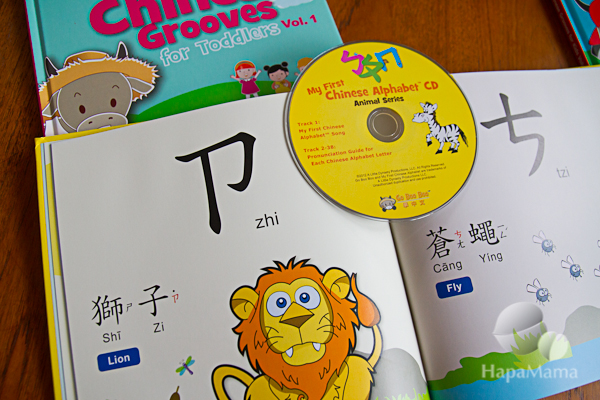 So Hanke, who was on maternity leave from a corporate job, worked together with the husband and wife team at A Little Dynasty to co-create the GoBooBoo program, which includes books, CDs, conversion charts. They are also working on digital apps for iPhone, iPad and Android which are scheduled to be released later this year.
We received three books: BooBoo's Chinese Grooves for Toddlers, BooBoo's Chinese Grooves for Kids, and My First Chinese Alphabet (pictured above). Each book comes with a professionally recorded CD, so kids can hear the language from a native speaker. Some of the songs are set to popular English nursery rhyme tunes and others are original melodies. "We specifically wanted all content to be created here in the U.S. since we know what it is children here respond to and like, versus having children learn Chinese by using materials created by overseas educators who do not understand what is COOL in America!" Hanke says.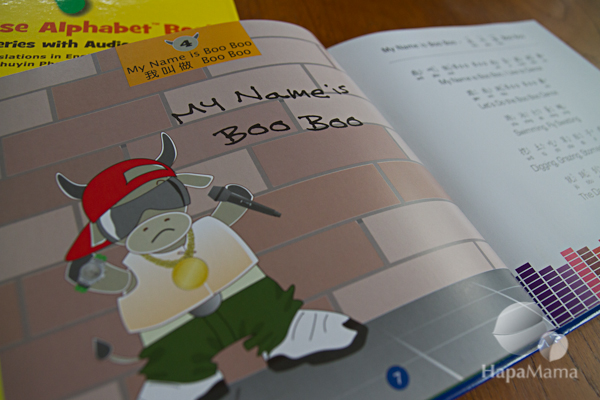 I particularly like the song in the BooBoo's Chinese Grooves for Kids book about the Night Market! That will really get us in the mood for Taiwan.
GoBooBoo Giveaway
Here's your chance to win a BooBoo's Chinese Grooves for Kids book and CD and a set of My First Chinese Alphabet flash cards (retail value $45) — just in time for Chinese New Year.
How to enter:
Simply leave a comment below!
For extra entries, you can do one or more of the following, and let us know about each in a separate comment below:
I'll pick a winner on Friday, February 28.
30% Discount for HapaMama Readers
And because everyone loves a bargain, GoBooBoo is offering a special 30% off  coupon. Just enter: HMAMA  at checkout on the GoBooBoo website. Offer good through 2/10/13.
GoBooBoo sent us books and CDs for review and will provide a book and flash cards for the contest winner, but all the opinions expressed are my own.
Congratulations Stefanie Wong, winner of the Go Boo Boo set!