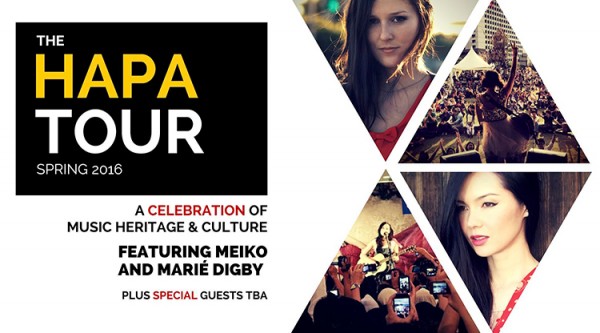 I recently heard about a musical duo going on tour… The Hapa Tour. These two young women are singers Meiko and Marié Digby. Meiko is one-quarter Japanese on her maternal grandmother's side, and Marié's mother is Japanese. The idea to put together a tour celebrating this heritage was the brainchild of Meiko:
"My sister and I were the only part-Asian kids growing up in our small town in Georgia, so it was always awkward when people asked 'what ARE you?' I wanted to put together a little tour celebrating 'Hapa-ness' and to spread the word – mainly to let kids out there know it's not weird to have parents of different ethnic backgrounds. It's actually pretty awesome and more common than you think!"
Of being Hapa, Marié says,
"It feels like being part of a tribe. In this day and age, so many of us come from mixed backgrounds. Growing up with one Japanese parent and one Irish parent was such a unique and culturally rich experience, and it's definitely influenced me as an artist and musician."
Here's a video of "Stuck on You", one of Meiko's best known songs:
And here's Marié Digby's cover of Rhianna's Umbrella that made her a YouTube sensation:

Sponsored by PledgeMusic and the USC Ito Center Hapa Japan Project, the tour dates will also feature up-and-coming local Hapa artists from each city as opening acts.
The Hapa Tour Dates
March 4                                   Sweetwater Music Hall                                               Mill Valley, CA
March 10                                 SPACE                                                             Evanston, IL
March 11                                 VOX Concert Series                                                   Marshfield, WI
March 14                                 Cedar Cultural Center                                                  Minneapolis, MN
Also, speaking of hapa musicians,  you may be interested in this interview with singer Mree that our friend Ho Chie Tsai at TaiwaneseAmerican.org did!