This week, my boys are home on vacation. That's right. It's barely October, and we are having FALL BREAK. What started out as a teacher furlough week for budget cuts has evolved into a permanent part of our district calendar. Granted, it's a great time for cheap airfares and uncrowded amusement parks. But it's a total pain in the butt for working parents. So we are hanging around, me trying to write articles and file invoices on my computer, while my kids bounce off the wall and ask what we're doing today.
I like to take my kids on local adventures, and each time we have one of these weeks off (Fall Break, Winter Break, Spring Break, teacher inservice, National Photocopying Week…) we try to go to San Francisco and experience some of the attractions right in our own backyard.
We took the train to the city and rode a crowded Muni bus to Chinatown (lines 30 or 45 will get you there from the Caltrain station at 4th and King). The goal? To get eat dim sum, of course. We headed to one of my long-time favorite restaurants, New Asia, which is on the outer edge of Chinatown, on Jackson Street.
I didn't have a chance to take pictures before we dug into the food, as we were famished and ordered way too much. I especially like those cubes on the oval plate, which are squares of daikon rice cake deep fried with chili and garlic.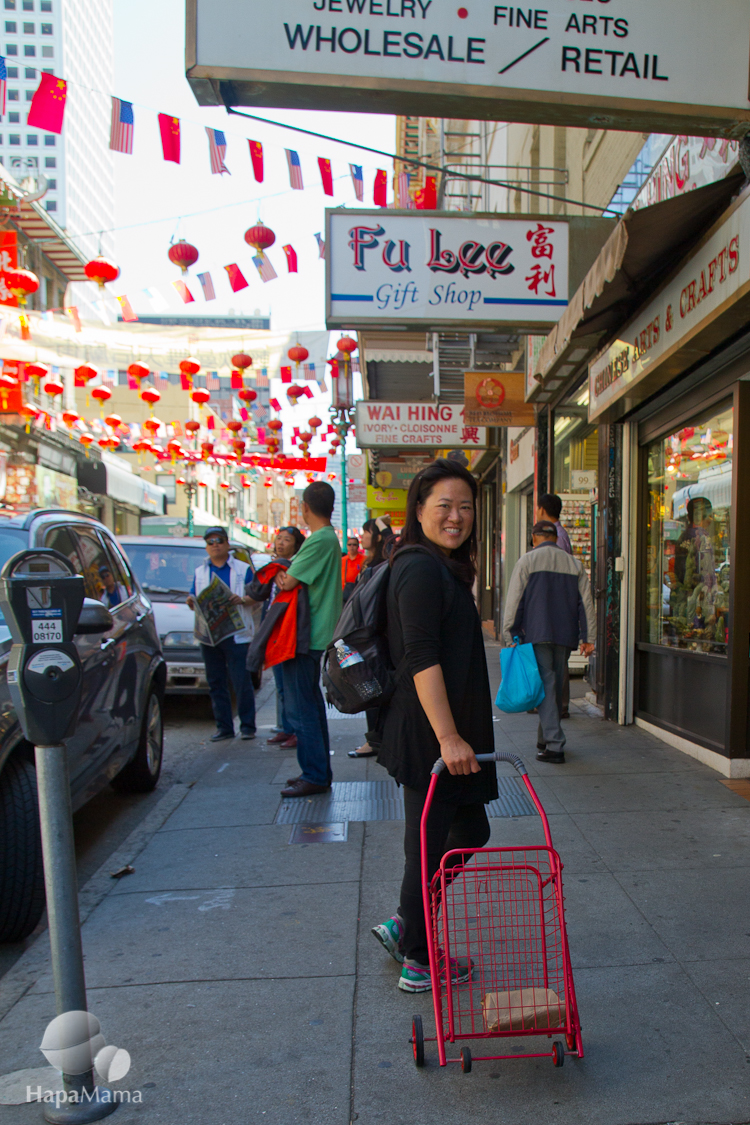 I got tired of carrying the bag of leftovers, so I bought one of those rolling carts that little old ladies use to push their groceries around. This one came from a souvenir shop near Grant Street, and I'm pretty sure I got ripped off, as I saw one sitting in front of a side-alley street marked for half as much. I guess I'll consider it my donation to San Francisco's Chinese community.
Everyone gets a turn pushing or pulling the cart.
The boys love to look at the tchotchkes in the gift shops.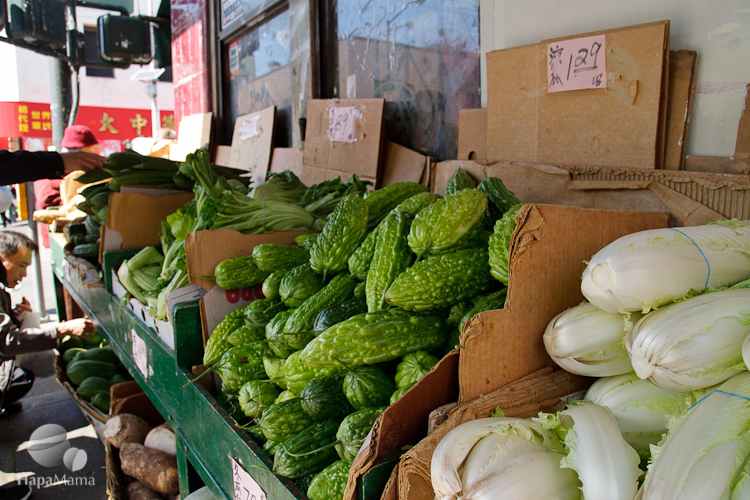 I'm much more interested in the fresh vegetables and dried herbs for sale.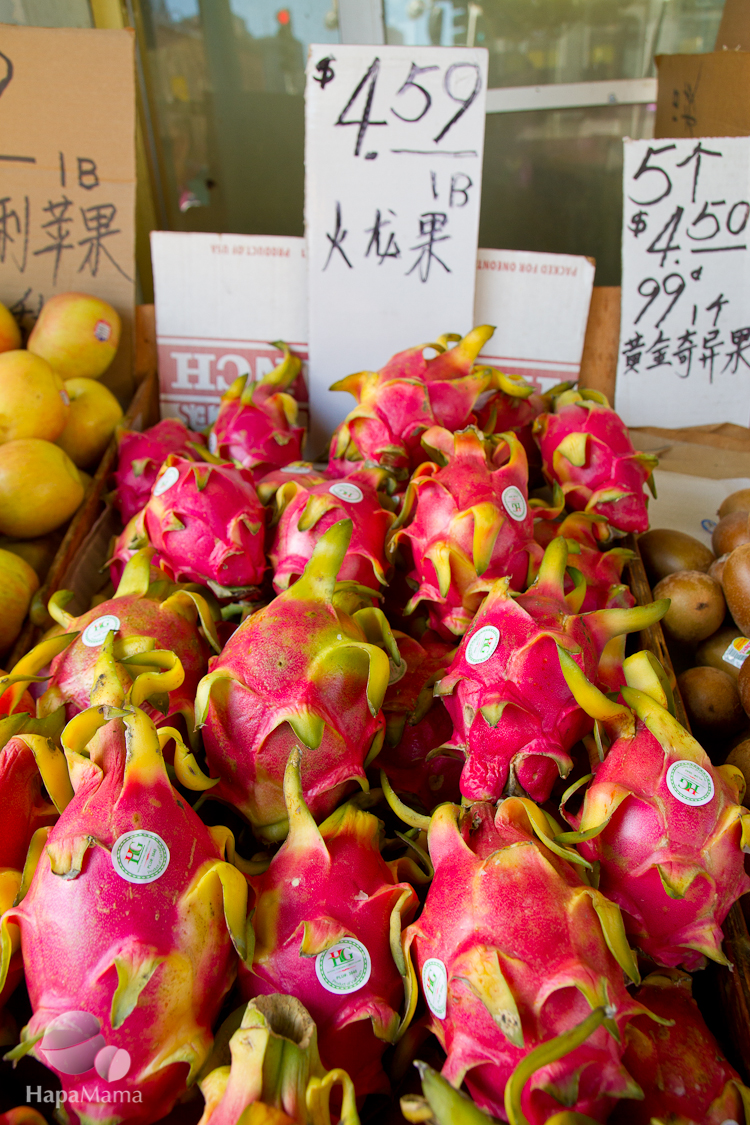 Wish I had bought one of these dragon fruits. I'm embarrassed I've never eaten one, only drank the dragon fruit flavored Vitamin Water!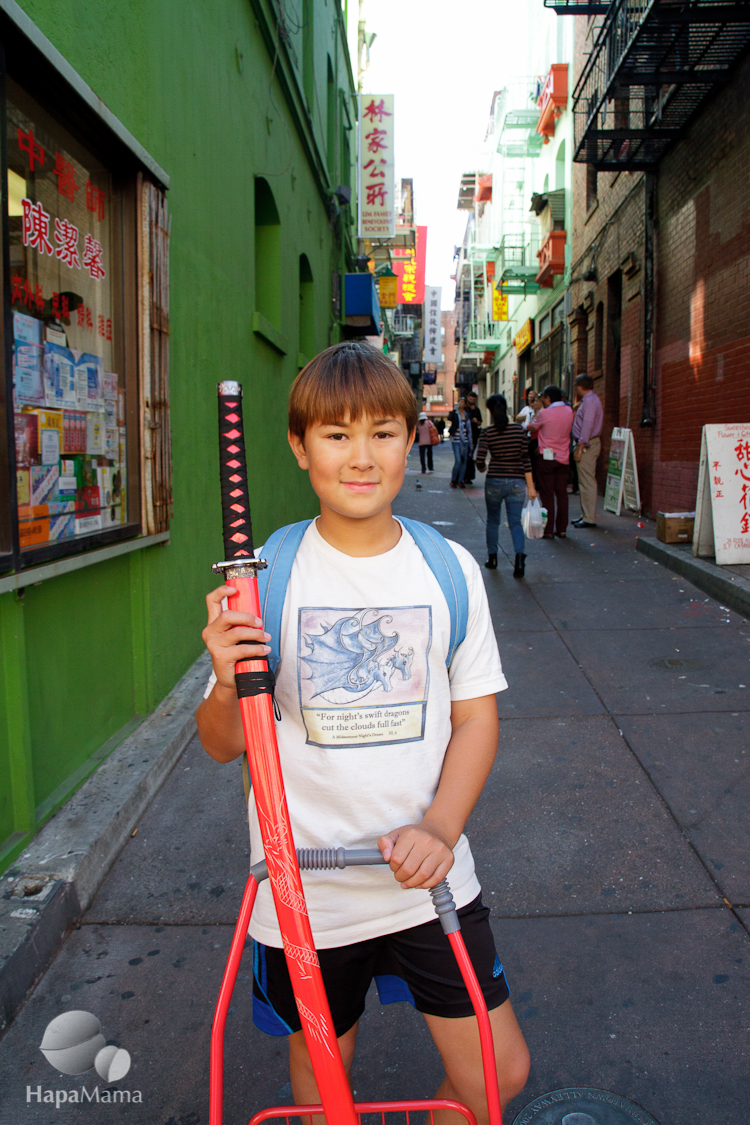 This is Ross Alley, home of the famous Fortune Cookie factory. We'd never been to the factory before, but thought we'd stop in as Big Brother has been reading The Fortune Cookie Chronicles, a great book about the history of Chinese food in America (including the elusive beginnings of the fortune cookie). I had really mixed feeling about this tourist spot, as it was just a dark one-room shop, with a couple of elderly women folding fortune cookies and lots of tourists gawking at them. There was even a handwritten sign asking people to leave 50 cents for taking a photo. I decided not to take any pictures, although I wish I had snapped a photo of the throngs of looky-loos and their hipster tour guide. I did however, buy a bag of freshly baked almond cookies, if only to compare them to my homemade version.
This photo was just an accident. I pressed the shutter on my camera as I was trying to adjust something. But it turned out to be a great shot.
Want to see more of my photos? Follow me on Instagram!