After a hiatus from the Let's Lunch virtual monthly potluck of food blogging, I'm baaack! Well, in a way.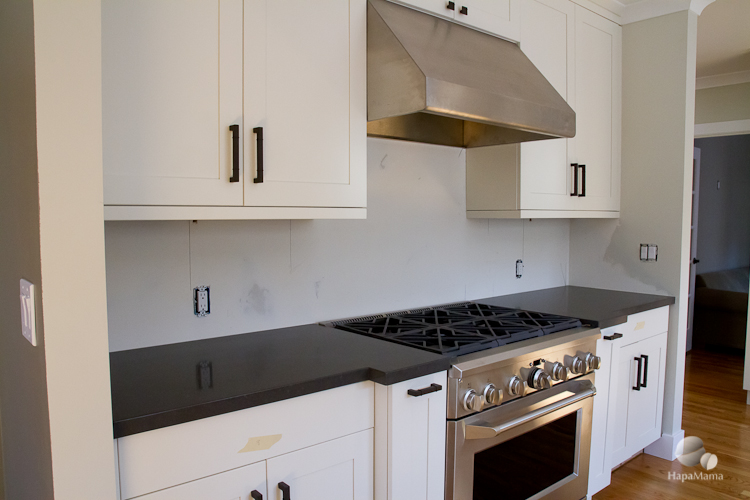 At the beginning of the year, I volunteered to host the March Let's Lunch link up with the theme of "Housewarming". I figured that my home remodel was scheduled to be finished in February, so getting back to food blogging in March should be a piece of cake. Right?
I mean, I know renovation isn't what it looks like on HGTV, with sassy designers and hunky handymen who come and tell you what's all wrong with your space and promise to whip it into shape within a weekend. In real life, home remodels usually involve a hard-working family that needs a few more bedrooms for their growing family… and just when they'd saved enough cash to make their dream a reality… tragedy strikes…. draining their bank accounts and possibly leaving a family member unemployed — or possibly hospitalized.
Okay, maybe I've watched a few too many extreme home makeovers.
But one of the universal themes in made for TV remodels is that the project ends with a big unveil. The breathless homeowners walk through the door of their refurbished digs, gasp and hug each other, most likely crying tears of joy. Then the contractor hands over the keys and everybody lives happily ever after.
Back to reality.
While I held my breath watching appliances get unloaded off a semi-truck like it was the landing of the space shuttle, I haven't, for the most part, been too surprised. I love the outcome of my house so far. After all, I meticulously picked everything inside it, with the help of an excellent interior designer and many sleepless nights tossing and turning between stained or painted cabinets.
We moved back into our house over a week ago. But I've learned that completing a remodel isn't like crossing the finish line of a marathon (although it feels like one). There wasn't a magical moment when our family burst through the ribbon and poured Gatorade all over our heads. That was just a figure of speech. Nobody is going to be pouring anything over my new wood floors. Instead, there was a push to get the house "done enough" to move in, meaning we can sleep, shower, do our laundry, and heat up a few simple meals.
The work has been continuing this week, with some plumbing, and a few hiccups. A sink I ordered from Home Depot arrived — with a small dent. The faucet that was supposed to be delivered last Friday still wasn't here by the time the plumbers arrived on Tuesday. Plus, I went to pick up the cabinet doors that were being installed with glass… only to find they had inserted the wrong kind of glass! Luckily, they're fixed them for me.
At least my stove is up and running, but I'm not cook up a storm yet, with unprotected drywall behind my gas burners.
Next week, this handmade celadon tile should be installed for a backsplash.
I used to dream about making a ceremonial first meal in my new kitchen. Maybe some Chinese comfort food like ma po tofu, or possibly frosted sugar cookies for the kids, since we missed our holiday baking. But so far, I've mainly made toast and heated up leftovers.
Plus, most of my knives are still buried in storage. And I have yet to replace the old non-stick pans I tossed when we purged our belongings.
So we limp towards the finish line, but in the meantime, check out the stories that my fellow bloggers have cooked up and follow #LetsLunch on Twitter for more of our virtual potluck!
 More #LetsLunch, Housewarming edition
Betty's Mango Rum Bread Pudding at Asian in America
Lisa's Asparagus with Tomato, Avocado and Hazelnut Salsa at Monday Morning Cooking Club
Linda's Fesenjan at Spicebox Travels
Margaret's Pizza Bianca at Tea and Scones
Pat's Slice and Bake Matcha Cookies at The Asian Grandmothers Cookbook
Sonja's Chocolate Chip, Pecan and Pretzel Cookies at Foodnutzz