This article is sponsored by Galileo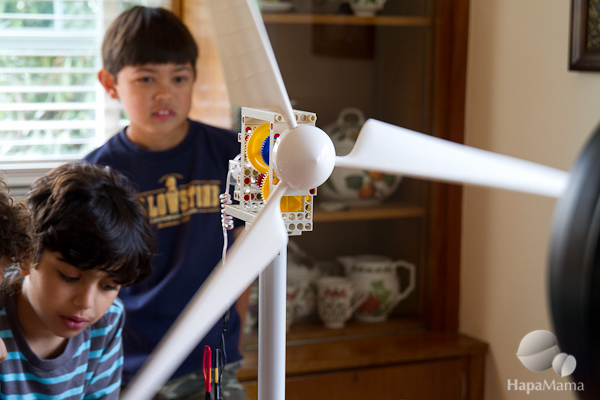 Summer vacation's just a few weeks away! Do you have your plans yet?
If I left it to my kids, they'd choose video games and cartoons day in and day out, but I like to squeeze in a little learning, too. The  key is to let them follow their interests and to help them find opportunities to learn about the things they already like. Since my boys love science and technology, and since so little time is dedicated to these subjects during the school year, I like to give them some opportunities to do some fun and educational activities over the summer.
Here are some ways we plan to stay engaged over the summer vacation.
Learn at home: Break out those educational toys that have been stored in the closet since Christmas or birthdays. My kids (and their friends) loved this wind power set Ah Gong gave them. There are also many kits, like Snap Circuits, that teach kids about electricity and basic circuitry. Don't forget about about online learning, such as Khan Academy. Summer is also a good time to teach kids typing skills, using a program such as Type to Learn.
Go natural: There are so many ecosystems surrounding us, from the redwood groves of Henry Cowell State Park to the tide pools of Monterey Bay. Or consider a family vacation to a national park, such as Yosemite or Sequoia. Ranger-led hikes are great, if they are available, but just wandering and hiking can be wonderful opportunities to observe wildlife and just experience the fresh air. The Bay Area has so many nature education centers within a short drive, from more urban facilities such as the CuriOdyssey at Coyote Point  to world class destinations such as the Monterey Bay Aquarium.
Get techie: It would be a shame to grow up in Silicon Valley without learning about the innovations that put this area on the map. Check out the Computer History Museum in Mountain View, the Tech Museum in San Jose, or the Exploratorium in San Francisco.
Let them tinker: Our children's generation doesn't get enough opportunities to just mess around and see how things work. Sound a little too messy for an at-home project? One of the places I'm hoping to visit this summer is the Adventure Playground in Berkeley, where there are recycled items with which kids can play or build.
Send them to camp: Whether you're a working parent who needs full-time day care or a stay-at-home-parent who would just like to give your kids a weeklong experience, day camps are a great way for kids to spend a longer period of time diving into a subject they're interested in. This summer, my boys are signed up going to robotics and computer programming camps.
Save $30! Camp Galileo Coupon Code
Use the code 2014INNOVATION to receive $30 off (limit one per camper, Camp Galileo and Galileo Summer Quest) when you click here to register for Camp Galileo.
Expires: May 31, 2014. Enter the code at sign up by clicking on the purple "sign up" button on the right-hand side of the page.
Newsletter opt-in sweepstakes:
Sign up for the Galileo newsletter and be entered to win a free week of camp. You can sign up by scrolling to the bottom of the page and entering your email information and zip code.