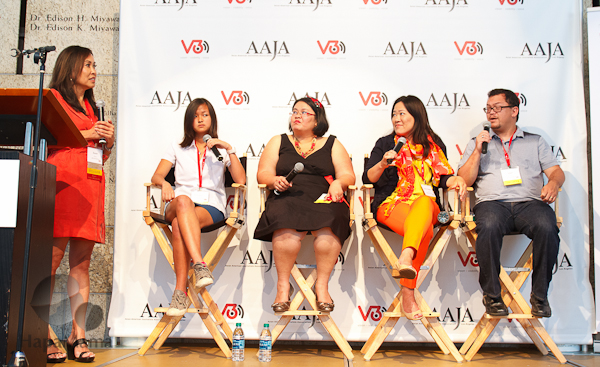 Last weekend was the second annual V3 Digital Media Conference, an Asian American confab of everything blogging, social media, traditional media, YouTube, activism and pop culture. In other words, awesome. It's like summer camp, family reunion, and tent revival all wrapped up in one. For the second year in a row, the event was led by Jocelyn "JozJozJoz" Wang of 8Asians and AAJA-LA. This year, I spoke on a panel about online safety for families, along with Eileen Hsu of Cool Asian Kids, Thien-Kim Lam of I'm Not the Nanny and Jason Sperber of Daddy in a Strangeland, and moderated by Susan Hirasuna of Fox 11 News.
Like any blogging conference, it's a chance to meet up in real life with fellow bloggers and writers. And a chance for online "friends" to become real friends. Above, Michelle Quiogue, Jason Sperber and Cynthia Liu of K-12 News Network.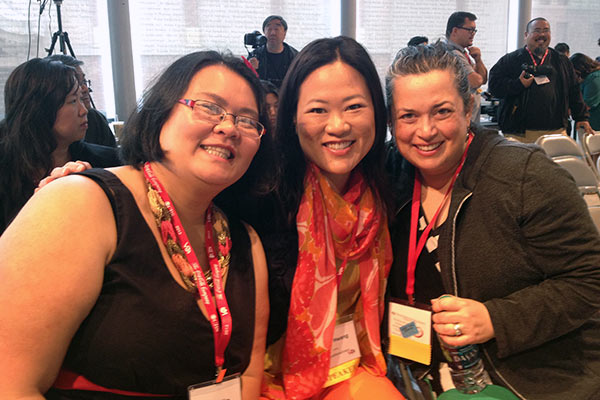 This year, I was especially excited that BlogHer co-founder Elisa Camahort Page was able to join us. Elisa also spoke on a panel about finding success as a woman in technology. I was really pleased that the organizers are bringing in different aspects of the media world and hope this is the beginning of more collaboration between "mainstream media" and "new media" and also raising the profile of Asian Americans within the general blogosphere.
Of course, I didn't get around to snapping pictures with everyone I should have, especially fellow Asian mom bloggers Marsha Takeda-Morrison and Julie Ju-Yeon Kang. Above, is Cynthia Brothers from 18 Million Rising.
One of the highlights of V3 2013 was hearing 97-year-old Grace Lee Boggs talk about her life's work as a civil rights activist. That's MSNBC anchor Richard Lui (fellow U.C. Berkeley Rhetoric department alum) interviewing her.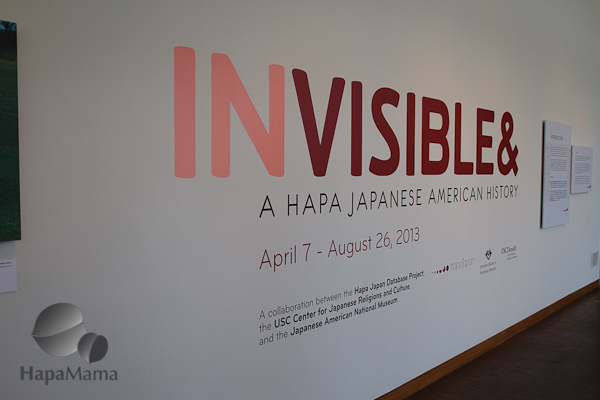 Like last year, the conference was held at the Japanese American National Museum. As a bonus, the museum is currently hosting an exhibit about Hapa Japanese, called Visible & Invisible, as well as a travelling exhibit, Portraiture Now, from the Smithsonian Asian Pacific American Center.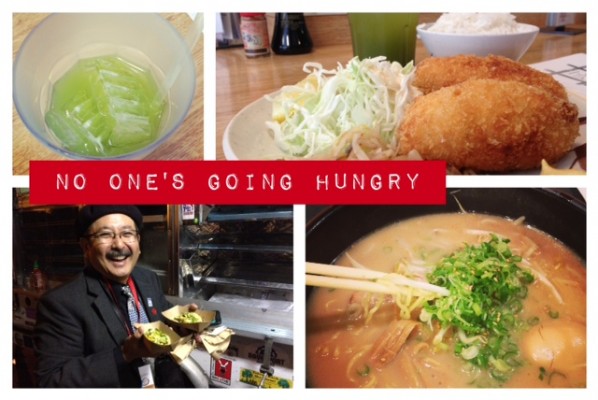 And of course, no gathering of Asians is complete without food — and lots of it. One of the reasons I love V3 is it gives me an excuse to visit the many delicious independent restaurants in LA's Little Tokyo, such as Suehiro Cafe (iced green tea and crab croquettes pictured above), and the famed Daikukuya Ramen (bottom left). And this year, the V3 opening reception at the Pacific Asia Museum even featured appetizers from Roy's and Korean tacos from Roy Choi's Kogi BBQ — the food truck that started the whole craze (that's Gil Asakawa enjoying them, bottom left).
Full hearts, full minds, full bellies.
Next year's V3 conference is already scheduled for June 21, 2014. You don't need to be a blogger — or Asian — to attend and you can register now for the special early-bird rate of $25.
See you next year!