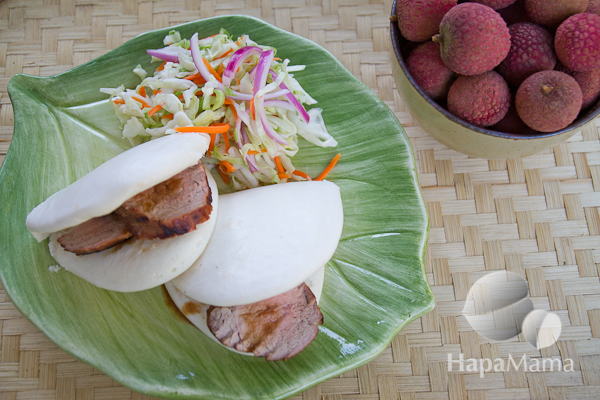 This week's Let's Lunch theme is BBQ!
They say things come in threes. And this time it's pork sandwiches. It started last week, when my friend Wendy Thies Sell wrote about the pork loin sandwiches from Sides Hardware and Shoes on the Santa Maria Sun. Then, a few days ago, I saw Guy Fieri eating pork loin sandwiches on a re-run of Diners, Drive-Ins and Dives. I have seen that particular episodes several times before, but it still turned my head. The third? Well, it's right here.
I've been craving a Taiwanese hamburger, otherwise known as a gua bao — the kind made popular by Eddie Huang at BaoHaus in New York and The Chairman food truck in the Bay Area (check out the battle over the Chairman Bao name on Eater). They are a staple of Taiwanese street food, and usually found only at night markets or little mom and pop restaurants in areas like Cupertino or San Gabriel Valley in California.
Don't let the name Taiwanese hamburger fool you. There is so much more to it than meat and bun. First, there is roasted or braised pork belly. Stuffed inside a soft steamed white bun. Topped with pickled pickled mustard greens, maybe some daikon or cilantro. Everything I don't have time to make between holding down a job and raising a family. But I can marinate pork in traditional Taiwanese seasonings, make some quick pickled cabbage, and heat up some store bought Chinese buns. And thus, Working Mama's Pork Tenderloin Bao are born!
 For more cooking, wifing, and mothering, check out my thoughts on the Presidential Cookie Bake-Off over at BlogHer.
Working Mama's Pork Tenderloin Bao
 Ingredients:
1 pork tenderloin
1/2 c. pineapple juice
1/4 c. soy sauce
1 Tbsp. sesame oil
2 green onions sliced
2 slices ginger, slivered
1 large clove garlic, minced
1 package frozen Chinese buns*
3 cups shredded cabbage
1 cup shredded carrots
1/4 red onion, cut into thin slices
2 Tbsp. rice vinegar
salt and sugar, to taste
Directions: 
Combine liquid ingredients, green onions, ginger and garlic in a large bowl or ziploc bag
Marinate pork tenderloin in the above for at least six hours, or overnight.
Combine cabbage, carrots, red onion and vinegar in a large bowl. Season to taste with salt and sugar. It should be fairly salty and a little bit sweet.
Heat up grill to high heat, then turn down to medium-high.
Sear pork tenderloin for about five minutes on each side, then close the grill and and let it cook for another five to ten minutes until it is firm to the touch.
Remove the tenderloin from grill and let it rest.
Steam the frozen buns on the stove, or heat them in a microwave. Here's a trick: place the frozen buns on a microwave-safe plate. Then wet one paper towel, and wring out almost all the moisture. Place this towel over the buns and then heat them in the microwave on high for one minute. Voila! Cheater steamed buns.
Thinly slice the pork tenderloin and serve in the buns with pickled cabbage on top or as a side dish.
* Note: If you don't have an Asian market nearby, you can make your own Chinese steamed buns or for a quick, but not as traditional, substitute you could use King's Hawaiian rolls.
See what  else my foodie friends are cooking up below. Or  follow the #LetsLunch hashtag on Twitter the first Friday of each month for more tasty posts.
Aleana's Home-made Ketchup, Relish & Mustard (BBQ-Friendly Condiments) at Eat My Blog
Charissa's Grilled Pulled-Pork Pizza with Roasted Corn (Gluten-Free) at Zest Bakery
Emma's Miso-Glazed Grilled Veggies and Polenta at Dreaming of Pots and Pans
Jill's Steven Raichlen Ribs Interview at Eating My Words
Joe's Grilled Cabbage (and Smoky Cabbage and Udon Slaw) at Joe Yonan
Lisa's BBQ Salmon with Tahini Dressing and Fresh Herb Salad at Monday Morning Cooking Club
Lucy's Taj Ma Hog & Not-So-Secret BBQ Sauce at A Cook and Her Books
Nancie's Thai Grilled Chicken Wings with Sweet Hot Garlic Sauce at Nancie McDermott
Pat's Korean-Style Beef Shortribs (Kalbi) at The Asian Grandmother's Cookbook
Renee's Steamed Buns with BBQ Pork at My Kitchen And I