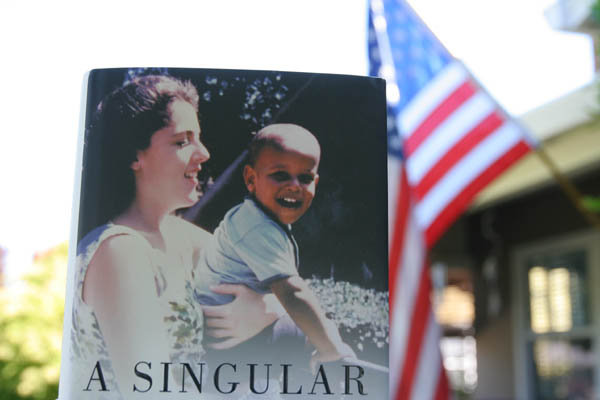 This week's HapaMama Summer Reading pick is for the adults. Sure, there are challenges to raising a mixed race family in America in 2011, but imagine being a single mother with two multiethnic children. Of different ethnic combinations. During the 1960s, when interracial marriage was still outlawed in many parts of the United States. And living in Indonesia.
That's the story of Ann Dunham, the mother of President Barack Obama and his sister, author Maya Soetoro-Ng, the subject of the book A Singular Woman (Riverhead Books, 2011). "Singular" is how Dunham is described by her biographer — former New York Times reporter Janny Scott — who spent two and a half years researching her subject's life, after learning about this enigmatic woman while covering President Obama's campaign.
Ann was not simply a mother, she was raising two biracial children with different fathers. It struck me that she was doing something unual and dangerous and difficult, raising multicultural children on her own.

— Jean Kennedy, as told to Janny Scott in A Singular Woman
Having read Obama's Dreams from My Father, I was interested in learning how his mother influenced who he was to become. Dreams from My Father may have given the perception that Obama was influenced mainly by his Kenyan father, Barack Obama Sr. and by his maternal grandparents who raised him for many years in Hawaii. A Singular Woman gives insight into the mother who valued her son's education and
Enigmatic is the word I'd choose to describe Dunham, even after having read this biography. Dunham was certainly an independent thinker, perhaps due to a childhood marked by frequent moves and never quite fitting in with 1950's middle-class American society. Scott's account very thoroughly researched, filled with details about Dunham's parents, her childhood, her anthropology fieldwork in Indonesia. What I found most relevant to take away, as the mother of mixed-race kids, is how Dunham was very true to her own ideals and her own "calling", if you will, despite being quite unconventional according to popular mores.
A Singular Woman emphasizes how  truly multicultural President Obama is:
There is something fresh and quintessentially American about the family tree that extends its branches through and around Stanley Ann's son, president Obama. Yes, there was the white mother from Kansas and the black father from Kenya. Then there was the Javanese stepfather, Lolo Soetoro, with whom Mr. Obama lived for four years in jakarta as a small child; there is President Obama's African-American wife, michelle, a descendant of slaves. There is his half-Indonesian half sister, Maya Soetor-Ng; her Chinese Canadian husband, Konrad Ng; and the president's Kenyan and half-Kenyan half siblings scattered across the globe in places such as Nairobi and Beijing.
It's not exactly light beach reading, but if you're interested in politics or multiculturalism — and want to learn more about the heritages that helped shape our current president — then you'll want to throw A Singular Woman into your beach bag this Fourth of July weekend.
Check back next Thursday for another HapaMama pick and click on the Summer Reading tab to see a complete list of all the book selections so far!
[Disclosure: A review copy of A Singular Woman was provided by Riverhead Books]