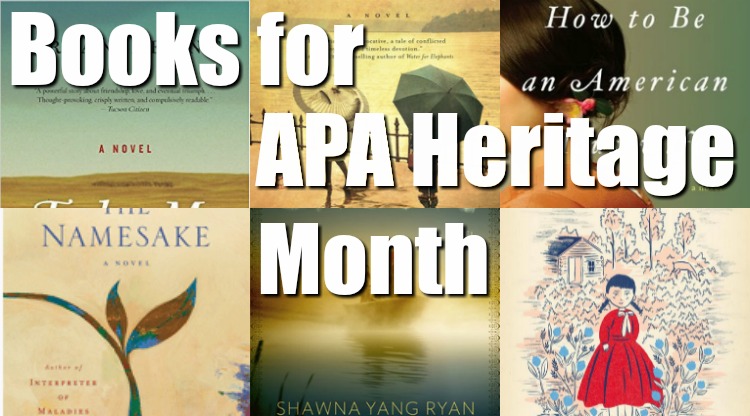 May is Asian Pacific American Heritage Month, a perfect occasion to read books about the experiences of Asians in America.
From the official website, APA Heritage Month is intended for "paying tribute to the generations of Asian and Pacific Islanders who have enriched America's history and are instrumental in its future success." When we consider Asian American literature, it's really important to highlight stories that are not just written by Asian authors or set in a foreign country, but to read about the experiences of Asians throughout the history of the United States. I think people are often attracted to books that are not set in the present-day because those stories are more romantic or escapist, and in some way that reinforces the notion that we are "exotic" or not fully belonging to this nation. To me, Asian Pacific Heritage Month is a prime time to delve into the experiences of Asians in the United States, particularly in some of the historical contexts that people are less familiar with.
So if you like history, here are a few of my recommendations for adult fiction set in various points in time that are important to the Asian American experience.

Water Ghosts: A Novel
, by Shawna Yang Ryan Set during the 1920s in the rural Chinatown of Locke near Sacramento, this novel features a mixed-race teenage girl, who is the daughter of a Chinese American Christian minister and his white wife. There are some folkloric elements (the ghosts who emerge from the river) and it also touches upon some LGBT themes.

Hotel on the Corner of Bitter and Sweet
, by Jamie Ford This novel is a sweet tale of a budding almost-romance between a young Chinese American boy and Japanese American girl in Seattle at the outbreak of World War II. I love that it portrays the complexity of being Asian during that era, when Chinese and Japanese were seen as two very distinct groups and pitted against each other in the paranoia surrounding the war.

How to Be an American Housewife
, by Margaret Dilloway This novel bobs back and forth between the present day and the post-World War II era when a Japanese woman named Shoko attempts to navigate the confusing 1950s suburban world of her white American husband. Dilloway (whom I met at BlogHer '14) was inspired by a real housekeeping manual aimed at teaching Japanese war brides American household customs.

Interpreter of Maladies
, by Jhumpa Lahiri Not a novel, but a Pulitzer Prize winning collection of short stories, this is one of my favorite books ever. Many of the tales focus on the university world so familiar to many post 1965 immigrants from India, Taiwan, Hong Kong, Korea. Every story is beautiful and one that I could read over and over.

Pioneer Girl: A Novel
, by Bich Minh Nguyen What's more American than the Little House on the Prairie books? Perhaps this imagined nexus between Laura Ingall's daughter Rose Ingalls Wilder, who travelled as a journalist to Vietnam, and the main character's Vietnamese grandparents. Like many girls, the protagonist Lee was fascinated with the Little House series. When she discovers a gold pin that she believes once belonged to Wilder, Lee goes on a wild goose chase to prove the author's connection to her family.
Tell me your favorite Asian Pacific American historical novels…
This post contains affiliate links and if you purchase through them, HapaMama may get a percentage of the proceeds.