May is Asian Pacific American Heritage Month, but throughout the year there are many ways to keep learning about history of Asians in the United States. One of the best ways to bring Asian American history to life — especially with kids — is by visiting museums and Asian American landmarks. The physical artifacts of Japanese and Chinese settlements are reminders of the hardships endured by early Asian immigrants. While many of the buildings have been lost, there are still some places where history has been preserved. Here's a list of suggestions for places to visit with your family:
Wing Luke Museum
By Joe Mabel (Photo by Joe Mabel) [GFDL or CC-BY-SA-3.0], via Wikimedia Commons
Wing Luke Museum  in Seattle's Chinatown-International District is the nation's only museum dedicated to a pan-Asian American experience and is an affiliate of the Smithsonian Institution. Besides including the hotel where many newcomers to the country first stayed, Wing Luke also has a hands-on KidPLACE.
Japanese American National Museum
Japanese American National Museum  in Los Angeles has preserved some of the barracks used at the Heart Mountain internment camp during World War II, plus many rotating art and history exhibitions. JANM is also host to many great conferences, such as the upcoming MixedRemixed festival of multiracial literature and creativity and the V3 Conference for Asian Americans in social media.
Angel Island
Image Credit: Mark.Hogan via Flickr
Angel Island
in the San Francisco Bay was considered the Ellis Island of the West. Now a California State Park, you can take ferry from Fisherman's Wharf to hike around the island and tour the old barracks where immigrants from over 80 Asian countries were once detained before being allowed to enter the United States.
Manzanar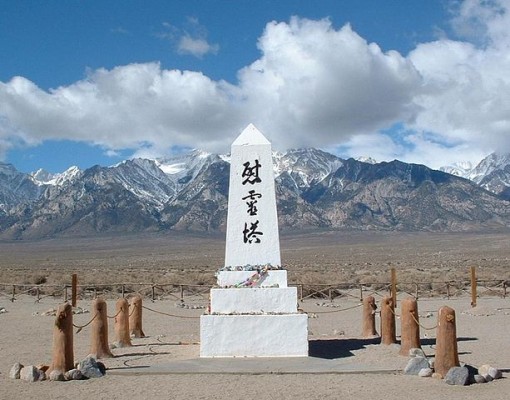 Cemetery shrine, Manzanar Japanese internment camp, Image Credit: Daniel Mayer  GNU FDL
Manzanar National Historic Site on Highway 395 in the Eastern Sierras is home to an interpretive center commemorating the Japanese Americans who were incarcerated there during World War II. When I used to frequently drive this stretch during the mid-1990s, the site was practically barren. But thanks to the work of the Manzanar Committee volunteers, in 2004 the old Manzanar High School auditorium was re-opened as an interpretive center. Tina at 8Asians has a great write-up of her visit to Manzanar.
Locke Chinatown
Locke Chinatown, located near Sacramento is the last standing rural Chinese settlement. There are no guided tours, but there are several historic buildings, including a one-room schoolhouse and the Dai Loy Gambling Museum are often open for visitors.
Smithsonian Institution

Image Credit: Nick Peretti via Flickr
Smithsonian Institution in Washington D.C. also sometimes has rotating exhibits at its various museums, featuring aspects of Asian American heritage, such as the history of Chinese American food and Asian American portraiture. Visit the Smithsonian APA website for current exhibitions.
Also check my list of recommended children's books about the Asian American experience.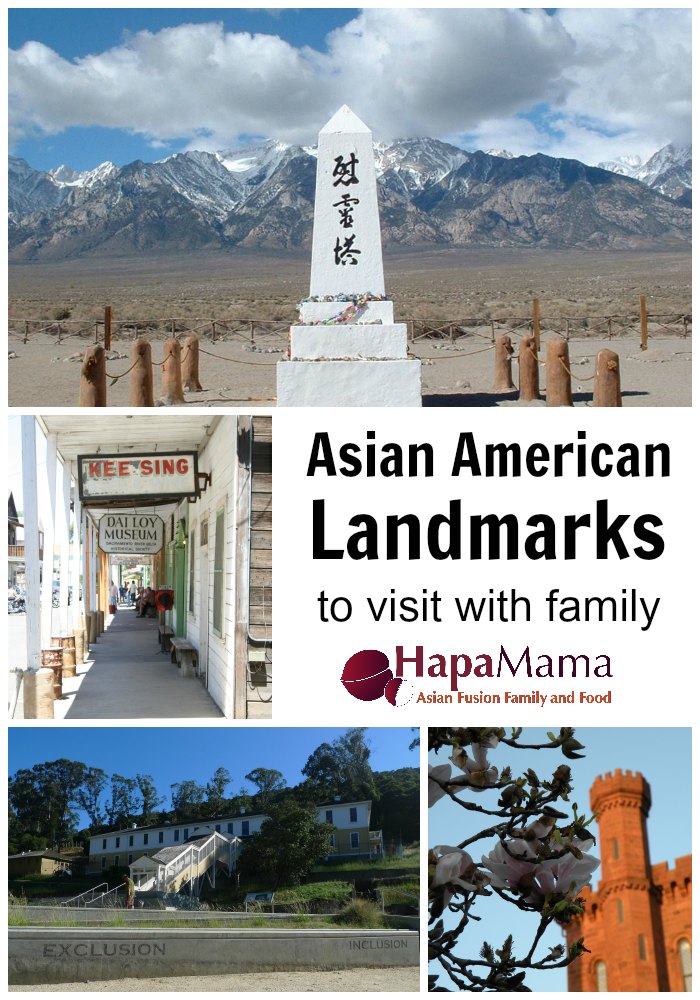 Do you have any other suggestions for landmarks or musuems for families to learn about Asian American history?
Let me know your ideas and keep checking back, as I'll be adding to this list!