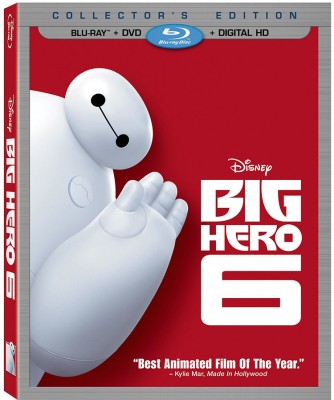 Have you seen the Oscar award winning Best Animated Film Big Hero 6? In case you've somehow missed it, this Disney movie features an adaptation of the Marvel comic Big Hero 6. Set in the imaginary city of San Fransokyo, the story follows Hiro Hamada and the cuddly healthcare robot Baymax, created by Hiro's older brother Tadashi. The diverse cast includes Daniel Henney as the voice of Tadash, Ryan Potter as the voice of Hiro, and Scott Adsit as the voice of Baymax.
Big Hero 6 is now on sale at Amazon and at at many stores, but you can take home a copy for the best price — FREE — courtesy of Disney.
I'm giving away 3 Collector's Edition sets of Disney's Big Hero 6 on BluRay + DVD! This special collector's edition disc has some special features, including the Oscar award-winning short animated film, Feast, deleted scenes, and behind the scenes peeks at the making of the movie. Plus, it includes the bonus digital download of the movie through the Disney Movies Anywhere app.
Enter to win the Big Hero 6 Giveaway: Collector's Edition Blu-Ray + DVD
Special thanks to Disney Global Publicity for providing the Big Hero 6 Blu-Ray discs. All opinions expressed are my own.