I received a copy of Mystery of the Giant Masks of Sanxingdui to review as part of Multicultural Children's Book Day. Affiliate links may generate a commission for HapaMama.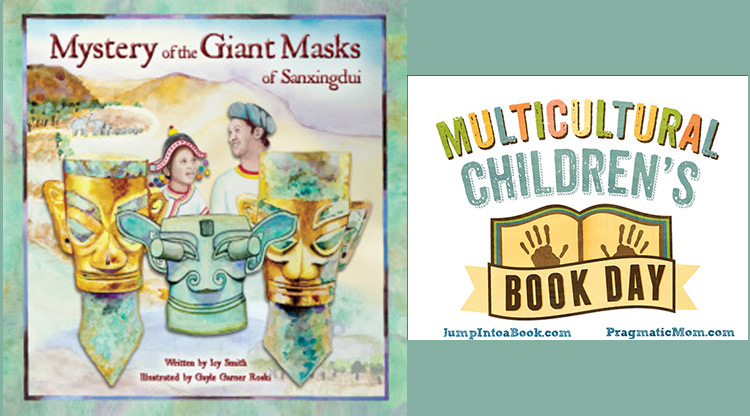 I admit, I'd never heard of the giant masks of Sanxingdui until this book landed on my doorstep.Written by Icy Smith and illustrated by Gayle Garner Roski, Mystery of the Giant Masks of Sanxingdui
 (East West Press, 2015) is a picture book centered around a young girl named Min and her brother Wei, who live in the Chinese town of Sanxingdui. Although the story doesn't say exactly when the story takes place, the illustrations suggest it is set in the distant past. (The author's note at the end of the book explains that the said masks date back to 1300 BC).
The family is getting ready for the Warrior Festival. Some men are making bronze statues of birds and fish, and Wei and Father polish the giant bronze mask that will be used by a shaman to talk with the gods in a ceremony. This year's festival is especially important for Wei, as it will mark the beginning of his adulthood. But invaders are encroaching from the north, and the villagers must decide to go into battle. Surprisingly, the answer lies with Min and the ultimate decision may explain what happened to the civilization that created the bronze artifacts that many scholars are now calling the "ninth wonder of the world".
While the picture book is suitable for young elementary school students, I actually found the historical details in the two-page author's note most interesting. Smith thanks the Bowers Museum in Santa Ana, California for the inspiration and advice, and I also found some interesting information about the mystery of Sanxingdui on their website.
About Multicultural Children's Book Day
This post is part of Multicultural Children's Book Day, created by Mia Wenjen from Pragmatic Mom and Valarie Budayr from Jump Into a Book/Audrey Press. MCCBD has 12 amazing co-hosts, whom you can read about here. The MCCBD team's mission to spread the word and raise awareness about the importance of diversity in children's literature. Our young readers need to see themselves within the pages of a book and experience other cultures, languages, traditions and religions within the pages of a book. We encourage readers, parents, teachers, caregivers and librarians to follow along the fun book reviews, author visits, event details, a multicultural children's book linky and via our hashtag #ReadYourWorld on Twitter and other social media.

Classroom Reading Challenge
Teachers, here is a chance to easily earn a free hardcover multicultural children's book for your classroom library. These books are not only donated by the Junior Library Guild, but they are pre-screened and approved by them as well. Visit Jump Into a Book to find out how to get your free multicultural children's book.
Multicultural Children's Book Day 2016 Medallion Level Sponsors #ReadYourWorld
Platinum: Wisdom Tales Press * StoryQuest Books*Lil Libros
Gold: Author Tori Nighthawk*Candlewick Press
Silver: Lee and Low Books*Chronicle Books*Capstone Young Readers
Bronze: Pomelo Books* Author Jacqueline Woodson*Papa Lemon Books* Goosebottom Books*Author Gleeson Rebello*ShoutMouse Press*Author Mahvash Shahegh* China Institute.org*