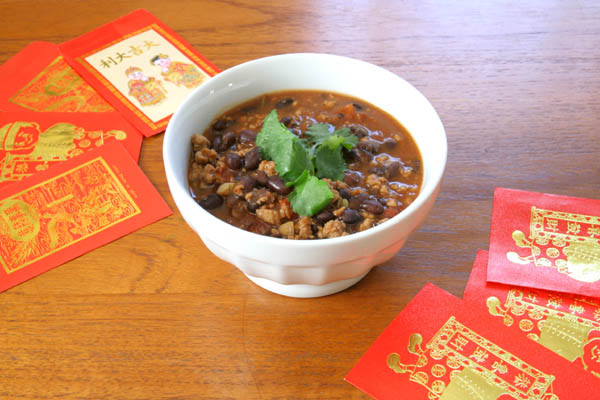 Are you ready for the football? In honor of the Superbowl (or Chinese New Year) this month's Let's Lunch theme is Chili.
Early in my marriage, my husband and I were trying to make plans for a certain weekend at the end of January. It was Chinese New Year, and I wanted to visit my family several hours to the north of where we lived. My husband, however, had other ideas.
"My parents are having a big party. All the relatives will be there," he explained.
"But it's tradition to spend this weekend with my side of the family," I countered.
"Why? They don't even watch the Super Bowl!"
Count it as one of the joys of a mixed-race marriage.
We bring some really different cultural perspectives into our lives. One spouse's important cultural tradition is… well, the same day as the other person's important cultural tradition. Fortunately, Chinese New Year is a determined by the lunar calendar, meaning it's a moving target — in mid-January one year, late February other years. In 2012, the Year of the Dragon begins on January 23. Luckily, Superbowl XLVI is not until February 5. Which means we have an extra week to enjoy the cultural mashup.
I set out to create a dish that would spice up the standard Super Bowl chili with some Asian flavors. Chili, with its ground meat and spicy red sauce has always reminded of a couple homegrown Chinese dishes: ma pa tofu (with its ground pork, cubes of bean curd, and hot bean sauce) and lo ba bung. What is lo ba bung? It's a dish rarely served in restaurants, but commonly made at home — Taiwanese comfort food. Minced or ground pork is simmered with soy sauce, rice wine, and five-spice, making a simple, hearty meal. Sort of like chili.
Scroll down to the bottom of the page  for links to great Chili recipes from my Let's Lunch buddies.
Or search the #letslunch tag on Twitter to find more.
Chinese New Year Chili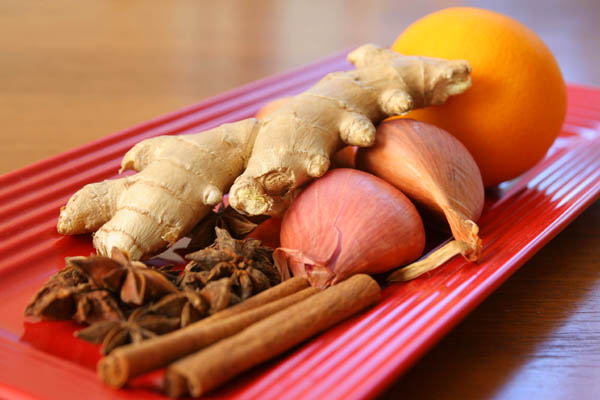 Ingredients:
2 cloves shallots, diced
1 clove garlic, diced
2 sliced fresh ginger
1 lb. ground pork
1 tsp. Five spice powder
1 tsp. white pepper
1 tsp. bean paste with chili
1/4 c. soy sauce
1 Tbs. Xiao xing jiou
1 Tbs. sugar
3-4 inch strip orange peel
1 can diced tomatoes, with green chile is a nice touch
2 cans black beans
Directions:
Heat a small amount of oil in a Dutch oven or stockpot.

Saute shallots, garlic and ginger until softened

Add ground pork, cook until browned

Add five-spice powder, white pepper, and bean paste (if using). Saute these spices until they are fragrant.

Add soy sauce and wine, then tomatoes and beans

Simmer for at least 30 minutes, or as long as you have time

Serve in bowls, garnished with cilantro or sliced green onions. You can also serve it over rice, like lo ba bung, or simmer it down until it's thickened and make sloppy joes with sweet white rolls, like Hawaiian bread.
Serves 4-6
This recipe was originally published as part of the Salon Kitchen Challenge.
More great chili entries from the Let's Lunch bunch:
Cheryl's Keema Chili on A Tiger in the Kitchen
Cathy's Chunky-Style Cowboy Chili at Showfood Chef
Charissa's Clean Out Refrigerator Night Cassoulet, A "Frenchified" Chili at Zest Bakery
Ellise's Chicken Tinga Chili at Cowgirl Chef
Emma's Dave's Chili at Dreaming of Pots and Pans
Felicia's Low-Concept Vegetarian Chili at Burnt-Out Baker
Joe's Texas Bowl O' Red at Joe Yonan
Karen's Hawaiian Chili at GeoFooding
Linda's Smokin' Hot Vegan Vaquero Chili at Spicebox Travels
Lucy's "Full of Beans" Chili at A Cook And Her Books
Pat's Miso Chili Con Carne y Wasabi Sour Cream at The Asian Grandmothers Cookbook