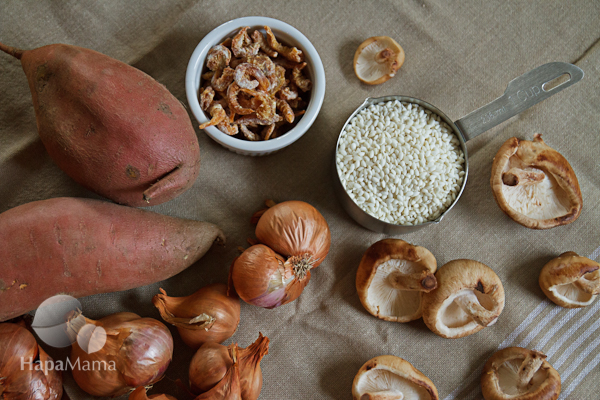 Nothing says Thanksgiving like turkey and cranberries, shiitake mushrooms and sweet rice.
I know… it sounds weird, but as I've been raising my own family, I find it more important than ever to incorporate elements of my heritage into this All American holiday. After all, the variety in our origins make the United States a unique salad bowl of different cultures, skin colors and traditions. But can you really serve roast turkey and gravy with Chinese food… and not have it feel like a mish-mash of flavors?
Yes!
Immigrant families from Taiwan, China and the other regions of the diaspora have been been mixing traditional Asian foods with Western holidays. One of the most obvious ways to do this is by serving sweet potatoes. My family always had sweet potatoes (or yams) on Thanksgiving, and I thought they were as required menu item. Until I married my husband. He comes from a mashed potato only family. Read whatever symbolism you'd like into that. Because the sweet potato is actually a staple food of Taiwan, and helped the Taiwanese people survive through rough times. Plus they're delicious. Who can resist chunks of yams coated in brown sugar and spices, maybe with some pineapple or marshmallows on top. And what better vegetable to give thanks for?
The other dilemma is what to stuff in the turkey. Sure you could go with cubes of sourdough bread or cornbread, but what I really crave is the sticky sesame oil scented rice called yu fan in Mandarin or yu beng in Taiwanese. There is some dispute over the proper way of preparing this dish. Some say you should steam the rice first, before sauteeing it with a mixture of shiitake mushrooms, shallots and dark sesame oil. Purists, such as my mother, say you must add liquid gradually while you stirring it with the other ingredients. And then there's the add-ins: Chinese sausage? minced pork? chestnuts? dried shrimp? And it's actually not that much of a stretch to use this as a Thanksgiving stuffing, as my family often ate yu beng with roast chicken or game hens. Check out these recipes for sticky rice stuffing:
The Asian Grandmothers Cookbook
I have to admit, I've been known to make both a Chinese sticky rice stuffing as well as sage sourdough stuffing. Celebrate the bountiful harvest, right?
There are many other ways you can bring the flavors of Chinese food to your holiday table. No Chinese meal is complete without a pot of tea or perhaps some Lychee champagne cocktails. How about stir-frying long beans instead of green bean casserole? Chinese corn soup for starters? What are your ideas?