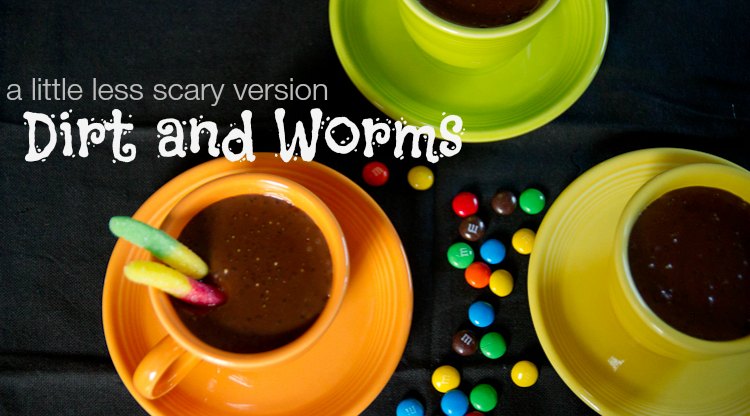 You know what's really scary? Some of the stuff that passes as food around Halloween. At many kids' parties this time of year, you'll find a snack/craft known as Dirt and Worms. You take a chocolate pudding cup, crumble up some Oreo cookies (that's the dirt) and add some gummy worms (ie, the worms). Then serve to young children and watch them bounce off the walls and watch the clock until its time for their parents to reclaim them.
But like many bad ideas, there's a grain of good intention in there somewhere. As we get ready for the little ghosts and goblins to come out this year, I thought I'd try to create a better rendition of Dirt and Worms. Voila! Dirt and Worms and Eyeballs.
By eyeballs, I mean, tapioca, those gelatinous little balls that many American kids seem to get all squeamish about. With their little opaque centers, they do sort of look like tiny eyeballs. I started with a coconut tapioca pudding recipe. Speaking of coconut, that's another one of those things that used to be pretty scary itself. Not so long ago, coconut products were right up there with butter and bacon, branded full of saturated fats and therefore things that no one in their right mind should eat. But in the last year of so, popular thinking has turned around, and now coconuts — and their milk and oil — are being heralded as health foods. Who would have ever thought that the aisles of Whole Foods would be stocked with jars of solidified coconut cream, and that coconut milk would be marketed as a milk alternative for the lactose-intolerant, vegan, or otherwise digestively disenfranchised?
All I know is that coconut adds a luscious twist to any recipe and makes you feel like you are on a beach in Bali, if only for a little while. And while coconut if often associated with summer foods and cocktails, when used as a base for a warm pudding, it's perfect for fall as well.
So grab your shovel –I mean, spoon! — And dig in to a bowl of Dirt and Eyeballs and Worms.

Chocolate Coconut Tapioca Pudding
i.e. Dirt and Eyeballs and Worms
Makes approximately 4 servings
Ingredients:
3 c. coconut milk
1/2 c. small pearl tapioca, available in Asian supermarkets
1/2 c. sugar
1 egg yolk
1 tsp. vanilla extract
1/2 c. chocolate chips
gummy worms, if desired
Directions:
1. Mix coconut milk, sugar, egg yolk and tapioca in a medium heavy bottomed saucepan
2. Heat over medium heat, stirring constantly, to prevent the bottom from burning and the top from forming a skin
3. Bring to simmer, and lower heat to prevent the mixture from boiling
4. Cook until reduced to pudding-like consistency
5. Remove from heat and stir in vanilla extract and chocolate chips, until melted and smooth.
6. Pour into serving bowls or cups and garnish with gummy worms.
SaveSave