June's Let's Lunch theme is "Too Hot to Cook"
Don't forget to scroll down and see what my blogging friends are making.
Most Gen X American kids were introduced to cooking through one of two toys: the Betty Crocker E-Z Bake Oven or the Snoopy Sno-Cone machine. Unfortunately, I had neither.
Fortunately for me, one summer, my grandparents brought with them from Taiwan a shaved ice maker. We froze water in the round plastic containers that came with it, creating a thick disk of ice that fit perfectly in the machine. Then we turned the handle, producing mounds of finely shredded fluffy white coolness. And for what it's worth, my grandparent's Taiwanese contraption worked much better than my friends' Snoopy Sno-Cone makers, which often got jammed up, right as a mob of hot, hungry children were clamoring for their turn.
And unlike most Americans we didn't top off our shaved ice with brightly colored sugar syrups. Instead, we got tropical fruits from jars — palm fruits, lychees and the like, sweetened condensed milk, and sometimes mung bean soup. While bean soup may sound un-enticing compared with bubble gum and blue raspberry syrups, it is actually a traditional Chinese way of cooling off during the summer.
Remember the concept of yin and yang? According to the principles of traditional Eastern medicine, "hot" and "cold" are not just functions of temperature, but qualities of the body and of certain foods. Mung beans are considered a "yin", or cooling, food, and are believed to help the body get rid of heat and toxins. Some even say eating mung beans can help clear up acne. But don't think that you can substitute the more popular red beans (or azuki beans) for this purpose. Red beans are a "yang" food and traditionally eaten during the winter. And there you have the extent of my expertise in traditional Chinese medicine. Please don't ask for other medical advice. I charge extra for that.
My grandparents' shaved ice maker is long gone, but recently I found a Jelly Belly brand machine that looks very similar and has the same crank mechanism. Plus, it was on clearance at Target for just $5 at the end of last summer. A quick check of Amazon shows many other snow cone machines for sale — plus a modern version of the 1970s Snoopy Sno-Cone machine. Maybe I can finally convince my kids of the deliciousness of Asian bean desserts…
So give my recipe for mung bean shaved ice a try and let me know if it helps cool you off!
Mung Bean Shaved Ice
Yes, I know the theme is "Too Hot to Cook", and that I was the one who came up with the idea of no-cook recipes. However, you can make the soup during a cool morning or the night before and store it in the refrigerator until you're ready to serve.
Ingredients:
1/2 c. Chinese mung beans
4 c. cold water
1 chunk rock sugar, or 2 Tbsp. white sugar
2 Tbsp. small tapioca pearls
condensed milk, to taste
shaved ice
Directions:
Soak mung beans in a medium saucepan for a few hours or up to overnight
Drain beans and add 4 c. fresh water and rock sugar or white sugar
Bring beans to a boil and reduce to medium heat. Simmer, stirring occasionally, for about 30 minutes or until the beans are soft. Be careful not to boil at too high a temperature or the beans will fall apart quickly and turn into an unappealing olive drab mush.
Add the tapioca and continue to simmer about 15 minutes or until the pearls are soft and turn clear.
Cool the mixture and refrigerate until ready to serve over shaved ice and drizzle with condensed milk. Feel yourself getting cooler already!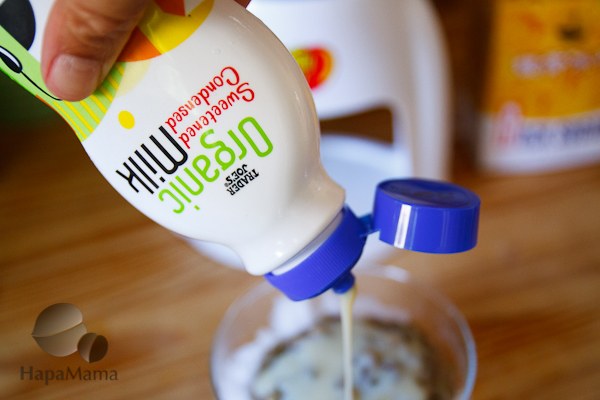 Speaking of condensed milk – who can finish an entire can of Eagle in one sitting? And how do you store a half-used container of stickiness without inviting disaster? have you seen this condensed milk in a squeeze jar from Trader Joe's? It's genius!
For more Let's Lunch "Too Hot to Cook" posts, follow #LetsLunch on Twitter or visit my fellow bloggers below:
Lucy's "The Girl in a Hat Goes on a Picnic" at A Cook and Her Books.
Monica's Peanut Salad at A Life of Spice
Lisa's Aperol Spritz Granita at Monday Morning Cooking Club
Cheryl's Mango-Key Lime Pie at A Tiger in the Kitchen
Linda's Escape from San Francisco Picnic at Spicebox Travels
Pat's Almost No-Cook Rice at The Asian Grandmother's Cookbook
Linda's Coconut Creamsicle Sodas at Free Range Cookies
Emma's Cheese Plate at Dreaming of Pots and Pans
Anne Marie's Lettuce Sandwiches at Sandwich Surprise