Author Ying Chang Compestine and Illustrator Yan Nascimbene show off their book "Crouching Tiger"
I love taking my kids to author readings at our local bookstores, so when Ying Chang Compestine came to Hicklebee's Children's Bookstore, we made sure to attend. Compestine, a Bay Area resident, was there promoting her new picture book, Crouching Tiger (Candlewick Press, 2011), a subtly heartwarming tale about a Chinese grandfather and his American grandson.
Crouching Tiger explores the sometimes awkward relationship between an immigrant grandparent and an American (Hapa) grandchild. The main character, Vinson, finds his grandfather difficult to talk to, and generally sort of strange and foreign.
Although he spoke English perfectly well with Dad, Grandpa always talked to me in Chinese.

"My name is Vinson, Grandpa."
"Your Chinese name is Ming Da. You are Chinese as well as American," he said firmly.
The book's illustrator, Yan Nascimbene, was also at the book signing. As revealed during the discussion, it was actually the first time Ying and Yan met, as their work was all done through correspondence with their editor. Nascimbene lives in France, but created his ink and watercolor illustrations through sketches of characters and photographs of Chinatown sent by Compestine.
While Nascimbene sketched in our copy of Crouching Tiger, Compestine chatted with me about her own family and career. She actually has a son named Vinson — just like the main character. However, the book is not based on a real life, as her own father passed away when Vinson was only two years old.
"Whenever I see a grandfather and a boy, I wondered what it would be like if my father were still alive," Compestine told the crowd. The story was not an easy one for her to write. Over ten years, Compestine worked on Crouching Tiger (among numerous other children's novels and cookbooks), imagining the bond that could have developed between her father and her son. The book was published in December of 2011. Vinson will be graduating from high school this spring.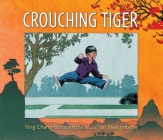 Shop Indie Bookstores
In the story, Vinson's grandfather says he is an expert at martial arts. However, as the boy practices with his grandfather, all they do is stand and make slow movements, not kick and punch. Compestine led the crowd in a Tai Chi pose, and pointed out that while the gestures may look easy, they actually require a great deal of inner strength and discipline — a lesson Vinson learns in Crouching Tiger.
Win a Copy of Crouching Tiger
My boys and I really enjoyed Crouching Tiger, and Candlewick Press has offered to give a free copy of the book to a lucky HapaMama reader.
Just leave a comment below telling a little bit about your relationship with your grandparents, or how your children relate to theirs.
We'll announce a winner next week.
The giveaway is now closed. Thanks for participating!