It's Let's Lunch time! September's theme is pie…. mmm, pie.
I've always thought that whoever coined the phrase "easy as pie" was either a liar or a much better baker than I am.
When Lucy at A Cook and Her Books announced this month's Let's Lunch theme of pie, I worried about what I could possibly make. I've always been intimidated by the idea of making pie crust, and often turn to the frozen dough from Trader Joe's. But I decided to be a big girl and see if it really is that easy to make a pie, completely from scratch. After all, I have a tree full of apples to be picked, so why not start with a classic apple pie?
Since I was going to make my own dough, I decided to go whole hog. I don't usually cook with shortening, and I didn't want to have the flavor of butter in my crust. I was going to go whole hog. That's right, I'm using lard.
It wasn't easy to find. At my local Safeway, I wandered up and down the baking aisle to no avail. I remembered seeing it stored near the meat cases, so I checked there next. A butcher came wandering around, and I asked him where I might find lard. I think he actually shuddered and stepped away from me a little, before stammering, "We don't sell that here, Miss." My other regular shopping stops — Trader's and Costco — don't stock it either, and I didn't have time to drive around to a specialty market. Luckily, my kids' martial arts school is in a neighborhood with a large Latino population, where the Safeway did carry lard (or manteca), in both sticks and large tubs. I bought the sticks, because I needed less than a cup, and I'm not planning on cooking with lard on a regular basis.
Making the crust was easier than I expected. Following the directions on the Morrell package, I simply put 2/3 cup of the white stuff into a food processor with two cups of flour and a two tablespoons of salt, and pulsed. I slowly drizzled in ice water, knowing that too much moisture would activate the gluten in the flour, making a chewy, rather than flaky, crust. But after adding seven tablespoons of water — the maximum amount recommended — my dough was still looked a bit dry and cracked when I rolled it. I sprinkled a little more water as I worked with it, but it still wasn't perfect. Come to think of it, I had sort of eye-balled the amount of lard and perhaps I had been a bit stingy.
But the thing that really bothered me? The dough had a weird smell. I was worried that using lard might impart a "piggy" flavor to my crust, but the odor wasn't exactly that of pork fat, either. It was more… chemically. Had this stick of lard gone rancid? When I looked more closely at the package, I found no expiration date, but the fine print read "hydrogenated lard". Yikes. So in my attempt to avoid vegetable oil with trans fats, I had bought franken pig fat.
I did some research and found out that fresh, unadulterated lard is very difficult to find, and that most packaged lard in supermarkets is hydrogenated. Some online retailers will ship pure lard, but surely there must be an easier way. I aired my grievances on Facebook, only to get suggestions that I should look for lard in a Mexican market. Or go to a Chinese market to buy pig fat and render my own. One friend did some research and found an upscale market that sells fresh lard for only $1.39 per pound. Next time, this little piggy will go to that market!
Anyway, since the dough was a little hard to roll really thinly, it didn't create as large of a crust as I'd hoped for. My go-to for solving his problem is to create cut-outs instead of having a solid top crust. I thought the leaves and acorns were appropriate for fall, don't you think?
After 45 minutes, the pie looked and smelled fabulous. The off-smell dissipated, and the crust was crisp and flaky. Next time, I will look for pure lard. But for now, it's time to pig out!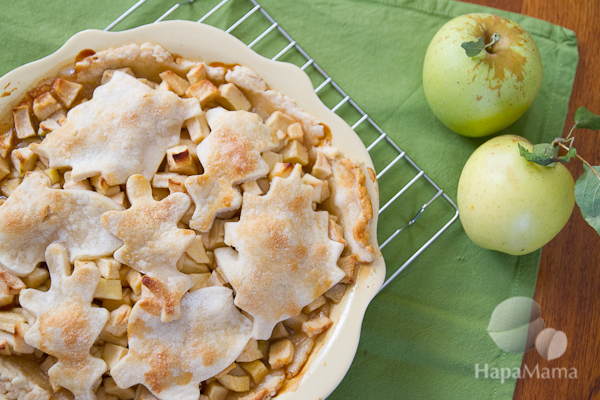 Apple Pie
Ingredients:
2/3 c. lard
2 c. flour
2 tsp. salt
7-9 Tbsp. cold water
8 apples (a variety of Golden Delicious, Pippin and Macintosh works nicely)
1 1/2 c. sugar
juice of 1/2 lemon
1 tsp. cinnamon or apple pie spice (I use Penzey's Baking Spice, an all-purpose cinnamon based mix)
pinch of ginger
1 1/2 Tbsp. cornstarch
Directions:
Pulse lard, flour and salt in food processor, until mixture forms small crumbs.
Add water one spoonful at a time, until the dough just begins to stick together.
Wrap dough in plastic wrap and chill for about an hour.
While dough is chilling, peel and slice the apples. I happened to cube them, because my original idea was to make mini pies, but the dough didn't cooperate.
Toss apples with lemon juice, sugar, spices and cornstarch, and set aside.
Preheat oven to 450 degrees. (That's not a typo, I'll explain later)
Remove dough from refrigerator and divide into two portions. It's a good idea to make the bottom crust slightly larger than the top one, since it needs to cover more space. I also like to make cutouts with the top crust, but that's just me ;)
Gently set the bottom crust into your pan, fill it with fruit, and lay the top crust (or cutouts) over it.
Bake at 450 degrees for ten minutes, then lower the temperature to 350 and bake for 40 more minutes. Cover edges with foil if they become too brown.
Cool and enjoy!
This recipe is adapted from Morrell and Fannie Farmer's Cookbook.
 For more Let's Lunch pie recipes, including some very creative takes, follow #LetsLunch on Twitter or visit some of my blogging buddies:
Annabelle's Chocolate Pie at Glass of Fancy
Anne Marie's Apple Pie Sandwiches at Sandwich Surprise
Betty Ann's Calamansi Pie at Asian In America
Cheryl's Mexican Cottage Pie at A Tiger in the Kitchen
Jill's Guava and Cream Cheese Empanadas at Eating My Words
Lisa's Sweet Ricotta Noodle Pie at Monday Morning Cooking Club
Lisa K's Chocolate Pie at Open Salon
Linda's Biscoff Banana & Pear Galette at Spicebox Travels
Lucy's Sweet Potato Custard Pie at A Cook and Her Books 
Margaret's Cushaw (Squash) Pie at Tea and Scones, Too
Nancie's Edna Lewis's Tyler Pie at Nancie McDermott
Naomi's Huckleberry Pie Ice-Cream at The Gastro Gnome
Sara's Herb Pie from Ottolenghi and Tamimi's "Jerusalem" at Three Clever Sisters