Pumpkins, during my childhood, came from a bin in front of the local Kroger — or perhaps a "pumpkin patch" set up in a parking lot. It wasn't until I had a toddler who needed socialization and outdoor exercise… every… single… day… that I experienced a trip to a local pumpkin farm. When Big Brother was about a year old, we joined our neighborhood moms' group for an outing. That was when I realized there is so much more to visiting the pumpkin patch than just buying a gourd.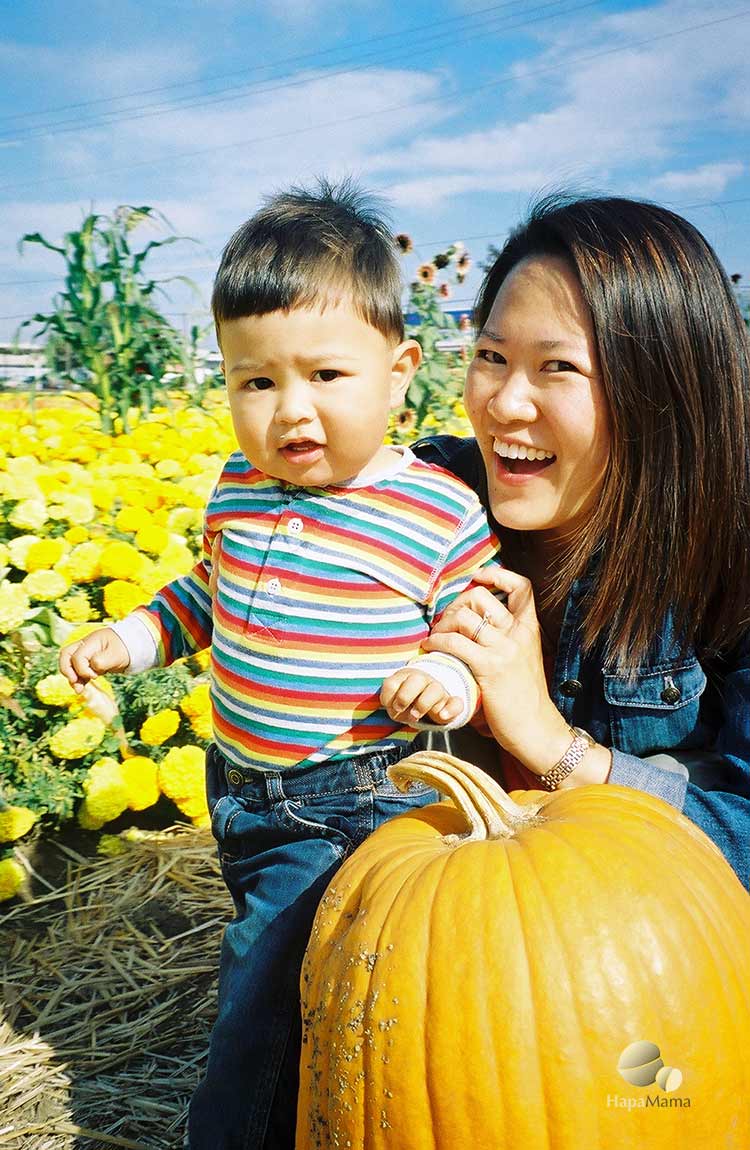 There were corn mazes, hay rides, petting zoos and… photo opps! Pumpkin patches are so colorful, seasonal, and natural that it's really easy to shoot some beautiful images, even if it's just with your phone or a basic point and shoot camera.
By the time Little Brother came around, we were pumpkin patch junkies… and I had stepped up my game. Around this time, I got a basic Canon Rebel and started really getting into photography. I made sure to dress my kids in solid colored clothing that would make a nice contrast with the autumnal hues.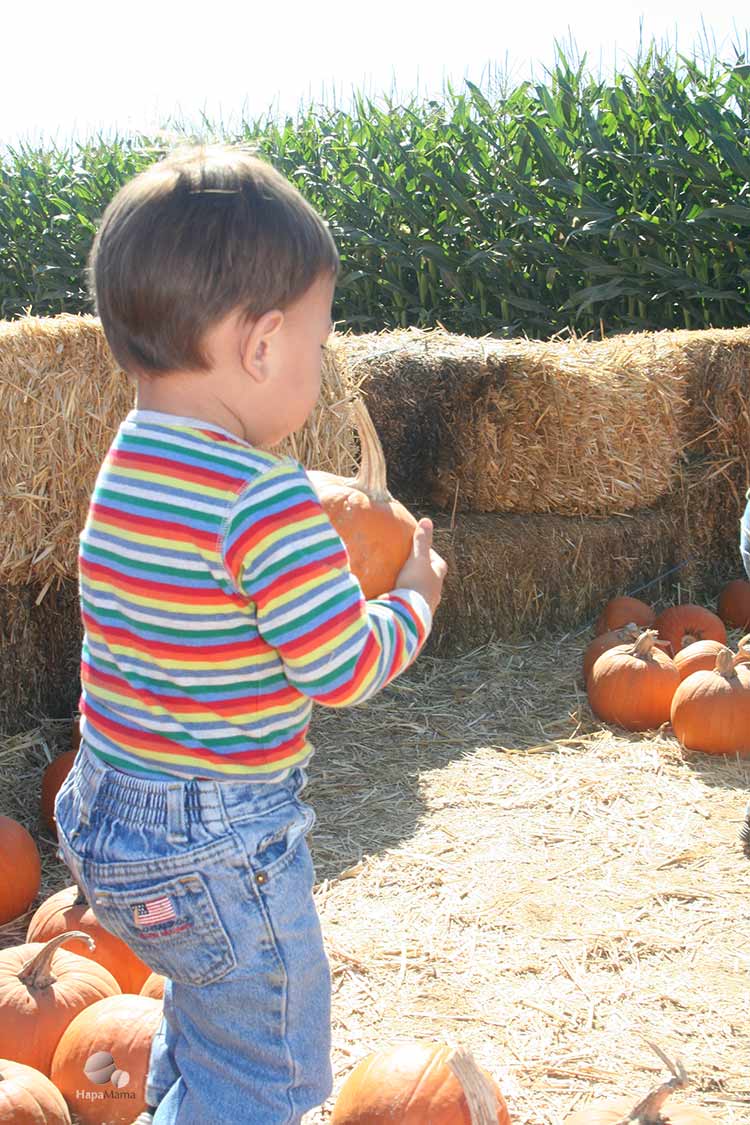 But some rules are meat to be broken. You'll notice this rainbow striped "Mork" shirt appears on both Big Brother and Little Brother. It always made me happy to see my boys in it, and it wasn't an accident that both of them wore it on pumpkin picking day.
Of course, you have to get some photos of the whole family, too. Even if you have to grab a friend or random person (or selfie stick!) to take one, don't leave the farm without getting into at least one shot. This image isn't photographically great — it's way too far away, there's harsh shadows, Big Brother has a funny expression — but still, it was on our refrigerator door for years.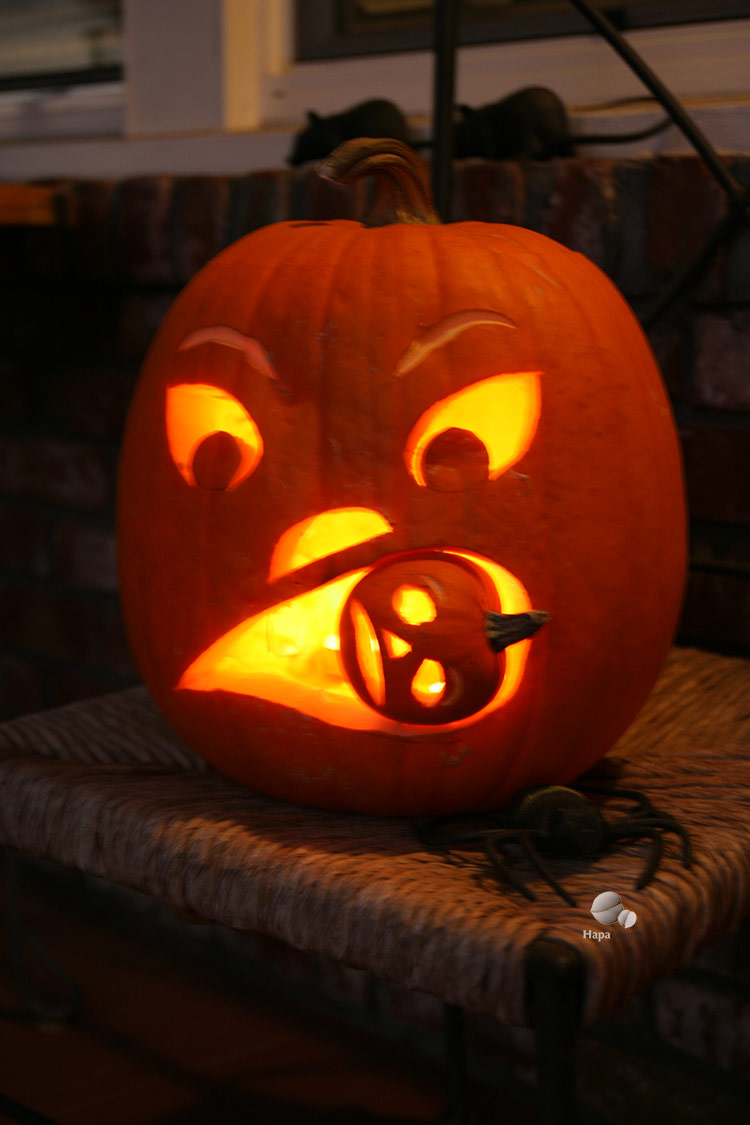 Don't forget to take photos of the finished products, too. Night shots of lit jack o'lanterns are especially cool. If you're using a dSLR, choose a really low shutter speed (like the ones with fractions) and USE A TRIPOD. This photo is blurry, as I thought I could hand hold it.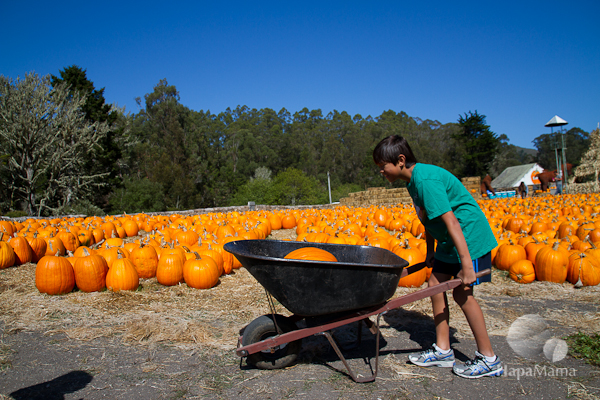 And even when your kids get bigger, it doesn't mean the fun is over. You have to get a little creative with teens and older kids. They won't just be propped up on a giant pumpkin like little ones, but they can take part in some great action shots.

Also, check out what some of my mom blogging friends are doing this fall by following the #AsianMomBloggers hashtag on Twitter or visiting the links below…