July's Let's Lunch theme is Munchies, in honor of Cheryl Tan's new short story in The Marijuana Chronicles, edited by Jonathan Santlofer.
But don't worry, my recipe is family friendly and completely legal. Check it out and then whip up a snack to satisfy your cravings…
When I think of late night snacks, french fries are one of the things that comes to mind. Fast, cheap, ubiquitous, and of course, salty and delicious. But not just any fries. In my twenties, I spent several years working at a TV station in Twin Falls, Idaho, also known as one of the potato packing capitals of the world. I worked the night shift, punching out after the 10 o'clock news, just as the town's french fry processing plants were firing up for the night.
In the summers, the night air was thick with deep-fry grease. It wasn't the prettiest of smells, but compared with some of the other local odors — dairy farm or sugar beet processing plant — I'll choose french fries anytime.
As you might expect, Idahoans take their potatoes very seriously. Even at a typical fast food joint — even at the national chains — the fries were crisp on the outside and nearly creamy on the inside. And if that weren't enough, locals dipped their fries not in ketchup, but in fry sauce. You'll find this creamy concoction in pumps at mom and pop burger stands as well as in individually-sealed sauce cups at McDonald's. No one could ever quite explain to me the origins of this condiment, but I imagined some Reese's Peanut Butter Cup type incident between a French fur trapper and an American potato farmer:
"Hey, you got your mayonnaise in my ketchup!"
"Zut alors! You got your ketchup in my mayonnaise!"
Not nearly as exciting, but perhaps more historically accurate is the Arctic Circle burger chain's claim to have invented fry sauce in 1948. Although most people outside of Idaho and Utah have never heard of fry sauce (isn't that ketchup?), it may also be readily available in Colorado and Washington State. I've even recently seen bottles of Some Dude's Fry Sauce for sale at my local Target in California, but really! Most people I knew in Idaho just whipped up their own.
I'll share a secret with you: it's just ketchup and mayonnaise.
Of course, that's not much of a recipe. So I was thinking about ways to give this Western favorite some Asian flair. I thought of another mayonnaise based sauce, that creamy pink binding in spicy tuna rolls. (Hint: it's just Kewpie mayonnaise and Sriracha.) And if you're a sushi purist who's offended by the concept of spicy tuna rolls, why have you read so far into a blog post about fry sauce?
If we're going to put a Pacific Rim twist on this condiment, we can't just dip any old fries in it. This sauce needs sweet potato fries, tossed with a five-spice tinged salt and pepper mixture similar to that sprinkled on Taiwanese fried chicken.
Five-Spice Sweet Potato Fries and Fry Sauce, With an Asian Twist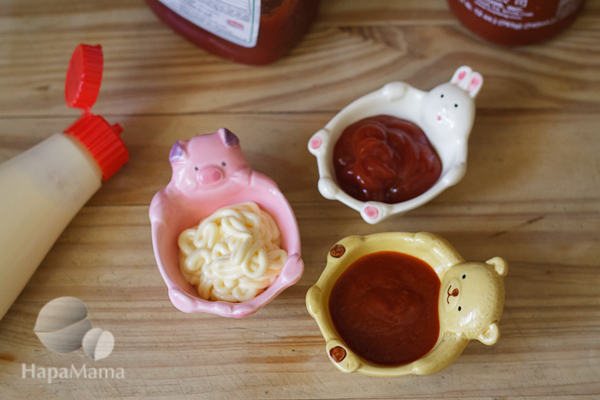 This "recipe" is easy enough to make from ingredients you probably already have in your kitchen, and it should satisfy cravings for kids and adults alike.
Ingredients:
Kewpie mayonnaise
Ketchup
Sriracha sauce
1 bag frozen sweet potato fries, such as Trader Joe's or Alexia
Salt
White Pepper
Five-Spice Powder
Directions:
Heat oven according to directions on fry package
Meanwhile, mix together equal parts mayonnaise and ketchup, then add Sriracha sauce to taste. You can also add a little onion or garlic powder, if you like.
In a small bowl, mix a small amount of salt with five-spice powder and a dash of white pepper. Toss the cooked sweet potato fries with the spice mixture.
Serve with fry sauce.
Enjoy!
For more munchies, follow #LetsLunch on Twitter or visit some of my blogging buddies to see what they're cooking up:
Cheryl's SPAM Fries with Key Lime Dip at Tiger in the Kitchen
Jonathan's Chocolate Chewy Squares at Jonathan Santlofer
Pat's Sausage Rolls at The Asian Grandmothers Cookbook
Emma's Homemade Pizza Rolls at Dreaming of Pots and Pans
Anne Marie's Simple Sandwich for Munchies at Sandwich Surprise
Lisa's No-Wait Nachos at Monday Morning Cooking Club
Vivian's SPAM Sandwich at Vivian Pei
Jill's Stone Fruit Salad at Eating My Words