One of the biggest Asian holidays is coming up in September. The Mid-Autumn Moon Festival, which is celebrated beginning on September 19 this year, is sort of a harvest festival in many Asian countries including China, Taiwan, Korea and Vietnam. This lunar holiday is timed with the September, or harvest, moon and is also associated with the folktale of Chang'e.
Mooncakes
Round bean-paste filled moon cakes are often eaten as part of the celebration. You can find them at many Asian markets, and specialty bakeries, such as Sheng Kee, will have cakes of various sizes, with traditional fillings, such as red bean and lotus seed (with or without an egg yolk), as well as newer flavors such as pineapple or jasmine.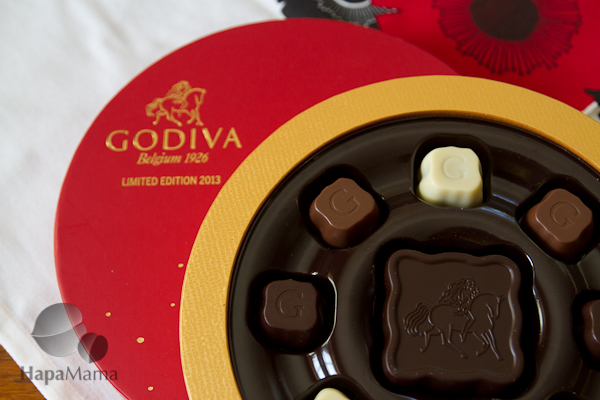 If you don't like regular mooncakes — and their sticky bean filling is quite different from Western desserts — Godiva is now selling special chocolate mooncakes, or rather special chocolates in the shape of mooncakes with Asian-influenced fruit fillings. The 2014 Limited Edition flavors include ginger-spiced mandarin orange, black-tea dark chocolate ganache, and mango apricot mousse. I enjoyed the box of these limited edition treats that Godiva sent me, and you can special order them or find the chocolate mooncakes at select Godiva boutiques in California.
Make a Lantern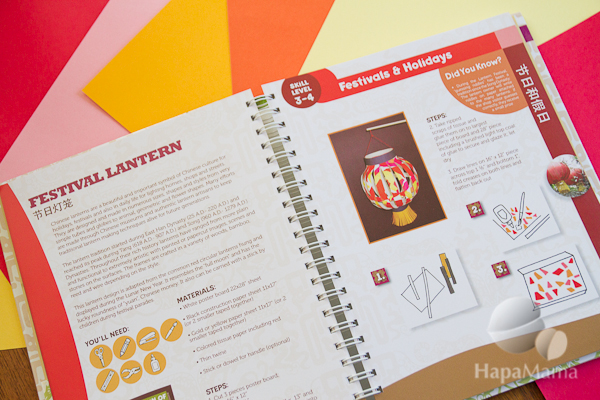 Since the Mid-Autumn Moon Festival is often celebrated at night, lanterns are traditionally used to decorate and light gatherings. You can make a simple, but beautiful, paper lantern with your children. Find some easy instructions in Lucky Bamboo: Over 100 Ideas and Projects Celebrating Chinese Culture, by Jennifer DeCristoforo, a graduate of the Rhode Island School of Design and the mother of a daughter adopted from Jiangxi, China.
Books
One of the best ways for kids to learn about this holiday, which is probably the second biggest event in Asia after the Lunar New Year, is by reading a book. Here are some great picture books to read with your little ones.
Lin Yi's Lantern
Lin Yi's Lantern
(Barefoot Books, 2009)
by Brenda Williams and illustrated by Benjamin Lacombe is a Moon Festival tale worthy of O. Henry. Lin Yi is a little boy living in China way back when. Even though he's a kid, he's charged with going to the market to buy supplies for the festivies: moon cakes, star fruit, rice, yams… and peanuts for Uncle Hui. But there's one more thing Lin Yi would really like. Find out what happens in Lin Yi's Lantern, a modern picture book that would be great for elementary school kids.
Thanking the Moon: Celebrating the Mid-Autumn Moon Festival
(Knopf,2010), written and illustrated by Grace Lin follows a contemporary Chinese American family as they work together to prepare for a nighttime picnic to celebrate the Mid-Autumn Moon Festival. While the characters in this story aren't named, you might recognize them from Dim Sum for Everyone and Bringing in the New Year. At the end of the book there is a section with background about the holiday and its significance.
At first, I got Round is a Mooncake: A Book of Shapes
(Chronicle Books) by Rosemary Thong confused with the above book. The girl on the cover looks so familiar. Then I looked closer and realized that Round is a Mooncake is also illustrated by Grace Lin. This book focuses on recognizing shapes, using many Asian objects such as round mooncakes and rice bowls or rectangular lace or a pencil case. It would be a great alternative to a more generic shape book for preschoolers.
The Moon Lady
Amy Tan's The Moon Lady (Aladdin Picture Books)
is a children's tale adapted from a story in Tan's The Joy Luck Club. On a rainy afternoon, three sisters wish for the rain to stoop, wish they could play in the puddles, wish for something, anything, to do. So Ying-Ying, their grandmother, tells them a tale from long ago. On the night of the Moon Festival, when Ying-ying was a little girl, she encountered the Moon Lady, who grants the secret wishes of those who ask, and learned from her that the best wishes are those you can make come true yourself.
Purchasing a book through one of the links in this post could help benefit HapaMama through the Amazon Affiliates Program.
Do you celebrate the Mid-Autumn Moon Festival? What do you plan to share the holiday with your family?