It's Taiwan Tuesday… and it's the week of Mother's Day! Today's post honors both of these events.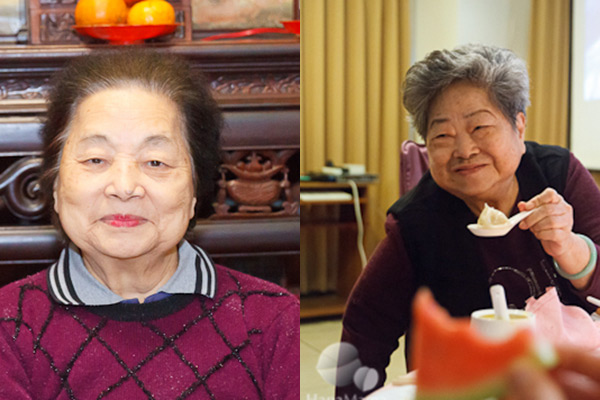 What was my favorite part about visiting Taiwan? As much as I love my dou jiang and you tiao, I really have to say my favorite part of going to Taiwan is seeing my relatives — especially my grandmothers, who are both still alive and 90 years old. I just got news over the weekend that my paternal grandmother (pictured above, left) was hospitalized in the ICU. We saw her just three weeks ago, and I was surprised at how similar she looked to the last time I saw her nearly 12 years ago. Our first stop after landing at Taoyuan Airport was her apartment in Taipei.
Her apartment is the one constant through all my visits to Taiwan. It is the building on a gravel street pictured in that yellowed family photo from the 1970s. Inside, it had changed little. The piano, the living room chairs, the dining room table and the family altar are all in the exact same configuration I remember from when I was six years old. Things were a bit dustier and worse for wear, but otherwise, I felt like I almost didn't need to visit because nothing had changed. Ah Ma looked relatively the same, as well. She shook my hand and commented on how big the boys were. They couldn't understand Taiwanese and she doesn't speak much English, so they couldn't converse much. She fretted at how heavy our suitcases were and how tired we must be from flying. The term for the paternal grandmother is Li Ma (literally translated into "inside grandmother") Her voice sounded exactly as I remembered. She thrust a box of coconut biscuits into my hands as we headed out to catch the train to Hualien. When we came back a few days later, I noticed she stayed behind when the rest of the family went to the temple to pay respects to my grandfather for Qing Ming, or "tomb sweeping day", which is the equivalent to Memorial Day, and an occasion taken very seriously in Taiwanese culture. While I wish I could say we had long heart-to-heart conversations, with our language barriers that did not happen. I don't know if that is her way, even if we were able to speak the same language fluently. She is a person who shows she cares by doing things, like packing potato salad sandwiches during her visit to California when I was ten years old, or by sending boxes of clothes she bargained hard for at the night market. When I mentioned I had an upset stomach, she commanded my uncles to buy Immodium for me.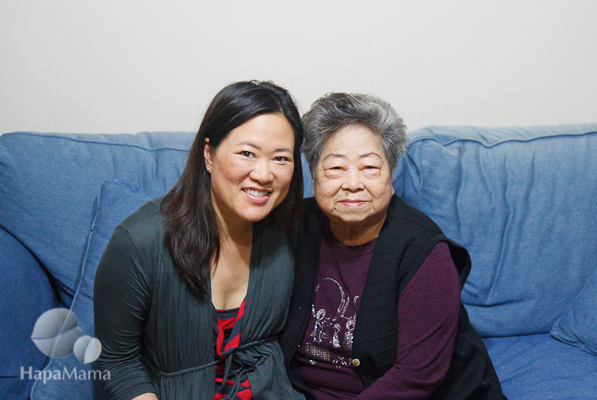 We also visited my maternal grandmother. I was surprised to be greeted with a hug when we entered the apartment she shares with my uncle, aunt and their children. My mother had told me that her mother was very old, with difficulty walking. She will turn 90 later this year, but my Wai Ma (maternal, or "outside grandmother") has an impressive head of hair, much of which is still black. Maybe it was the excitement of our reunion, but she was energetic and chatted rapidly in Taiwanese. She had shopping bags filled with boxes of sun cakes and pineapple cakes and told me, "One for your mother, one for your brother, and three for you." After exchanging some gifts and chatting at the apartment, we walked to a nearby Chinese restaurant for a banquet with other relatives.
This photo captures her personality — she hasn't lost the playful gleam in her eye.
When you can't communicate very well with words, you start to notice many more details about a person's actions. Both my grandmothers are very much like I remember them. Their personalities are distinct and exactly as they were when I was a child. Wai Ma was even dressed in the same kind of bedazzled shirt preferred by my mother. Although my boys couldn't really converse with them, they know they are lucky to be among the few who have the opportunity to meet their great-grandmothers. Before I had a chance to say a proper goodbye at the curb, we were whisked into a cab for the ride home.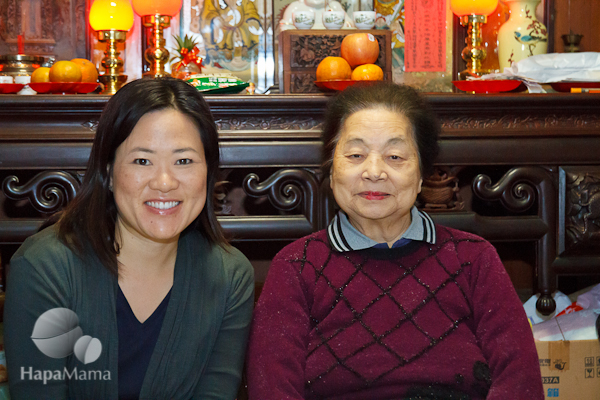 On our last afternoon in Taiwan, I took a few more photos with Li Ma and the boys and pressed my father into shooting some with me in them, as well. When I asked my grandmother if we could take some pictures, she grumbled, "Ho la, ho la," which is Taiwanese version for "okay, okay" and disappeared into her bedroom for a few moments. I worried that she might have misunderstood and thought I wanted to do the photos later, but we were leaving in a few hours. To my relief, she emerged from the room after a few minutes, with her face powdered and with red lipstick on.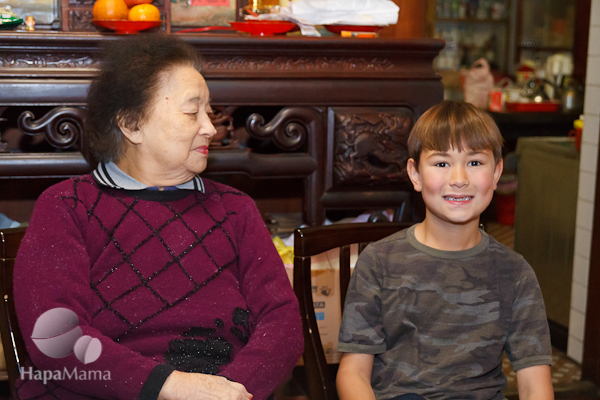 As we headed downstairs that evening to catch our taxi for the airport, she simply waved at me. "Bye bye!"
My grandmothers are 90 years old. We are thinking of Li Ma and hoping for better news from the hospital.