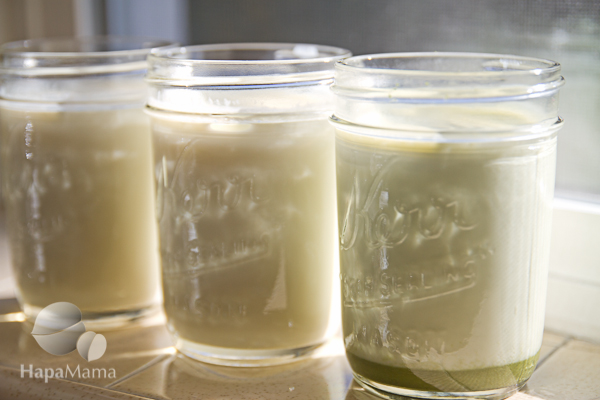 There are some foods that I generally consider in the don't-try-this-at-home category. Yogurt is one of them. Messing around with bifidus, acidophillus, lactobacillus — plus dairy products — just seems like asking for trouble.
But never say never.
With the new year, one of the things I'm trying to do is to eat more yogurt. And not that gelatinized pink stuff. There are plenty of good fresh yogurts available at most grocery stores. Even Costco and Trader Joe's in my area carry excellent whole milk yogurts, tangy with live cultures. Over the weekend, I found myself staring at the dairy case at Costco, faced with an epic decision. The milk comes packages of two one-gallon jugs. The yogurt comes in shrink-wrapped, two 32-ounce tubs at a time. Have you ever come home from bulk buying groceries only to find that all the fresh food you've bought cannot fit into your refrigerator? I've been there, and I don't want to shed those tears again.
Then a lightbulb went on over my head: you can make yogurt out of milk, but you can't make milk out of yogurt.
I know. My rule.
As terrifying as the prospect of breeding live bacteria in milk and then eating the result, I've also been kind of fascinated with the idea. Years ago, I watched Huell Howser, who passed away earlier this week,  interview the Yogurt Man on Southern California public television. Then, Francis Lam wrote this handy tutorial about how to make yogurt on Salon. I read it with some curiousity. And then went to buying Straus and Brown Cow. After all, there are many delicious yogurts available: nonfat, fruit on the bottom, cream on top, Greek, French. A few years ago, Trader Joe's even carried a matcha flavored yogurt. You know that green tea tart fro-yo they serve at Pinkberry and shops like that? Yeah, that one, just not frozen. Full of grassy green goodness, plenty of zest, just a little bit of sweetness. But then, TJ's had to go and cancel it.
For the January Let's Lunch, Pat at The Asian Grandmother's Cookbook threw down the challenge to try a new or intimidating recipe. How could I walk away from that? Using Francis' article as my guide, I set out to DIY yogurt, adding a little Asian fusion twist. So here goes…
How to Make Your Own Matcha Green Tea Yogurt
First, I prepped some clean 1/2 pint Mason jars
I poured 3 cups of 2% milk into a saucepan and heated it, stirring constantly.
Meanwhile, I made a mixture of 1 1/2 T. yogurt with a little milk.
I mixed the yogurt mixture with the heated milk and poured into Mason jars.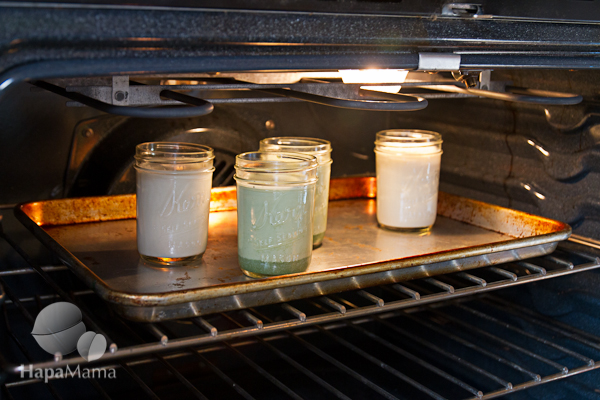 Then I placed the jars into a barely warm oven and left them there for several hours. I saw the Yogurt Man do this, and according to Francis' article, the yogurt just makes itself.
That's when things started to go wrong.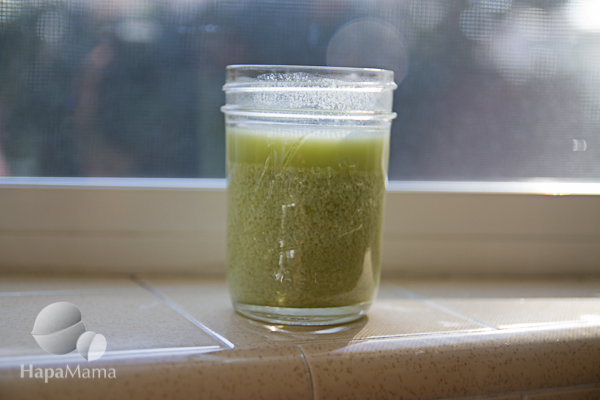 After a few hours, I noticed the matcha flavored jars were separating, with the darker green liquid layer at the bottom. That bothered me, so I decided to give one of the jars a stir… and got this green, curdled mess.
I consulted Google and found another great DIY yogurt tutorial at Kitchen Stewardship, which explained that disturbing the yogurt while it's culturing leads to… curds. Yuck.
The rest of the jars, I left in the oven for a few more hours, as the mixture was still far too runny to be considered yogurt in my book. When they seemed to be setting, I pulled them out and let them sit on a warm spot on my kitchen counter. But those jars never set up either. Consulting Kitchen Stewardship again, I realized that I did not wait for the milk to cool down to about 100 degrees before adding the probiotic starter, a process which takes an estimated hour and a-half. Re-reading Francis' article, I see that he also recommended letting the milk cool "until you can hold your finger in it for 10 seconds without it getting too uncomfortable". In other words, I killed all the good bacteria before it had a chance to proliferate.
But I'm not one to back down from a challenge, even when it potentially involves my own gastrointestinal well being. The next day, I set out to repeat my yogurt making experiment, making three key changes: I bought a new tub of yogurt as a starter, I let the milk cool to the appropriate temperature, and I set the oven to its "Proof" setting (intended to provide an optimal temperature for dough to rise, but I figured what's good for the yeast is good is good for the lactobacilli, right?).
After six hours, most of my jars were beginning to set quite nicely, with only one jar that remained liquidy. I don't think I added enough starter to that container.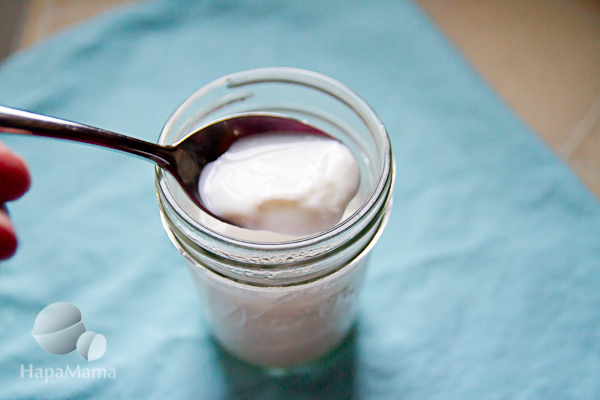 The finished yogurt had the texture of soft custard, and while it smelled tangy, tasted quite mild.


But the green tea? I decided this time that I would just make a slurry of matcha powder and water and stir it into the finished yogurt. All the stirring softened up the mixture a bit, and created some unattractive lumps, although it tasted delicious.
Will I be making my own yogurt again in the future? Maybe, because I do like the freshness, the low cost and above all, the virtuous feeling of doing-it-yourself. However, I don't think any of my favorite dairies are in danger of losing my business ;)
Have you ever cultured yogurt? Do you have any suggestions on how to better recreate matcha green tea yogurt at home?
For more delicious Let's Lunch stories and recipes, follow #LetsLunch on Twitter