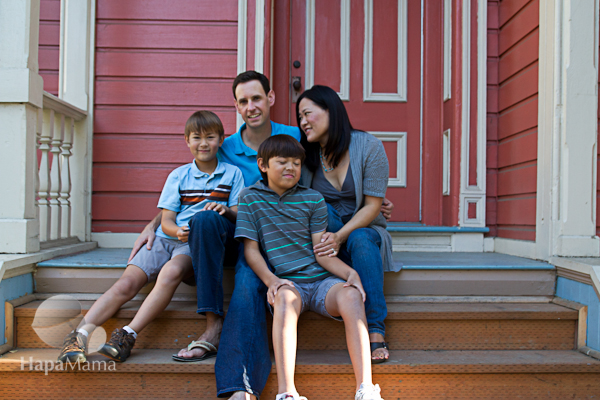 There are some things we all know we shouldn't attempt at home: surgery, electrical work, legal representation. Then there are some things I feel pretty confident in my ability do without causing any permanent damage: cutting my kids' hair, simple clothing alterations, taking family photos. After all, I manage to take pretty good pictures of other people, and I've been reading tutorials over at Clickin Moms and other websites about how to take a family photo — and be in it.
Every year, I wait until the last minute to take a Christmas card picture. And by last minute, I really mean before Halloween or the autumnal equinox, as after that the days grow so much shorter and the light loses that pretty warm quality.
So with the help of my tripod and remote control clicker, I wrangled my family into going to our nearby historic park to take a photo of all of us. I even managed to convince my boys (including HapaPapa) to wear shirts with collars and no logos or words on them. We went to San Jose's History Park, a place I hesitate to even write about because it's such a hidden gem of Victorian homes, heritage Oak trees, a historic trolley and firehouse, and a replica of an old Chinatown temple — and it's so empty, it's almost spooky. But I'm telling you about it anyway, because due to budget cuts and loss of corporate sponsorship, I'm worried the park itself may become part of history. We have some friends who also like to frequent the history park, and just happened to see them there watching the Filipino Heritage program that was going on that day.
Anyway, back to the photo shoot. We got there, found a house with a nice shady porch and set up the tripod. Only I realized at that point that I had a tripod and a camera, but was missing the plate, a little piece of metal which screws into the bottom of the camera so it can connect securely to the tripod. HapaPapa went into MacGyver mode, trying to jerry-rig a connection, a thought only slightly less horrifying than bungee cording one of my babies to the top of the car. Just as I was about to pack it up, I decided to go ask our friends if they happened to have a tripod. Luckily, they did!
But as I learned, a tripod can't (always) replace a photographer. To help the kids be less cranky about the pictures, I let them check out the camera and try out the remote. This is what happened.
Big Brother took a video production class at school, last year, and so now he thinks he's a professional director or something.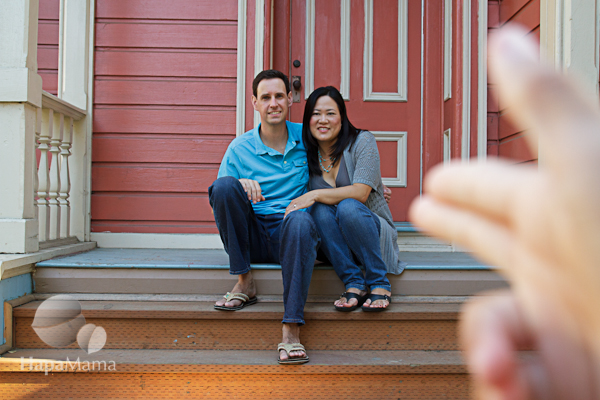 And of course, I took a few of the boys myself. Some did not exactly fit my artistic vision.
And I was pleasantly surprised by a few…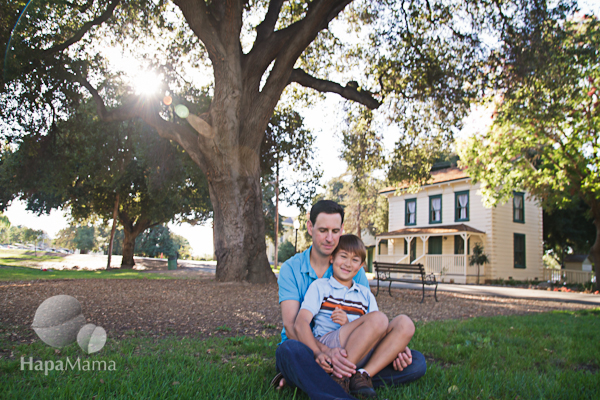 Which photo will I be using on my Christmas card? You'll just have to wait and see…